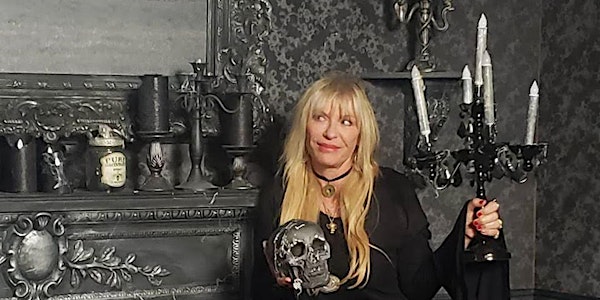 Summoning The Spirits - Seance with Medium Patti Negri on Zoom
Join psychic medium Patti Negri for an intimate online seance where each participant will have the chance to summon a specific spirit
About this event
Spirits are all around us. You do not have to be a psychic, medium or witch to communicate with the other side. But, there are some definite rules and guidelines you need to follow for safe, effective and powerful communication with spirits.
This intimate online seance will be limited to 24 people, giving everyone the opportunity to request summoning a specific spirit. Patti cannot guarantee every spirit will be willing to communicate, but they most always do, due to her gentle and respectful technique and amazing ability to "lift the veil" between the two worlds. Lasting around two hours, Patti will give an explanation and lesson in her proven techniques for safely and respectfully doing seances. Then, she will conduct a full séance, lift the veil and give everyone who wants one an opportunity to speak with their beloved deceased.
Since March 2020, Patti Negri has been regularly conducting on-line seances. Since spirits exist outside time and place, she has found that the internet turns out to be the perfect medium!
Patti Negri has been communicating with spirits since she could talk. She did her first séance when she was just seven or eight years old. She sat cross legged on the floor and I started asking the spirits to enter the room. She created her first chant – and low and behold – the room filled with orbs of bright light. They started in the corner and quickly began filling the room. It was amazing. She ran screaming out of the house… but had never been so excited. She had actually and consciously contacted the other side – and was able to control it. Her journey had begun. Since then she has studied religion, metaphysics, science, occult sciences and cosmologies and belief systems of all kinds and combined the truths within to create surefire and safe techniques to raise the veil between the worlds.
Patti Negri is a Psychic-Medium and "Good Witch" best known for her recurring role on the Travel Channel's #1 show GHOST ADVENTURES. She is the international best-selling author of OLD WORLD MAGICK FOR THE MODERN WORLD: TIPS, TRICKS, & TECHNIQUES TO BALANCE, EMPOWER, & CREATE A LIFE YOU LOVE. Patti's body of work includes appearances on such shows as MASTER CHEF, AMERICA'S GOT TALENT, WIPE OUT! and A LITTLE LATE WITH LILLY SINGH. Patti has a popular weekly podcast called THE WITCHING HOUR and can also be heard on nationally syndicated radio with Adam Corolla, Jason Ellis, Mancow Muller and Coast to Coast with George Noory. Patti was voted number one psychic, medium, trance medium, tarot reader, witch / magical practitioner in the world in an Internationally competition by Times Square Press. She has graced numerous magazine covers, contributed to over 20 books and conducted seances on radio, film, and TV working with such legends as Emma Stone, Jon Voight, Josh Duhamel, Martin Sheen and Gregory Hines.