Register your tickets for Bloody Scotland 2020 online! This ticket will give you access to all events on Sunday20th September.
About this event
SUNDAY 20th September
(all times are in BST)
All events will be hosted on bloodyscotland.com and all attendees will be sent further information on how to access them closer to the date.
The Never-Ending Panel: A Bloody Tour of Bloody Scotland
11:00am - 3:00pm
Lin Anderson, Stuart MacBride, Neil Broadfoot, Andrew James Greig, Sandra Ireland, Hania Allen, Morgan Cry, Caro Ramsay, Sara Sheridan, JD Kirk, Mary Paulson-Ellis, James Oswald, Ambrose Parry, Craig Robertson, Doug Johnstone, Jackie Baldwin, Theresa Talbot, Alan Parks, Abir Mukherjee, Alex Gray, Nicola White, Ben McPherson, Catriona McPherson, Lisa Gray, SJI Holliday and Alex Knight.
Kick your Sunday off in sinister style with a rolling conversation featuring the good and great of Scottish crime fiction. Like the best crime novels, there is a cast of devious characters who will deliver twists and turns, shocks and surprises. The biggest surprise however will be if it all goes without a hitch.
The (very) rough idea is that four or five authors will be chatting on your screen then one will drop off, a new one will appear, and the conversation will go where it goes. What happens in the end is anyone's guess.
(This event will be opened by Emma Christie in our Crime in the Spotlight slot.)

Desert Island Crooks: Chris Brookmyre, Ruth Ware, Harriet Tyce and Liz Nugent
3:00pm - 4:00pm
Take four leading crime writers, abandon them on a desert island with only their three favourite crime novels for company then sit back and watch the fun as the sharks circle. Yes, only books; no music, no luxury item, no Complete Works of Shakespeare, no Bible, just books, glorious books.
Chris Brookmyre (Fallen Angel), Ruth Ware (One By One), Harriet Tyce (The Lies You Told) and Liz Nugent (Our Little Cruelties) will champion their favourite reads and other authors will dismember or applaud their choices. There will also be the chance for the audience at home to suggest their own crime fiction choices to the panel.
This event is hosted by author Jonathan Whitelaw, and any similarity to a long-running and much-loved BBC radio programme is purely coincidental. Honest.
(This event will be opened by Chris MacDonald in our Crime in the Spotlight slot.)

Keep Them Safe: Lou Berney, S.A. Cosby, Sheena Kamal and Denise Mina
4:00pm - 4:55pm
Lou Berney made his breakthrough with the multi-award winning The Long and Faraway Gone but then rocketed to international success with the incredible November Road. Shawn Cosby's Blacktop Wasteland is the novel that every crime writer is talking about, a breath-taking and timely look at the American dream. Sheena Kamal is the rising star of Canadian crime fiction and the thrilling No Going Back is earning rave reviews. Denise Mina continues to push the genre into new and exhilarating directions with the brilliant The Less Dead.
Together, they are four of the hottest authors on the planet right now. All four novels feature the challenges of families new and old, with characters you will root for and who just might break your heart. Let's hear how they did it.
(This event will be opened by AJ Park in our Crime in the Spotlight slot.)

How to Catch a Killer: Katherine Ramsland
5:00pm – 5:55pm
Dr Katherine Ramsland knows serial killers. She knows how they think, how they act, and how to catch them.
A professor of forensic psychology at DeSales University in Pennsylvania, she is the author of 68 books, has appeared on more than 200 crime documentaries and magazine shows, is an executive producer of Murder House Flip, and has consulted for CSI, Bones, and The Alienist. She works with FBI profilers and teaches seminars on extreme offenders to death investigators and homicide detectives.
One of her most immersive projects was five years working with Dennis Rader on his autobiography, Confession of a Serial Killer: The Untold Story of Dennis Rader, The BTK Killer. She even played a year-long chess game with Rader, sending each other's moves by mail.
Katherine will be interviewed by crime writer and clinical psychologist Chris Merritt.
(This event will be opened by Rosie Walker in our Crime in the Spotlight slot.)

Travelling Back in Crime: Mark Billingham and John Connolly
6:00pm - 6:55pm
(*This event will not be available for catch up after it airs so make sure to tune in live!)
Coincidences in crime fiction should always be treated with grave suspicion but sometimes, twists of fate just happen, and this one is a cracker. Two of the world's leading crime writers have both got new books out in which they take their series characters back to where it all began – the late 1990s – in gripping prequels.
In Cry Baby, Mark Billingham takes the iconic Tom Thorne back to 1996 to tackle his first case as portable phones appear, John Major is PM and Euro 96 is in full flow. John Connolly's inimitable Charlie Parker emerges in 1997 Arkansas in The Dirty South as he investigates a series of murders of young black women.
Spice up your life with a trip back to the 90s with two of the best in the business.
(This event will be opened by Jenny Quintana in our Crime in the Spotlight slot.)

Criminal Masterminds: Lee Child and Val McDermid
7:00pm - 8:00pm
Yes. Lee Child and Val McDermid. Both of them. Together. In the one event. Don't say we're not good to you. This really feels like one of those rare panels where any further explanation is a bit redundant. All it really needs is their names and then for us all to sit back and wait for it to start. If this was a live event in Stirling's Albert Halls, then we know the queue would begin to form an hour ahead of time and wind all the way to the Golden Lion and back again. Luckily, all you have to do is go to the Bloody Scotland viewer and enjoy two legends of the genre in conversation.
Still Life is Val's 36th novel in a remarkable career and sees the return of her much-loved DCI Karen Pirie. The Sentinel is the 25th Jack Reacher novel and first to be co-written by Lee and his brother Andrew Child.
(This event will be opened by Russ Thomas in our Crime in the Spotlight slot.)

You the Jury
8:30pm - 10:00pm
A woman is found dead in her flat, a rope around her neck. Was it suicide – as her husband suggests – or murder? What's it really like in a Scottish murder trial? Do lawyers cry out "Objection"? Does the judge strike a gavel to maintain order? Are there dramatic witness box confessions?
Find out in this reconstruction in a real court room, based on an actual case, with real-life lawyers, court staff and scientists playing their own parts.
In 2019, we staged three sold-out performances of this outstanding play in the historic environs of Stirling Sheriff Court. Written by author Douglas Skelton in collaboration with the Faculty of Advocates, it gives the audience a real insight into what goes on in a Scottish murder trial.
Watch the film of the play then enjoy a discussion with Douglas Skelton and professional participants including forensic pathologist Professor James Grieve, soil scientist Professor Lorna Dawson and advocate Laura Thomson.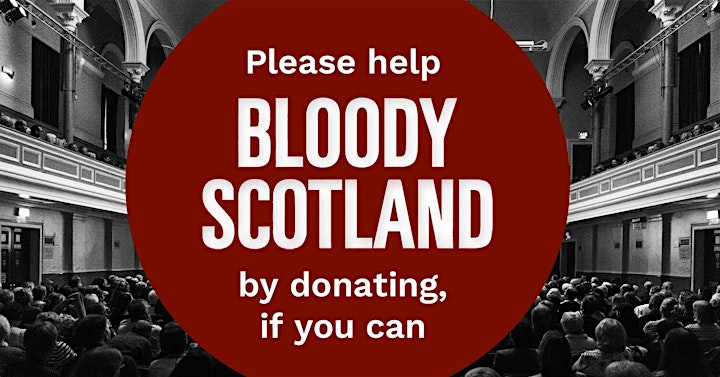 Putting on an online festival of this scale – and being able to bring it to you for free – has taken a monumental effort. In achieving it, we are grateful for the support of our funders and sponsors, without whom it wouldn't have happened.
However, there are still costs associated with an online venture – paying authors and chair people, fees for festival and technical staff, plus the associated costs of programming, marketing and publicity – and we'd be glad of any help to cover them. The receipt of any donations may also allow us to make the festival available to even more people and help us plan for the 10th anniversary festival in 2021.
or you can text BLOODY plus the number of the amount you'd like to give (up to £20) to 70490 (e.g. 'BLOODY 5' will donate £5, 'BLOODY 10' will donate £10, etc) Each text will cost your donation plus one standard network rate message.
But whether you want to donate or not, please register to watch for free, and we'll see you all in September. We can't wait!