Join our ride on Sunday 25 October Distance: 36 Miles (58km), Elevation gain: 2,551ft, Average speed: 15-18mph
About this Event
We start at 08:30, meeting at:Linden Park Cricket Club, Fir Tree Rd, Tunbridge Wells TN4 8BU
The route: https://www.strava.com/routes/2753529217471982616
Tunbridge Wells - Bidborough - Leigh - Sevenoaks Weald - Hubbards Hill - Ide Hill – Edenbridge – Fordecombe – Tunbridge Wells
Distance: 36 Miles (58km)
Elevation gain: 2,551ft
Average speed: 15-18mph
Bring enough food and drink as well as appropriate clothing for the weather and a well-maintained road bicycle
If you are getting back into cycling and unsure of your ability, please contact us via email and we can make sure that you sign up for a ride that's right for your ability.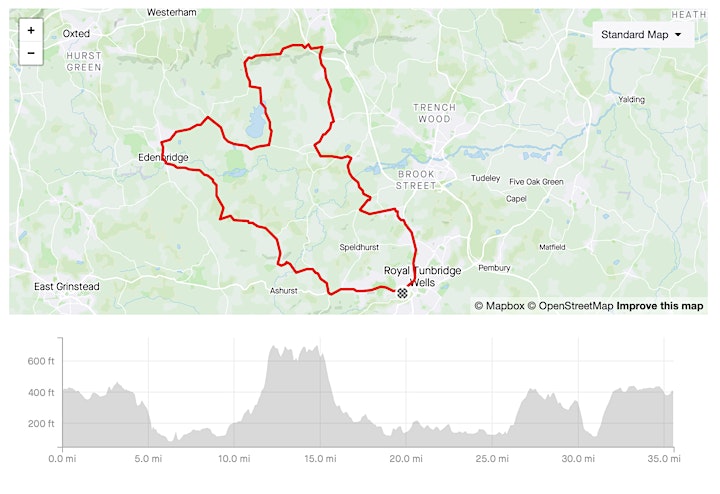 Covid-19 Guidance
Our Sunday Club Rides will have three pace groups with a maximum of six people to a group.
Participants must not attend a ride or session if they have Covid-19 symptoms, have someone in their household who does and are in the extremely vulnerable category or if they have been asked to remain at home by the UK Government track and trace system.
Please maintain social distancing at all times during the event.
Participants must provide their own equipment and refreshments and avoid sharing water bottles and food.
Participants must practice good respiratory hygiene during the activity (i.e. coughing, sneezing into a tissue or the crook of an elbow).
Consent forms will need to be completed prior to the ride.
Any participant developing symptoms after a session should notify the club so that other members of the group can be advised.