Sunday Hammock Sessions - Relax, Recharge, Reset: all-day event in Hammocks
Sunday Hammock Sessions: Explore Guided Meditations, Sound Journeys, Practices and Tools for Stress Release & Wellbeing! An Oasis of Calm!
About this Event
SUNDAY HAMMOCK SESSIONS 
Relax, Recharge, Reset
Join us for a day of Experiential and Immersive Multi-Sensory Sonic Journeys and Guided Meditations in Hammocks!
*Respectfully Socially Distanced & Covid compliant* - more details below.
Cosmic, Ethereal Electronic Sounds, Textures, Crystal Singing Bowls, Gongs and other relaxing sounds and instruments.
Beautiful Aromatherapy Scents
Powerful and Transformational Guided Meditation Journeys
Our beautiful and soothing Aerial Relaxation Pods™
This is an immersive restorative experience inviting your body and nervous system into a deeply relaxed state.
With our attention spans challenged by the speed of technology, the daily news and social media nowadays stressing our nervous systems, we all need to pause for a moment... to slow down and bring our awareness back to the present, back to our bodies and to simple, yet, precious experiences.
Creating an Oasis of calm, this all-day workshop uses simple practices aimed at strengthening our ability to enter into a relaxed state. Through guided meditations and soothing sounds, you will release the stress and tension built up in these wild times.
Why Hammocks? Repetitive motions, like those experienced in the gentle rocking of a hammock, can soothe anxiety. Dr. Herbert Benson, founder of Harvard's Mind/Body Medical Institute, recommends repetitive movement to elicit your body's relaxation response. This reaction allows a lower heart rate, blood pressure, and muscle tension.
You can attend the whole day or just drop in for single workshops . Please note -single workshop tickets will go on sale 1 week before. Spaces are limited as per current UK Gov restrictions.
💙RSVP and invite your friends on Facebook: https://www.facebook.com/events/662890947748342
More details about workshops, facilitators, what to bring & safety guidelines - please scroll down.

WORKSHOP SCHEDULE:
(if you are attending individual workshops only, please arrive 15 min before the start of the class for check in)
◈ 2:00pm - 2:15pm Arrival/check in
◈ 2:15pm - 4:15pm SYSTEM RESET
◈ 4:15pm - 4:30pm Break/ arrival/ check in
◈ 4:30pm - 5:30pm CREATIVITY PODS
◈ 5:30pm - 5:45pm Break/ arrival/ check in
◈ 5:45pm - 6:45pm YOGA NIDRA
◈ 6:45pm- 7:00pm Break/ arrival/ check in
◈ 7:00pm - 8:30pm ILLUMINATED BODY
◈ 8:30pm Workshop ends
ABOUT THE WORKSHOPS:

SYSTEM RESET:
Bioenergetics, Creative Flow, and Aerial Relaxation Pods. A Deep System Reset Experience. You are invited to join us for this transformational 2-hour session inviting you into a relaxed experience of yourself, and your life energy.
We'll be exploring: 1)Bioenergetic Alchemy™ Bioenergetic Exercises for Grounding, Releasing Tension & Stress. 2) Creative Flow Meditation - Deeply Recharge your System 3) Aerial Relaxation Pods - Let Go & Relax in our gorgeous Hammocks!
Release Stress and Tension, Nourish yourself with deeper relaxation and go on a transformational journey with guided Creative Flow Meditations within our glorious Aerial Relaxation Pods.
Discover effective methods for releasing Stress & Tension through Bioenergetic Alchemy exercises.
Learn the foundations for accessing Creative Flow states, and experience two guided meditations
Be supported by our Aerial Relaxation Hammocks while you dive deep into the relaxation Journey. A very unique experience!
"A truly unique, uplifting and beautiful experience!" - previous participant
"What an incredible time I had last night! When I arrived, I was feeling very low and in my head. The Bioenergetic Alchemy session brought me back to my body and allowed me to connect to some suppressed sadness. I feel alive, connected and expanded. I cannot put into words my deep gratitude for this experience!"
"A wonderful session, very recommended! Seth and Dee create a calm, magical space where you receive natural healing energy of relaxation and music. Flowing gently in the light hammock helps to recreate the atmosphere in the womb or in early childhood when you are loved, safe and protected. This experience will bring you healing on several levels: physical, emotional, mental, relaxation, connection to your inner self and your angels. Many thanks for organising such a unique and absolutely fulfilling experience. I will definitely come again." - previous participant
Treat yourself to this simple yet extraordinary work! SYSTEM RESET is a wonderful invitation to both energise and deeply relax. Awakening and rejuvenating your body, your mind and your entire nervous system.  We also run monthly System Reset classes on Wednesdays from 7:15pm-10pm in Highbury & Islington.

CREATIVITY PODS:
Tap into your Creative Flow : a beautiful guided meditation for attuning to Optimal States of Health, Wellbeing, and Creativity whilst being cocooned in the hammock and immersed in Electronic and Live Ambient Sounds.
• Creative Flow - The optimal body-mind state of consciousness where we feel and perform at our best.
With all the challenges we are now facing, we are strongly invited to shift our consciousness to greater levels of intelligence. Accessing the creative mind is one such necessary shift. And right now, and at this historic time, with a lot of us working or spending time in our homes, it is a good opportunity to learn to tap into our creative intelligence more consciously.
"This was one of the most powerful things I have done in ages. It has really shifted something for me. This morning I keep bursting into giggles! Thank you so much to Seth and everyone else who held the space." - previous participant
Seth leads daily meditations online via Zoom 8-8:30am - every day! Creative Flow Dojo: Guided Meditations - Attuning Body & Mind for Wellbeing - join these daily live-streamed Creative Flow meditations, dive deep into techniques, guided meditations, and processes that will deepen your experience of your "creative flow state".

YOGA NIDRA:
Conscious Sleep Guided Meditation- Deep Body Relaxation and Mind Alertness.
Yoga Nidra is an ancient form of guided meditative practice that focuses on breathing techniques, body sensing, emotional relaxation, and guided consciousness meditation. This meditative practice fosters deep relaxation and is hypothesized to arouse the parasympathetic nervous system (relaxation response) by focusing on various techniques. 
Yoga Nidra, also known as dynamic sleep, prompts the body to relax deeply while the mind remains inwardly alert. One 30-minute practice of Yoga Nidra equals approximately two hours of deep sleep. While more conclusive studies are necessary to understand precisely why this is so, researchers believe it's related to the brain-wave changes you undergo during Yoga Nidra. Yoga Nidra pioneer, Swami Satyananda Saraswati, refers to it as "reaching the border between waking and sleeping states." We in the west might call Yoga Nidra the crossroads between alpha and delta brainwave states.
"Being someone who is always on the move and finds it very difficult to relax, I found this session to be really valuable 'me time!' Initially, I found it difficult to let go and unwind where the muscles in my arms and legs were contracting. After a few minutes, I started to drift away into a soft slumber which was deeply relaxing. Despite this my senses were heightened and I became very conscious of the sounds that seemed to travel through my ears, vibrating all the way into my body. The gentle movements of the hammock with the music in the background made me feel like a young infant being rocked to sleep. A wonderfully calming and soothing experience, with the added bonus of not having to put in any physical effort. Great! I look forward to more of this."  - previous participant
Yoga Nidra promotes deep rest and relaxation that isn't found in your average meditation practice. 
The stages of body scan and breath awareness alone can be practiced to calm the nervous system, leading to less stress and better health. 
Diana leads weekly Yoga Nidra classes online via Zoom on Wed & Sun 12:30pm or 9.45pm.

ILLUMINATED BODY:
This is a guided process that traditionally comes from Tibetan Buddhist meditation, and includes conscious breath, and our beautiful hammocks.
The Illuminated Body is a process in which you'll be invited to feel, sense, and begin to develop a body of light. That underneath your muscles, underneath your physical body, your muscular body, that there is a feeling of a beautiful body of light.
In some ancient traditions, this non-physical body is talked about like an energetic body, auric or light body.
And this unwounded and unwoundable body of light is what we are looking to awaken as the basis for our creative self!
So that we can actively participate in the world, but we can also at a deeper level, feel this sense of being with every part of our life, with affection, with curiosity, with skillful creativity.
"Words are inadequate to express the uniquely nurturing experience I had during your class... and the music was amazing! The feeling of being securely wrapped in a silk hammock from head to toe, suspended in the air, slowly rocking, with the gentle breath meditation, the crystal bowls and the ambient music created a sublime and profound atmosphere. It was as if I was in a cocoon of total support, allowing peace to flow into my entire being." - previous participant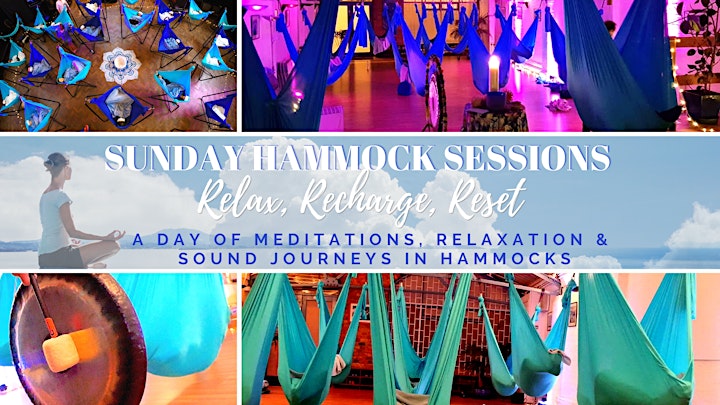 FACILITATORS:
Seth Newman: As a coach, Seth is dedicated to helping people calm, empower and rejuvenate their busy minds and bodies to achieve the best versions of themselves. Seth brings a wealth of experience holding heart-centered spaces.
In addition to guiding people on their life journeys, he enjoys helping clients design lifestyles of optimal health and balance with creative living practices.
Seth has been running various body-mind integration classes and workshops for many years. His inspiration comes from many sources including Humanistic & Body Psychotherapy, the Human Potential Movement, 5 Rhythms, Tantra and Active meditations.
Diana Upite: Trained in classical music from a young age, and later in contemporary music, Diana carries a life-long passion for singing, improvising and re-imagining traditional Celtic and folk songs with her own melodic vision.  A singer at heart, she connects deeply with the melodies and harmonies of ancient Europe and beyond.
Diana is passionate about bringing practices of rest and embodiment to others. Through her singing and facilitation, her intention is to guide you on a journey of reconnection and self-discovery, reuniting you with the source of who you are.
Diana also has a keen interest in making delicious raw chocolates and raw cacao drinks for cacao ceremonies, private clients and is constantly experimenting with new flavours. She is a co-founder of London Aerial Relaxation Pods and co-creator of many URUBU wellbeing classes, workshops and retreats.
VENUE, PRICES:
WHERE: Siobhan Davies Dance Studio, 85 St George's Rd, London SE1 6ER (Nearest station Elephant & Castle, please check tfl .gov for latest travel updates, if you are driving, please be aware of congestion charge)
WHEN: Sun, 30 MAY2021 2:00pm-8:30pm (All Day or Drop in Sessions)
COST: Honesty based 0ricing system is in effect
ALL DAY SESSIONS: £60 Concession / £75 Lower waged / £90 Full price
*INDIVIDUAL SESSIONS: £30/£20/ £20/£25 (total worth: £95) *Please note: individual tickets will go on sale a two weeks prior to the event.
PAYMENT: We have set a donation option to reduce your ticket fee cost, feel free to donate more and give from abundance. Thank you in advance! Any tickets booked below the indicated donation amount will be refunded immediately. 1 ticket per transaction please! Limited spaces & ticket availability! Please book via Eventbrite.
EVENTBRITE ORDER CONFIRMATION: Email might be in the spam folder. Please check. Do not print any paper tickets, we will check you in by your name.
CANCELLATION POLICY:
We do not offer refunds if you cannot attend. You are welcome to pass on your ticket to a friend, colleague or family member however please let us know the date & time of the booked session, name and email address of the person attending in your place for track & trace purposes. Send us an email with replacement person's details to: youareyoubeyou@gmail.com
If we need to cancel the class due to unforeseen circumstances, we will issue a full refund. If you have any questions please feel free to send us an email: youareyoubeyou@gmail.com
WHAT YOU WILL NEED:
1.Please wear a sleeved shirt that covers the armpits and leggings or yoga trousers that cover your knees. Wear form-fitting clothing. Please do not wear baggy clothing as they can snag and catch on the sling's fabric causing accidents. Ensure that your clothing is "zipper free" and remove all jewellery (body piercings, watches and hair clips etc). These items can snag and damage the silk hammocks.
2. Please wear clean socks when in the hammock.
3. a Reusable water bottle. Tap water refill available at the venue.
4. Cushions, blankets & eye masks/blindfolds: we will provide however you are welcome to bring your own set if you would prefer. All cushions & blankets will be sprayed with antibacterial disinfectant between each session. We will provide clean eye masks/blindfolds for each session.
5. Yoga mat (Only if attending the System Reset workshop 2.15pm-4.15pm)
6. You can wear a face covering during the sessions if you choose to. We ask all participants to keep the face mask on whilst moving through the space before and after the class.
7. Packed food /snack & Thermoflask with a hot drink to have during the breaks (if you are attending all day sessions) - Please note that all food must be consumed outside the building.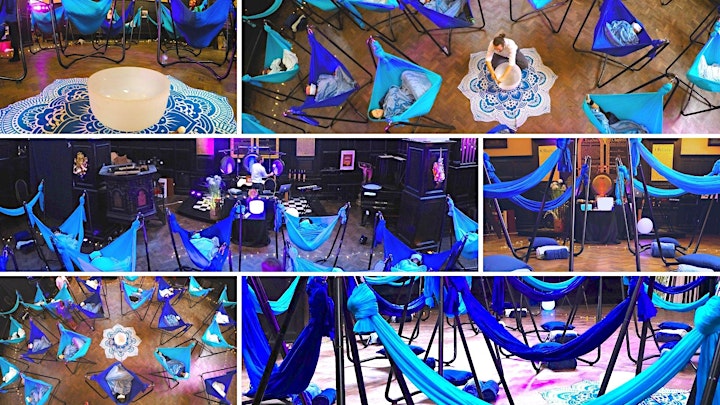 *RESPECTFULLY SOCIALLY DISTANCED & COVID COMPLIANT*
The UK Government has now raised the alert level for London to "high-risk" Tier 2 taking full effect from 2 December 2020. We would like to confirm that our planned classes and workshops are going ahead at the Siobhan Davies Studios as per Tier 2 (Local Covid alert: high) guidelines on gov.uk website:
- Venues following COVID-19 secure guidelines can host more than 6 people in total, in line with guidance for their sector, but no one should visit or socialise in a group of greater than 6 (unless they are all part of the same household or support bubble). It is also important that people from different households (who are not meeting as a support bubble) remain socially distanced.
- Exercise classes and organised sport can continue to take place outdoors. These will only be permitted indoors if it is possible for people to avoid mixing with people they do not live with or share a support bubble with, or for youth or disability sport.
Siobhan Davies Studios do not have to close so long as they continue to operate as a Covid-secure venue.
SAFETY GUIDELINES & PREVENTION MEASURES:
We kindly ask that you respect and follow Siobhan Davies Dance Studio safety guidelines. We reserve the right to exclude and ask to leave any participant who does not honour the below safety guidelines:
SYMPTOMS: If you are showing any Covid-19 symptoms (a high temperature, a new, continuous cough, a loss or change to your sense of smell or taste) please DO NOT attend the class. Any participant repeatedly coughing in the space will be asked to leave immediately.
SOCIAL DISTANCING: please DO NOT gather in groups of more than 6 before/after class and during the breaks. Please, no talking/chit chat during the class. If you need to talk to, you are welcome to TALK/CHAT before/after the class OUTSIDE the building.
FACE COVERING: please wear whilst moving through the building. Once you are in the Roof Studio, you can take your face covering off.
TEMPERATURE CHECK: upon entering the building. Anyone with temp above 37.50C will not be allowed to enter the building.
HAND WASHING: please sanitise your hands upon entering the building. Wash and sanitise your hands regularly and after using the bathroom. All touch hotspots will be regularly cleaned with disinfectant between each session.
CONTACT DETAILS: name and contact details will be kept for 21 days by the venue for track and trace purposes. If you have booked 2 or more tickets under your name, we will need to obtain name & email address from other attendees .
BATHROOMS: please ONLY use bathrooms on the 1st floor by the lift as these are for Roof studio users only. DO NOT use any other toilets in the building.
CHANGING ROOMS: located on the 1st floor. Follow the signs. ONLY 2 people at the time in the changing rooms. Where possible - please come already dressed in comfortable clothing and dress in layers.
WATER REFILL: please top up your water bottle from the flasks provided outside the Roof studio. It's tap water.
OTHER AREAS IN THE BUILDING: please DO NOT SIT/ EAT/ CHAT in any other areas of the building to ensure the safety of staff and other attendees.
YOGA MAT, BLANKET & CUSHION: we will provide these and will spray with antibacterial disinfectant between each session. Please BRING YOUR OWN yoga mat, blanket, cushion for the workshops if you prefer to.
BLINDFOLDS/EYE MASKS: clean blindfolds /eye masks will provided for each workshop.
FRESH AIR: venue has windows that will be opened and fans placed in front of the windows to allow more air flow in the space. There is also a back door fire exit which will be opened between each session to ventilate the space.
(PLEASE NOTE: ALL VIDEOS & PHOTOS WERE TAKEN PRE COVID)