Description
Sunday Out: Meditation & Meal with Resident Teacher & Buddhist Monk, Gen Kelsang Tharpa
Theme: Forgive Yourself and Others
Sunday 29 March| 11:30am - 2pm | £15
Treat yourself or a loved one to a special day out comprising:
- a beautiful teaching with practical methods to let go of anger and resentment towards others, as well as the art of forgiving ourself. This will help us to enjoy more lightness and confidence, bringing harmony to our relationships and more meaning and peace to our life.
- a fabulous two course meal in the wonderful surroundings of Kilnwick Percy Hall with over 45 acres of grounds to explore to walk off your lunch.
Everybody is welcome!
About the Teacher
GEN THARPA is a close disciple of Venerable Geshe Kelsang Gyatso and a senior teacher of the New Kadampa Tradition who has been teaching Modern Buddhism in Spain, Portugal and England for over 30 years. He has great ability to convey the profound Buddhist path of wisdom and compassion with clarity and the depth that comes from his personal experience. Both beginners and more senior students enjoy Gen Tharpa's profound understanding of Dharma as well as his simplicity, wise counsel and good sense of humour. He is a living example of how to practice the Kadampa way of life in the modern world.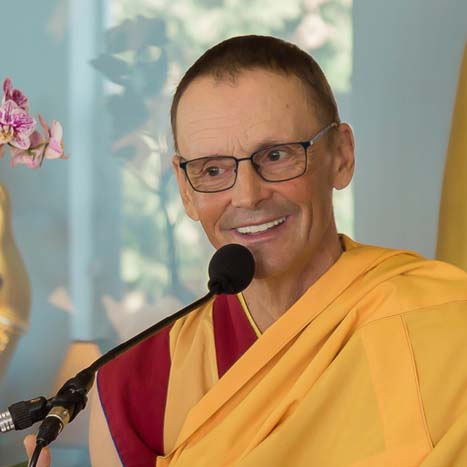 Organiser of Sunday Out: Meditation & Meal
Located in Kilnwick Percy Hall since 1986, Madhyamaka KMC is the very first centre to be established by Venerable Geshe Kelsang Gyatso.  Now an internationally-renowned centre for Modern Buddhism, it welcmes thousands of people throughout the year to meditation courses and retreats.  There are many ways you can make the most of this centre - come to a meditation class or weekend course, visit the World Peace Cafe, gift shop, enjoy the extensive 46 acres of gardens and woodland, volunteer or stay overnight.
Madhyamaka KMC offers something for everyone - enjoy your visit!