Sunday Sessions: Gong Meditation

Sunday, 7 April 2013 from 17:00 to 19:00 (BST)
Event Details
 About Gong Meditation
"The mind has no power to resist a gong that is well played." Taking part in a Gong Meditation session, being immersed in the beautiful sounds and vibrations that emanate from the gong, is a unique, pleasant and relaxing experience. The sounds provide an anchor point for the mind to focus on, and the vibrations work directly on the nervous and energetic systems of the body, recharging and rebalancing them, with very little effort on the part of the listener - the gong does all the work! The gong can easily induce deep states of relaxation, and is a useful tool for people to experience the benefits of meditation, even with no prior experience. 
This unique session will begin with a short talk about the intriguing history and relevance of Labyrinths as we all sit together on the giant 5x5metre Labyrinth graphic at the heart of the PATTERN POWER festival.
This is the final session in our day dedicated to HAPPY PATTERNS OF WELLBEING.
Click here to sign up to our other events on World Health Day. 
• A FULL schedule of PATTERN POWER events can be downloaded HERE
∞ ABOUT FAZE AL
Having studied Neuroscience at Sussex Univeristy, Faze continued his studied in a variety of different fields from Digital Media to Consciousness Stuudies & Transpersonal Psychology to Permaculture Design.  After attending a gong meditation session he spent the next two years developing his skills and understanding and began running his own Gong Gatherings.  He is now a qualified EFT Practitioner - a novel and powerful form of 'Energy Psychology' treatment, which combines the Eastern understanding of the body's energetic system, with contemporary Western psychological techniques, to provide relief from negative emotions and energetic wellbeing. He combines the two practices, as part of a further shift into promoting wellness amongst people. 
∞ ABOUT LABYRINTHS
A maze offers the walker different choices in pathway, presenting many dead-ends along with the correct route from start to finish. A labyrinth, on the other hand, offers only a single route from beginning to end, but often employs the most complex and winding design possible. There are no wrong turns in a labyrinth, so it is not a puzzle. Historically, they have been used as places of contemplation, meditation, and solace, as a spiritual tool to quiet a busy or frantic mind. 
∞ ABOUT PATTERNITY
Patternity is an award-winning creative organisation that specialises in the exploration and application of pattern.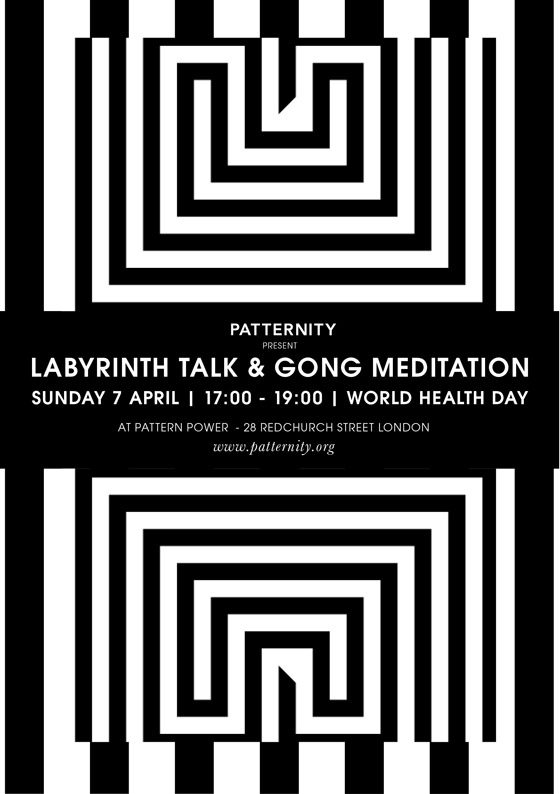 When & Where

Londonewcastle Project Space
28 Redchurch St
E2 7DP London
United Kingdom


Sunday, 7 April 2013 from 17:00 to 19:00 (BST)
Add to my calendar
Organiser
PATTERNITY
Present
PATTERN POWER
- Superstripe
 Pattern Power —Superstripe is the first in an ongoing series of annual exhibitions and events, exploring the powerful presence of pattern and it's ability to positively connect us all.
 For the month of April 2013 cult pattern pioneers Patternity take over the Londonewcastle Project Space on Redchurch Street in East London.  
 Visitors will be immersed in an intriguing and tactile world of stripes as Patternity transport their iconic curation and ethos of 'celebrating pattern everywhere' boldly into the real world. 
 SUPERSTRIPE EXHIBITION — INDUSTRY TALKS AND EVENTS
WORKSHOPS AND DEMOS — DESIGN COLLABORATIONS  
FILM AND MUSIC NIGHTS — POP UP CAFE, BAR AND SHOP
ABOUT PATTERNITY
 Patternity is an award-winning creative organisation that specialises in the exploration and application of pattern. 
 Born from a united drive to blur the boundaries between disciplines and further the awareness and understanding of the world around us, Patternity projects go beyond the surface, using pattern as a vehicle to engage, educate and inspire.
 NEW YORK TIMES
"PATTERNITY is resolutely noncliché and renders
everyday bricks and mortar moot"
 VOGUE UK
"You'll adore PATTERNITY'S exhaustive research dedicated to all
things decorated, tessellated and patterned... "
 WALLPAPER*
"Spend a few moments at PATTERNITY and you'll
look at the world through fresh eyes"
 RESEARCH ARCHIVE / DESIGN STUDIO / EVENTS
 www.patternity.org
FURTHER INFORMATION 
Opening times 12.00 – 19.00 daily 
General admission to the exhibition is free
PATTERN POWER —Superstripe is a Not - For - Profit event