Event Information
Refund Policy
Contact the organiser to request a refund.
Eventbrite's fee is nonrefundable.
Sunday Morning Tea Ceremony - Deepen your meditation practice, discover Tea, connect with others in our Community.
About this Event
Deepen your meditation practice through Tea Ceremony, enjoy a new appreciation of Tea and spend time in presence with other genuine, kind, open-hearted, inspiring people in our community.
We drink shamanic plant medicine Tea (the same plant as black/green tea but the trees are old, sometimes hundreds or thousands of years and most importantly the trees are wild or semi-wild, the tea itself is usually aged 10-50 years).
Tea ceremony brings stillness, peace and clarity.
Often, something has been waiting to come up and just need to be given the right space. Our guests find that the tea space is usually the right space for things to emerge and know yourself better, find your peace and new resources.
Enlightenment Tea Temple offers a safe, quiet, social community space. You are welcome to come as you are, to connect with others as much or as little as you wish and in your own way and time.
WHEN?
Every Sunday 10am - 12/12.30
Tea Ceremony: 10 am - 12 noon
Community space: 12 noon - 12.30
Around 1 hour and a half of deep stillness in tea ceremony, with space for sharing at the end.
Later, an optional 30 minutes to get to know other inspiring people from the ceremony or for your questions about Tea.
Please arrive between 9.45 and 10 am, earlier is better if it's your first time.
WHAT IS IT?
It's very difficult to describe what happens in a Tea Ceremony because it's such a unique experience but here are words from some previous participants:
"For the first time, meditation stopped being something painful and dreadful, and became something I genuinely enjoyed! I never felt more comfortable and at ease than sharing a cup of tea here in this safe haven. This is a magical place and I'm so happy and grateful to have been part of it"
Brianna (US)
"Serene, blissful, enriching, peaceful and deeply nourishing by the beautiful souls around and the tea medicine magic."
Kristen (Estonia)
"My stays here are filled with presence, joy and gratitude. The close proximity to nature makes this place truly peaceful and relaxing. My tea ceremonies here really connected me to the wild and wise spirit of tea. They opened up my heart to acceptance, gratitude and love."
Liuda (Russia)
What People Experience, Read More...
A note on "Caffeine":
The tea has a little or medium amount of caffeine (medium for morning, while at night time we only drink tea that supports sleep), but it being wild and aged the effect is very different, there's no anxiety and crash and no addiction (in fact I usually feel more energised in the mornings since I drink proper real wild Tea)
I myself am one of the most sensitive to caffeine people I know and I thought I wasn't interested in Tea Ceremony because of that... it turns out that being so sensitive is what makes this medicine go even deeper inside me, and without the usual negative effects of caffeine!
Around 1% of people might still find the Tea is a bit overwhelming on their system, it's worth trying once to see if it's okay with you.
Ceremony Facilitator
Paolo the founder of Enlightenment Tea has studied Tea Ceremony with western and eastern masters in Malaysia and Taiwan, read more ...
Retreat Venue
Enlightenment Tea Temple is a quiet Tea centre and community near the county hospital in Brighton (BN2 0YS), immersed in the green with stunning views on the downs. Full venue address will be sent on booking.
Cost
On the door £25
General Ticket £20 (+ online booking fee)
Concessions Ticket £15 (+ online booking fee)
Bring a friend - Ticket for Two People £35 (+ online booking fee)
(concessions available on 'Bring a friend' as well, buy a normal ticket and get a £5/£10 refund if applicable once at the venue)
Important please read COVID Notes:
Due to the nature of Tea Ceremony face masks are impractical and you will be sitting quite close to others.
- We will have ventilation
- We will limit groups to 6 people + anyone serving or assisting (as working here they don't count in the 6)
- We will provide a bathroom and sanitary equipment
This is all consistent with government guidelines (to the best of our understanding).
If you are in a group vulnerable to Covid-19 I'm afraid it's best not to book for now, and you'll have to wait until the situation calms down.
Please ensure you are well and have not been in contact with anyone with Covid-19 within a 14 day period. This is to ensure the health and well-being of others.
Refund Policy Please contact us if you cannot make an event 14 days prior to the event, your payment can be used towards another event or a Tea Purchase.
Website http://enlightenmenttea.org/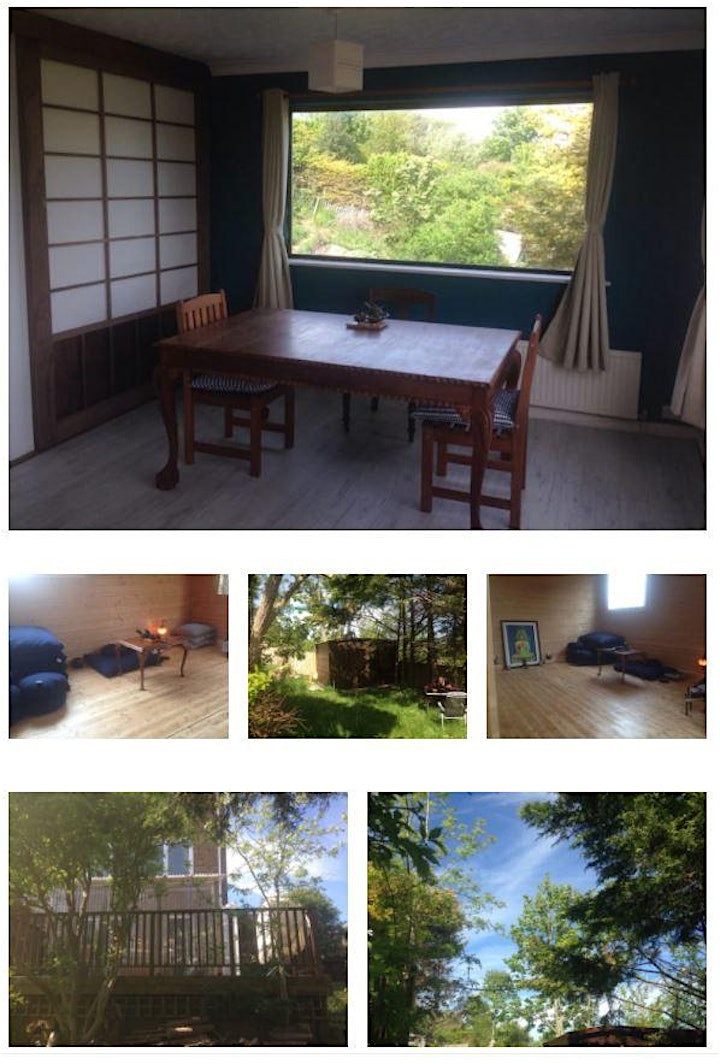 Date and Time
Location
Refund Policy
Contact the organiser to request a refund.
Eventbrite's fee is nonrefundable.