IMPORTANT: TO ACCESS THE EVENT YOU MUST CHECK-IN ON VIRTUAL PLATFORM (HOP-IN): https://hopin.com/events/superconnectforgood
About this event
Super Connect for Good 2020
Super Connect for Good 2020 is a new national tech initiative powered by Empact Ventures and Hays seeking to discover, super connect and support the best emerging tech startups and scale-ups that bring positive social change and impact to enhance people's lives through technology. These include AI for Good, HealthTech, MedTech, EdTech, Smart Cities and GovTech.
Our partners include Microsoft for Startups, OVH Cloud Startup Programme, the National Institute for Health Research, UnLtd, Young Enterprise, Angels Den, Top Business Tech, GEN UK, PUBLIC, eOffice and Linkilaw Solicitors.
The Virtual Final
The Virtual Final will take place on 17th November 2020 during Global Entrepreneurship Week UK and it will feature:
8 Regional Winners pitching to be crowned the National Winner
- Republic of Ireland: Kids Speech www.kidsspeechlabs.com
- Scotland: Neatebox www.neatebox.com
- Northern Ireland: TapSOS www.tapsos.com
- West (Wales & Midlands): CanSense cansenseltd.com
- North: QB Bioelectronics www.qvbio.co.uk
- South: My mHealth www.mymhealth.com
- East: Personal Data Management (IE Hub) www.iehub.co.uk
- London: Beam www.beam.org
Announcement of our 6 Industry Winners
Tech for Good Roundtable (Speakers to be Announced)
Growth Roundtable: From Startup to Scale-up: Challenges & Roadmap to Success (See image below)
Digital Exhibition: This will feature the Regional Winners and our Super Connect Partners to support you with your business challenges enabling you to review their brochures, speak directly with them via video or text chat, and request to connect with them via their 'Super Connect Me' button
- Hays (Recruitment Challenge) www.haysrise.com
- OVHcloud (Cloud Hosting Challenge) - www.ovh.co.uk/startup/
- Linkilaw Solicitors (Legal Challenge) - www.linkilawsolicitors.com
- Microsoft For Startups ( StartUp Support) https://startups.microsoft.com
- Wissen (Development Challenge) www.wissen.com
- Hybrid Marketing (Design / Marketing Challenge) - www.hybrid-
- Dublin BIC (Investment Challenge) www.dublinbic.ie
- Ying De Group (Investment Challenge) www.yingdegroup.co.uk
- Angels Den (Investment Challenge) www.angelsden.com
- National Institute for Health Research (Grant Funding Challenge)
- Future Health (Grant Writing Challenge) www.future-health.co.uk
- eOffice (Workspace Challenge) www.eoffice.net
______________________________________
All registered attendees that check into the Virtual Final will receive 5 free super connections via email facilitated by the Super Connectors at Empact Ventures to potential partners, clients or funders that can address your registered challenges.
If you would like to follow the competition from its start and hear about the Regional Winners follow us on Twitter at @SuperConnectUK
Important to Note for Attendees
Registration is Essential: To ensure that you are able to attend you MUST register on this Eventbrite page to be allowed to attend the Virtual Final
Registration Information Required: We will match you with other attendees based solely on your registration and therefore the quality of the super connections proposed and made will depend entirely on the quality of your answers to our questions
For further information please visit: www.superconnectforgood.com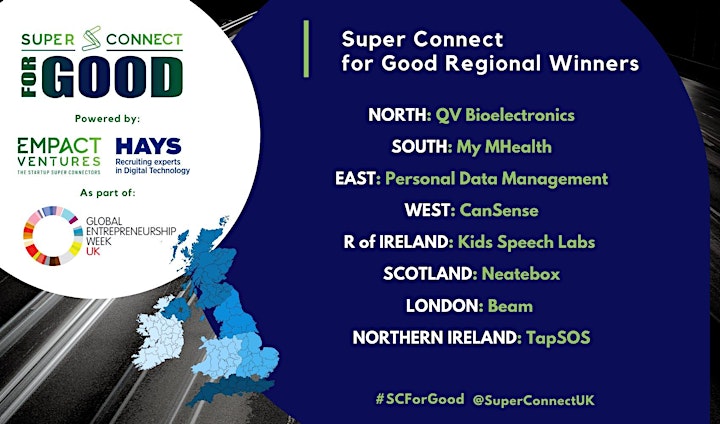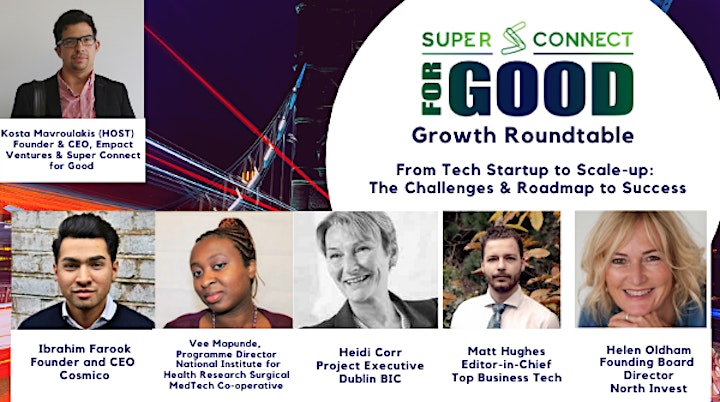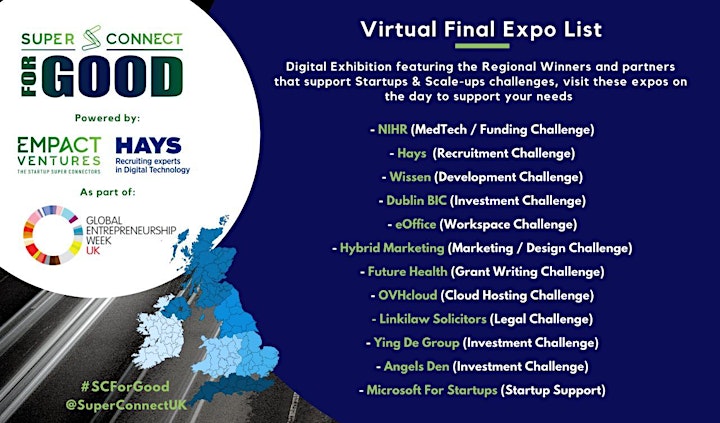 Organiser of Super Connect for Good 2020 Competition - Virtual Final
Empact Ventures are Super Connectors who open the right doors at the right time to help the right people and organisations achieve the right mutual outcomes. Our mission is to create an aggregate social and economic impact by mobilising entrepreneurial networks to help people and organisations to address their challenges - an 'Empact'
We bring people together based on mutual need and interest in a personalised and facilitated way to support you in creating strong relationships and partnerships. We work with both people and organisations in the private, public and third sector to understand their needs, interests and challenges. We then bring them together with those that can address these areas through our initiatives, projects and ventures.
We co-design some of the leading startup initiatives in Europe like Super Connect for Good, Super Connect Series, StartUp Britain, the I-COM Global Data Startup Challenge and more
For more information visit http://www.empact-ventures.com - http://www.superconnectforgood.com - http://www.superconnectseries.com