Super-Earths & Mini-Neptunes: Exoplanets & Habitability in the Age of Keple...
Description
Imperial College London, Astrophysics Department

Public Lecture Series

17th January, 2019, 18:45 - 20:00
---
Super-Earths & Mini-Neptunes: Exoplanets & Habitability in the Age of Kepler
Come join us here at Imperial College for a evening which is quite literally out of this world! Imperial's very own Dr Subhanjoy Mohanty will take you through the latest scientific results from the Kepler Space Telescope, an instrument designed to detect other worlds around distant stars, including what we've learned about the very architecture of solar system construction, strange new kinds of planets not seen in our backyard, and if life could feasibly exist on other Earth-like planets. The lecture will start at 19:00 and last for around 50 minutes, after which there will plenty of opportunity to ask questions to Dr Mohanty. Suitiable for the whole family!
Abstract: The Kepler space mission's discovery of thousands of exoplanets -- planets orbiting stars beyond our sun -- has revolutionised our understanding of planetary systems. Three of the most remarkable results from this mission are: (1) planets are astoundingly ubiquitous: nearly every star harbours one or more; (2) most stars host super-Earth to mini-Neptune sized planets, revolving in orbits smaller than Mercury's: a class of planet not found in our own solar system; and (3) around dim red dwarfs -- themselves the most common type of star in the galaxy -- many of these super-Earths to mini-Neptunes reside within the Habitable Zone: the region where liquid water may survive on the planetary surface. I shall discuss each of this results, their implications for how planets form and evolve, and how these discoveries are driving the search for habitable exoplanets and the signatures of life by upcoming space missions.

Dr. Subhanjoy Mohanty obtained his undergraduate degree in physics from Harvard University, and his PhD in astrophysics from the University of California at Berkeley. Subsequently he was a NASA Spitzer Postdoctoral Fellow at Harvard, before joining the Physics department at Imperial College London, where he is now a Reader in Astrophysics. He works on the theory and observations of star and planet formation and evolution, and the habitability of exoplanets.

---
Tickets: Tickets are free and we welcome you to turn up on the door. However the capacity of the lecture theatre is limited to 250 people, and those turning up on the door will be allowed in on a first come, first served basis only after those with tickets. We therefore recommend you print off a ticket to guarantee a space!

How To Get Here: The lecture will be held in the Clore Lecture theatre (Room 213 of the Huxley building), located just inside the Huxley building from the Queens Gate Road entrance (Circled in red on the below map).The nearest tube stops are Gloucester Road or South Kensington, both on the District, Circle, and Piccadilly lines.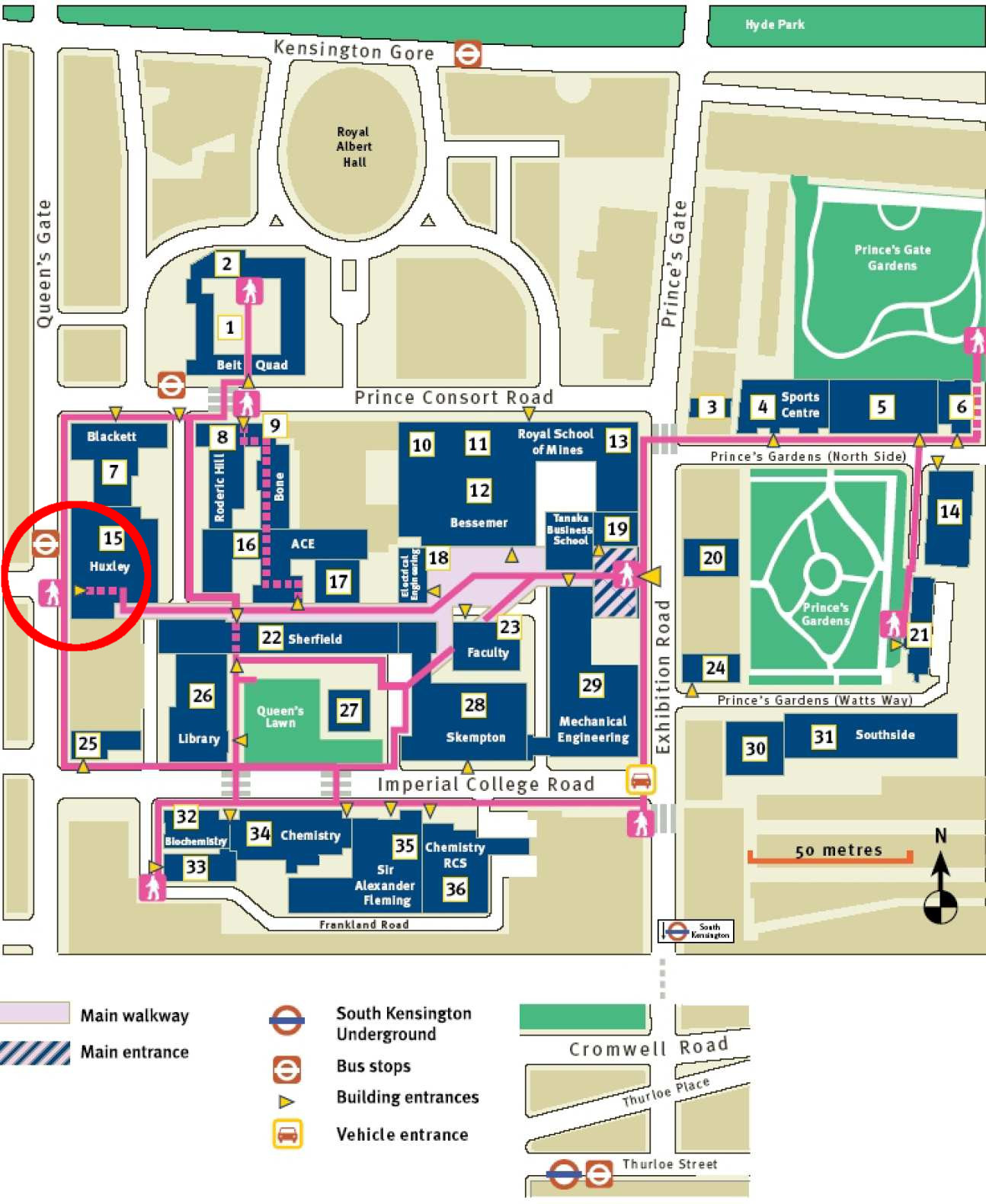 General inquiries: Should you have any other concerns/questions, please email j.greenslade14@ic.ac.uk.