Description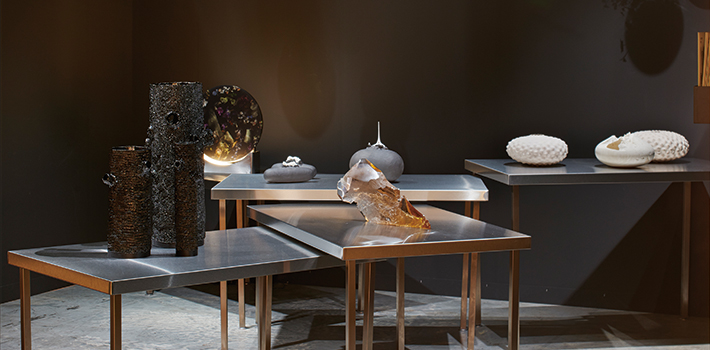 The Crafts Council presents four of the makers from 'A Future Made' – a programme they created to showcase the best of British craft to audiences in the US and Europe, and which has just returned from showing 'Nature Lab' at Design Miami Basel.
In a discussion led by Crafts Council Creative Director Annie Warburton, makers Juliette Bigley, Marlène Huissoud, Shelley James and Eleanor Lakelin will discuss innovation in process and design and its place in their practice and address questions such as: What drives makers to investigate new processes in making? How does the hands-on nature of craft making encourage deeper exploration of materials?
The talk will be followed by a short Q&A.
Chair

Annie Warburton (Creative Director, Crafts Council)
Panel

Eleanor Lakelin
Eleanor Lakelin carves and turns wood from British trees combining centuries-old woodworking methods with innovative techniques to expose the organic chaos that can exist in the material. In works that may be scorched, bleached, micro-waved or sandblasted, Lakelin reveals how natural processes layer and colour wood and how the passage of time is etched into the fibres of the material.

Marlène Huissoud
Marlene Huissoud's vessels are formed from propolis, a bee resin that possesses unexpected material qualities of colour, texture and glass-like translucence. Huissoud manipulates the bio-resin using traditional Venetian, glassblowing and engraving methods and a specially adapted low temperature kiln to create works that challenge notions of materiality.
Juliette Bigley
Working in base and precious metals, Juliette uses the form of vessels as a canvas through which to explore how we negotiate our physical and emotional place within the world. Focussing particularly on line and form, her vessels - vases, dishes, bowls and spoons - are primarily sculptural with notions of function and emerge from the context of the domestic and the rituals that characterise it. Typically beginning with a flat sheet of metal, she uses a range of techniques including raising and fabrication to hand-make the work.

Shelley James
Shelley's pieces celebrate the wonders of glass, combining its optical and material qualities with the precision and graphic impact of print making. Her work explores dimensions of real and reciprocal space through of points and vectors located on multiple levels within a hot glass form. Each piece is built up in a series of layers of glass that are cooled before the next element of the pattern is applied, reheated and gathered again. At the end of the process, each piece is carved and polished by hand. Influenced by 20th century artists and thinkers such as Wilding, Moholy-Nagy and Duchamp her work is inspired by those who were seeking a new aesthetic response to the understanding of the nature of space and time.