Description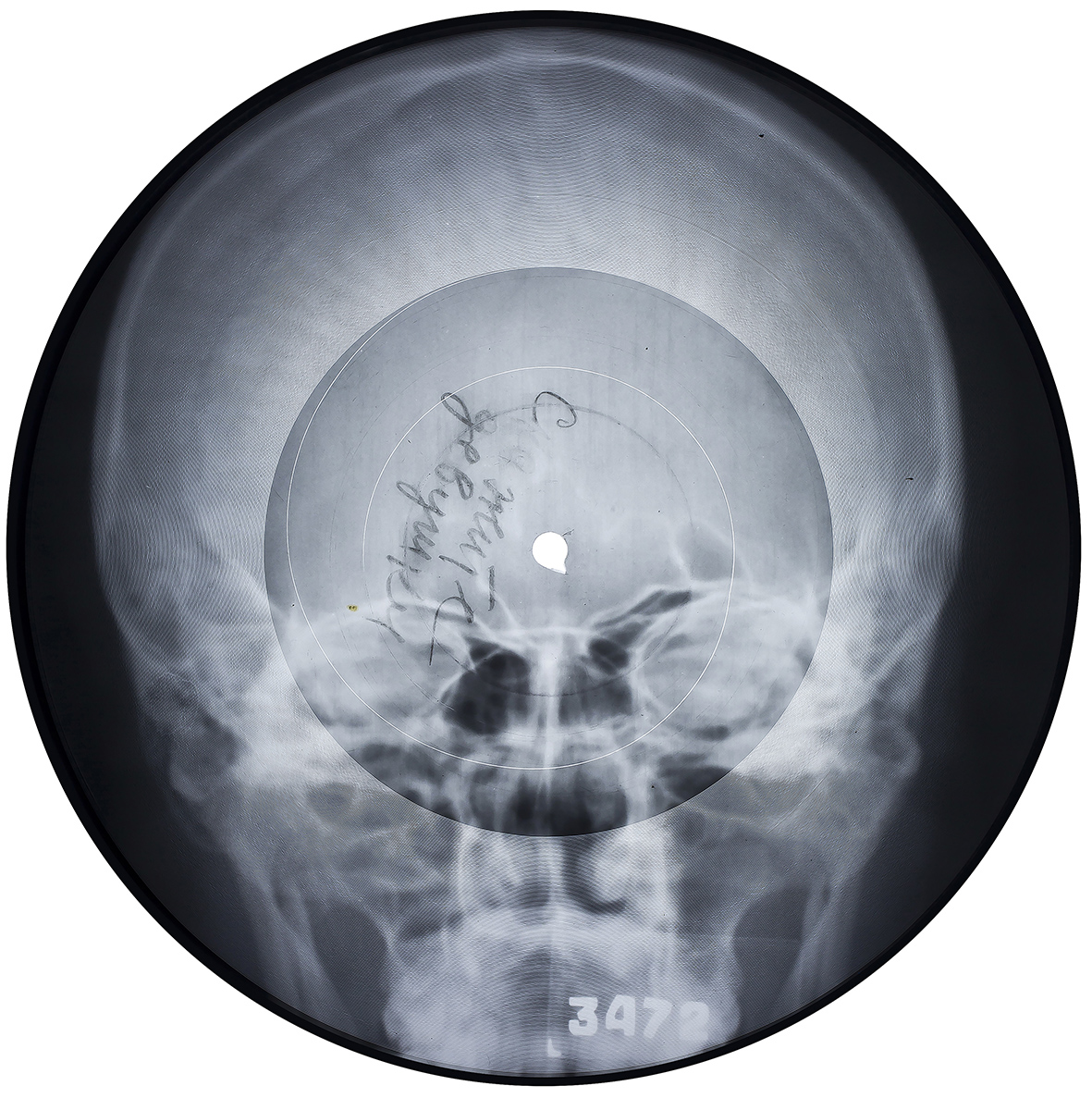 Join X-ray Audio and sonic innovator Thurston Moore for a unique evening celebrating rebel sounds, bootleg technology and cold war culture in film, words and music cut live with vintage recording devices. The evening will begin with a talk by X-Ray Audio, followed by a live recording of 3 x 3 minute songs by Thurston Moore.
Many older people in Russia remember seeing and hearing strange vinyl type discs when they were young. The discs had partial images of skeletons on them, were called "Bones" or "Ribs" and originated in the Cold War years of the Soviet Union. In an era when the recording industry was ruthlessly controlled by the State, music-mad bootleggers had found an incredible alternative means of making illegal copies of forbidden recordings – they repurposed used X ray plates obtained from local hospitals.

'They are images of pain and damage overlayed with the sounds of pleasure, fragile photographs of the interiors of Soviet citizens inscribed with thematic they secretly loved.'

The X-Ray Audio project explores this amazing world of forbidden music, cold war culture, bootleg technology and human endeavour with an online archive, a book, documentary, live events and a travelling exhibition. In this special live event, X-Ray Audio will tell the strange story of the Soviet bootleggers and demonstrate the art of cutting music to x-ray with very special guest Thurston Moore.

The project was formed by musician Stephen Coates and photographer Paul Heartfield who have taken it to the Museum Of Art, Tel Aviv, New Hollandia, St Petersburg, Garage Museum Of Contemporary Art, Moscow, Magazzino Delle Idee, Trieste, Millenium Arts, Belfast, The Horse Hospital, London and many more institutions.

Thurston Moore moved to NYC at eighteen in 1976 to play punk. He started Sonic Youth in 1980. Since then Thurston Moore has been at the forefront of the alternative rock scene since that particular sobriquet was first used to signify any music that challenged and defied the mainstream standard. With Sonic Youth, Moore turned on an entire generation to the value of experimentation in rock n roll – from its inspiration on a nascent Nirvana, to Sonic Youth's own Daydream Nation album being chosen by the US Library of Congress for historical preservation in the National Recording Registry in 2006. Thurston records and performs in a cavalcade of disciplines ranging from free improvisation to acoustic composition to black/white metal/noise disruption. He has worked with Yoko Ono, John Zorn, David Toop, Cecil Taylor, Faust, Glenn Branca and many others. His residency at the Louvre in Paris included collaborations with Irmin Schmidt of CAN. Alongside his various activities in the musical world, he is involved with publishing and poetry, and teaches writing at Naropa University, Boulder CO, a school founded by Allen Ginsberg and Anne Waldman in 1974. Thurston also teaches music at The Rhythmic Music Conservatory (Rytmisk Musikkonservatorium) in Copenhagen.

Presently he performs and records solo, with various ensembles and in his own band, The Thurston Moore Group (with mbv's Deb Googe, Steve Shelley & James Sedwards). In 2014, the band released The Best Day which critics described as "optimistic and sun-drenched in beauty" and "[has] experimental attitude dovetailed with instantly accessible pop melodies." The Best Day was a record defined by positivity and radical love.

The Thurston Moore Group's new full-length album, Rock n Roll Consciousness was recorded in The Church studios in London with producer Paul Epworth. The songs are expansive, anthemic and exploratory with lyrics that investigate and herald the love between angels, goddess mysticism and a belief in healing through new birth. Ranging from opener "Exalted", an unfolding and emotional journey in homage to sacred energy and exaltation, to "Cusp" a charging, propulsive piece with a feeling of Sonic Youth mixing in with My Bloody Valentine. "Turn On" is a pop-sonic poem to holy love both intimate and kosmiche to the contemplative mystery of life-defining time travel in "Smoke of Dreams". The record concludes with "Aphrodite", a strange and heavy no-wave rocker in salutation to the idol of love, beauty, pleasure, and procreation.
***Tickets brought through Eventbrite guarantee entry up to 8PM.

www.super-collider.com
www.x-rayaudio.com
www.groundcontroltouring.com/artists/thurston-moore
Organiser of super/collider Presents: The X Ray Audio Project with Thurston Moore
science x culture
founded in 2006, super/collider is an independent agency based in London. working in and with people from the creative industries, we explore science from a pop cultural standpoint – bringing its wonders to new audiences through public events, worldwide expeditions, self-published books and curated products
the team
Chris Hatherill – founder
Melanie King – co-director
Louise Beer – co-director