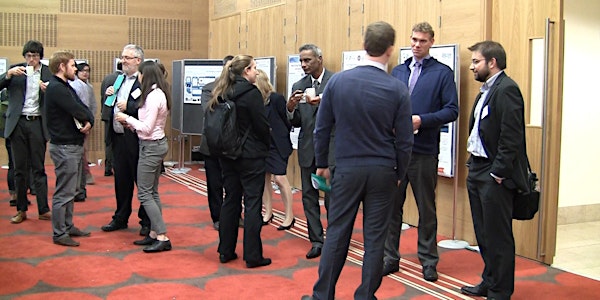 SuperGen UK Centre for Marine Energy Research (UKCMER) Annual Assembly 2018
Location
Edinburgh International Conference Centre
150 Morrison Street
Edinburgh
EH3 8EE
United Kingdom
Description
The Supergen UK Centre for Marine Energy Research (UKCMER) is nearing the completion of its current format. Come be inspired by our keynote speaker, withness the launch of the University of Edinburgh Open-Source tools, and learn the outcomes of the recently completed projects.
Please let us know if you have any particular dietary requirements. Vegetarians will be catered for.
Book your place now for the SuperGen UKCMER Annual Assembly and for the 3rd Annual Wave Energy Scotland Conference being held the next day!
Provisional Programme
08:30 - Registration and Coffee
09.00 - Welcome and Introductions - Henry Jeffrey
09.10 - Keynote Speaker - Matthijs Soede
09:30 - Arrays and Resources

Array Interaction - Matt Edmunds

Tidal Stream Turbine Fence Technology Demonstrator - James McNaughton

Control and Performance - Anup Nambiar

FlowTurb - Sam Draycott

Dylotta - Tim O'Doherty
10:55 - Coffee
11:25 - Survivability and Reliability -- Chair – Deborah Greaves
Risk and Reliability - Lars Johanning
Nonlinear Probabilistic Extreme Wave Loading Design and Testing - Mark McAllister
Materials and Structural Integrity - Lourdes Jalon
Extreme Loads and Survivability - Stephanie Ordonez
Surftec - Tom Lake
12:40 -Lunch
13:40 - Launch of Open-Source Edinburgh -- Chair – Robin Wallace

Fast Hydrodynamic Time-Domain WEC Array Model - David Forehand

Edinburgh Wave Systems Toolbox -- Richard Crozier

Resource Databank - Brian Sellar

DTOcean and DTOcean Plus - Tianna Bloise/Donald Noble
14:40 -Coffee
15:10 - Alternative Approaches -- Chair - Ruhina Miller

Dielectric Elastomer Generators - Rocco Vertechy

AD-CON - Moray Newlands

Synthetic Ropes for Marine Renewable Energy Mooring systems - Sam Weller

E-Drive - Nick Baker

MetaTide - Abel Arredondo-Galeana

TIPA - Gary Connor
16:40 -Sector Updates -- Chair – Henry Jeffrey
SuperGen ORE Hub - Deborah Greaves
Wave Energy Scotland - Tim Hurst
Fastblade - Jeff Steynor
FloWave - Tom Davey
IDCORE2 - David Ingram
E-Tip 2 - Charlotte Cochran
Oceanera-Net Cofund - Karen Fraser
17:25 -Closing - Henry Jeffrey