An Outdoor Festival Of Inspiration, Empowerment, Education, Support & Fun For Women & Their Families (EVERYONE WELCOME)
About this event
At HER Business Revolution we help women pursue their passions, and over the years we have seen incredible cohorts of women flourish in a diverse range of fields as they turn their interests and skill sets into long-term livelihoods.
In celebration of the diverse range of capabilities, interests, and successes of different women, we want to go beyond consultancy and celebrate female achievement in all its forms.
We believe that to build a strong future for girls and women, we must all work together to combat inequality and demand diversity.
Therefore we have created the SUPERWOMAN Festival, which is not just a usual women-related conference, but a huge celebration of women and girls from all walks of life.
THIS INCREDIBLE EVENT IS OPEN TO EVERYONE, WITH THE AIM OF SUPPORTING, EMPOWERING, EDUCATING, UPLIFTING AND CELEBRATING THE ACHIEVEMENT OF WOMEN AND GIRLS. ALL GENDERS, AGES, RACES, RELIGIONS AND VIEWPOINTS ARE WELCOME (AND EVEN 4-LEGGED FRIENDS).
SUPERWOMAN Fest ® 2022 will feature:
- Talks by a range of wonderful female speakers including actress Holly Matthews - Co-founder of the Happy Me project (and most commonly for her role in Byker Grove), and Louise McCullough - Consultant Trauma and Orthopaedic Surgeon (and first female to pass selection on Channel 4's SAS: Who Dares Wins). Intended to provide a voice to women involved in a broad spectrum of disciplines these talks will educate, inspire and mark the important achievements of many strong female figures.
- Workshops run by experienced aficionados that focus on subjects like creative writing, career and business consultancy, arts and crafts, spiritualism, and wellbeing. These will give you opportunities to try something new and learn in an interactive, hands-on way.
- Mentoring and mingling with a range of brilliant female writers, scientists, artists, professionals, and entrepreneurs. Stands and a friendly atmosphere will give you the chance to explore and discuss the different career paths, charities, and passion projects of many skilled, independent, and driven female pioneers.
- The SUPERWOMAN Market will be the Hub of the festival, the perfect place to meet, eat, gather and shop! You will be able to buy gorgeous artisanal items made and sold by inspirational girls and women.
- Kids Zone - fun for little ones, plus amazing and inspiring resources and activities on offer for older girls, who are looking to find their calling…
- Plus- Live music, festival fun, food/drink vendors, and much much more!
We recognise the obstacles and prejudice that girls and women are still fighting to overcome and believe that a positive, inspiring celebration of the incredible achievements women are capable of reaching here and now will help light the way for a whole new generation of girls and women looking to find their calling.
By affirming the amazing, inspiring work that women are carrying out on initiative alone we believe Superwoman Fest ® 2022 will spark the courage and confidence in all its attendees that will empower them to put themselves out there and make and make a real difference.
So, come along on Saturday 28th May 2022 (10.00-18.00) at the Norfolk Showground and join the revolution!
We can't wait to see you there,
Love the HER Business Revolution Team xoxo
MASSIVE THANKS TO OUR INCREDIBLE EVENT PARTNERS...
Birketts - Headline Sponsor
Hethel Innovation - Gold Sponsor
Face-to-Face Finance - Silver Sponsor
East Coast Hideaways & Wellington Wood- Bronze Sponsors
...If you would like to partner, collaborate, sponsor or exhibit at this event and get your brand showcased to thousands of women (at the event, via social media and in our PR and mailing list promotions) then Contact Us directly (please note that sponsorship and exhibition stands are offered on a first come, first served basis).
P.s...
1) If you are a member of our Award-Winning Superwomen Membership Club of talented and ambitious women in business, then please use your exclusive discount code at the checkout for 15% off your booking (just Contact Us for the code). PLUS, THE FIRST 50 MEMBERS WHO BOOK WILL RECEIVE OUR VIP SUPERWOMAN FEST GOODIE BAG (WORTH £40+)
2) New members are always welcome to Join Us and receive this discount, as well as all the other member benefits.
3) If purchasing a general admission ticket please bring a blanket or deck/camping chair, and if purchasing an exhibition stand please bring suitable table, chairs and gazebos/canopies.
4) No refunds will be given for this event, unless for circumstances that involve us cancelling the event, of which sufficient prior warning will be given.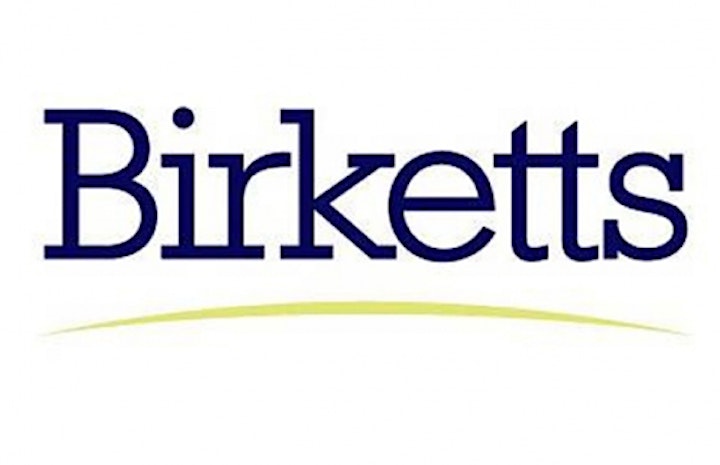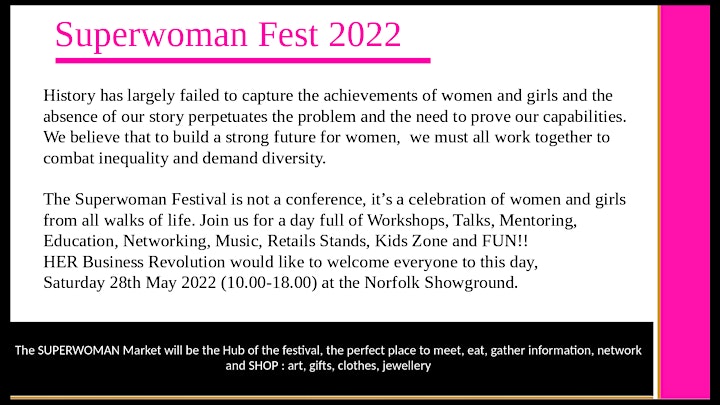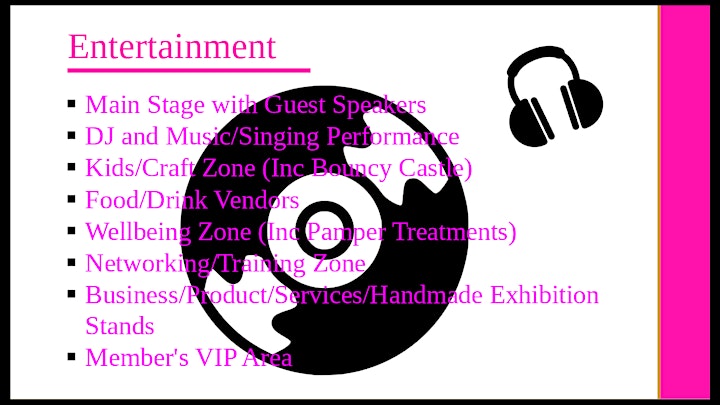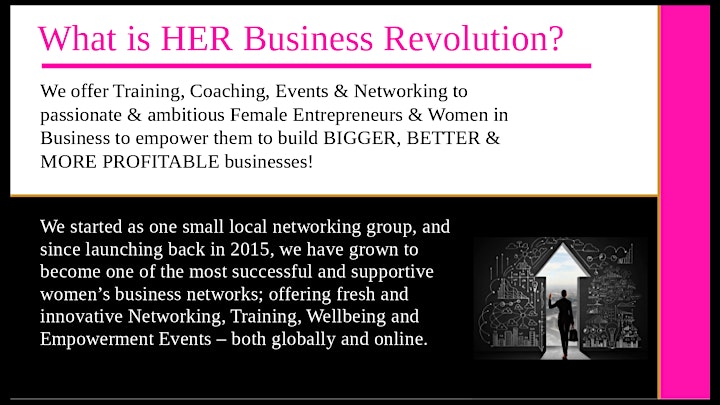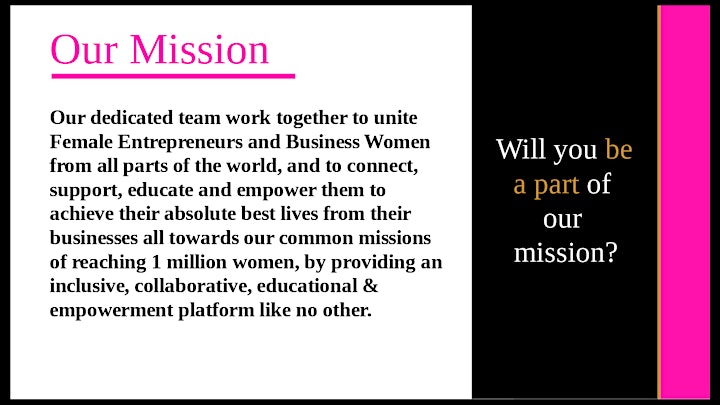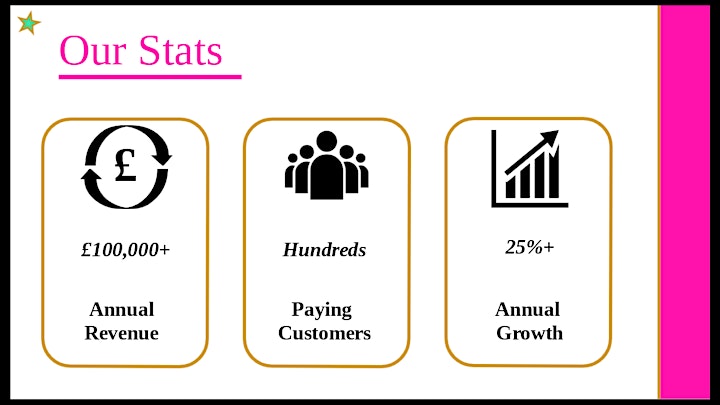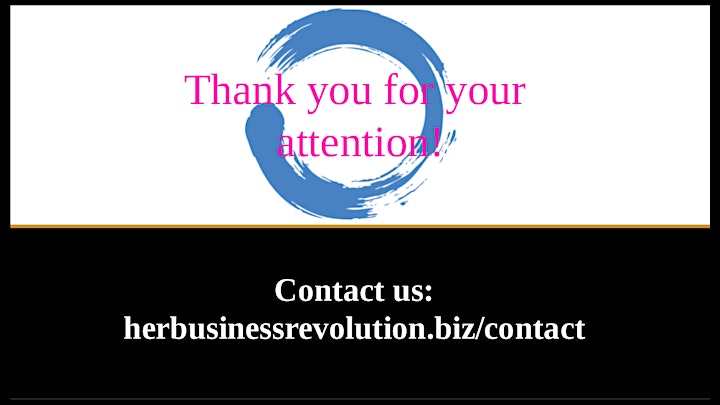 Organiser of SUPERWOMAN Fest ® 2022 (Norwich) In Association With Birketts