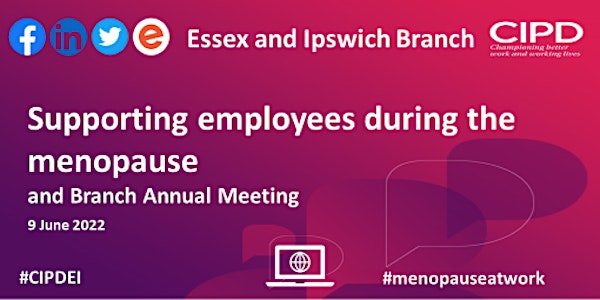 Supporting employees during the menopause (incorporating Annual Meeting)
Menopause and branch annual meeting
About this event
The webinar will commence promptly at 16.30. It will be presented by Sue Wood, a trained nurse who has moved into specialised mental health work within NHS England's Increasing Access to Psychological Therapies (IAPT) programme. Sue is currently a lecturer at De Montford University, Leicester, and specialises in supporting women living with menopausal symptoms and training others to support too and is a published author, most recently of "Living Life to the Full In your Menopause" and was featured in the June 2022 edition of Good Housekeeping magazine.
Branch annual meeting
The webinar will be preceded by the Branch's annual meeting which will start at 16.00 and be an opportunity to hear about what the branch has achieved over the last year, what we have planned for the coming weeks and months and how you might be able to contribute as a member of the branch or committee member. We'd love as many of you as possible to attend and give us your thoughts, comments and suggestions on how we can support you in what is sure to be a challenging time for us all. You can download the meeting pack by following the link. Please note this link will expire on 27 May 2022. A further link will be sent in a subsequent newsletter.
Your contact details will be used in connection with this event only.