Supporting Families Experiencing Harmful Parental Conflict
Reducing Parental Conflict Programme – Webinar Happy Families, Happy Futures: supporting families experiencing harmful parental conflict
About this event
This event will provide an opportunity for participants to:
• Refresh their understanding of harmful inter-parental conflict
• Recognise when the Happy Families, Happy Futures offer could be suitable support
• Understand how to explain the offer to parents to support engagement and the referral process
This event is suitable for practitioners supporting children and their families and particularly those working within health or education when their role supports early identification of harmful inter-parental conflict.
The Happy Families, Happy Futures offer is a strand of work within the Department for Work and Pensions national Reducing Parental Conflict programme. It is available to parents living within Somerset, Devon, Torbay, Plymouth, BCP, Dorset and Wiltshire and is funded by the DWP.
Feedback received from parents who have completed the programme;
'First of all I would like to thank you, you have been very helpful and helped me realise processes I can put into place when speaking with my ex-wife. The programme breaks things down into simple coping mechanisms which, should both parties work together; allow for happy children.
'We have realised that over the last few weeks, we actually haven't had as many arguments as we usually would, that's a real change for us.'
Thank you very much for understanding and never judging us. You have really helped me and us as a family, and, hopefully, made us a lot stronger as a family. We could not be more thankful.'
If you would like further information for the Happy Families, Happy Futures offer before attending the webinar please see our professionals webpage https://www.dorsetnexus.org.uk/Page/13594 or read a case study from a school here ahttps://mailchi.mp/c8c8fc94fc09/rbdl33rjza who helped a family to refer to the offer.
Speakers include:
Emily Ingle – Regional Integration Lead, DWP
Jenny Lyons – Referral Gateway Co-ordinator, Dorset Council
Sam Stevens – Contract and Partnership Manager, TWIN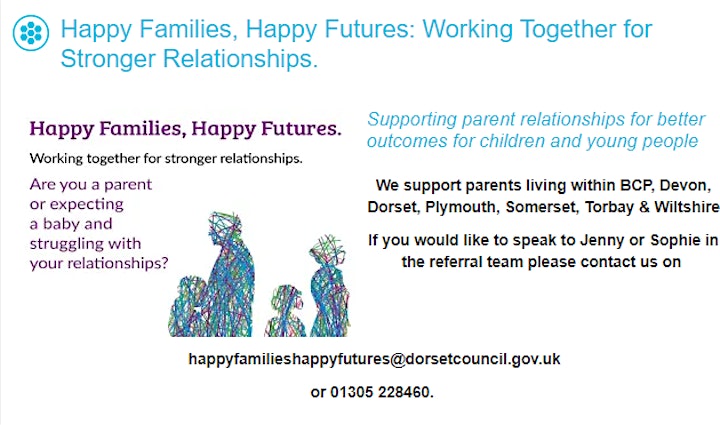 Organiser of Supporting Families Experiencing Harmful Parental Conflict