Supporting North West Businesses to Future-Proof the Northern Powerhouse
Description

Information
Transport of the North Northern Powerhouse Independent Economic Review 30th June 2016 outlines opportunity to transform the North of England's economy, adding £97 billion and 850,000 jobs by 2050. Analysis of the North has identified four prime capabilities; Advanced Manufacturing; Digital Development; Health Innovation and Energy.
The Prime capabilities could provide the foundations for closing a major gap in productivity, generating new jobs and enhancing global competitiveness.
These are supported by three enabling capabilities that are vital if growth in these areas is to be successfully nurtured: Education, Logistics, and Financial and Professional Services.
The purpose of the joint ICAEW and Manchester Met event will be to highlight/emphasise to small and medium sized businesses throughout the Greater Manchester region, the opportunities available surrounding the prime capabilities that are essential to the success of the NPH and how the enabling capabilities can link to ensure growth in the prime sector capabilities. For example, education (schools, FE and HE) can assist with narrowing the skills shortage in the prime capabilities. In addition, education can enhance the enabling capability of Financial and Professional services to meet the potential business needs of small and medium-sized businesses as they experience growth. Logistics can enable the infrastructure to support the prime capabilities.
Keynote Speakers: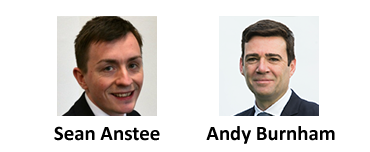 Agenda
3.45pm - 4.00pm: Arrival and Refreshments
4.00pm - 4.10pm: Welcome and Introduction, Professor Jean-Noel Ezingeard, Deputy Vice-Chancellor

4.10pm - 4.20pm: Introduction and Agenda, Michael Taylor, External Affairs, MMU
4.20pm - 4.50pm: Keynote Speaker: Andy Burnham, Shadow Home Secretary and Labour Member of Parliament for Leigh
4.50pm - 5.20pm: Keynote Speaker: Sean Anstee, Leader of Trafford Council
5.20pm - 5.40pm: Questions for keynote speakers, compèred by Michael Taylor
5.40pm - 6.20pm: Roundtable discussions around four prime capabilities for the North
6.20pm - 6.30pm: Summary of roundtable discussions and close from Michael Taylor