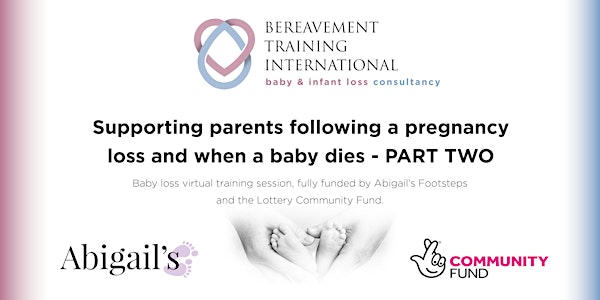 Supporting parents following a pregnancy loss & when a baby dies - PART TWO
Bereavement Training International's FULLY FUNDED baby loss virtual training session - PART TWO
About this event
Thanks to the generous support of Abigail's Footsteps, together with the Lottery Community Fund, these two hour bitesize training sessions are available FREE OF CHARGE.
PART TWO of this online training programme builds upon and enhances the skills learnt in PART ONE. Helping professionals feel better prepared to care for and support parents when a pregnancy ends and when a baby dies.
This training workshop is suitable for midwives and student midwives, neonatal staff, sonographers, Obs and gynae teams, EPU staff, chaplains and allied healthcare professionals.
Subjects covered include:
When a twin or higher multiple dies/Providing support in the next pregnancy/Professional boundaries and self-disclosure/Delivering bad, difficult or unexpected news