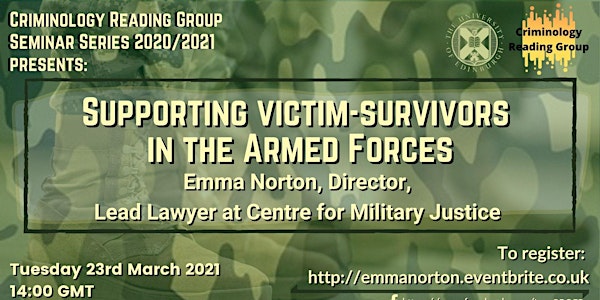 Supporting Victim-Survivors in the Armed Forces
"Supporting Victim-Survivors in the Armed Forces"
About this event
The University of Edinburgh Criminology Reading Group Seminar Series 2020/2021 presents:
"Supporting Victim-Survivors in the Armed Forces"
Emma Norton, Director & Lead Lawyer at Centre for Military Justice
Emma will give a brief overview of the military justice system and talk about the experiences of some of her clients who have reported serious sexual offences in the armed forces.
Emma Norton, Director and lead lawyer, founded Centre for Military Justice. She is the former head of the legal team at the human rights organisation Liberty, where she worked for ten years. Prior to that, she worked in the public law and civil liberties team at the law firm, Bindmans
Emma represents many service women who have suffered sexual assaults and sexual harassment, other victims of bullying including racist bullying, and bereaved families. She has written on a range of military subjects and is the author of the report 'Military Justice – Second Rate Justice' published in 2019. She has commented widely on these issues in both print and broadcast media. Emma lectures twice a year at the Defence Academy on human rights and the Armed Forces. For more information: https://centreformilitaryjustice.org.uk/
This event will take place for an hour with an opportunity for Q&A and discussion towards the end. The event is free for all and will take place on Zoom, please register to get the link!
Any questions, don't hesitate to get in touch!
We look forward to seeing you!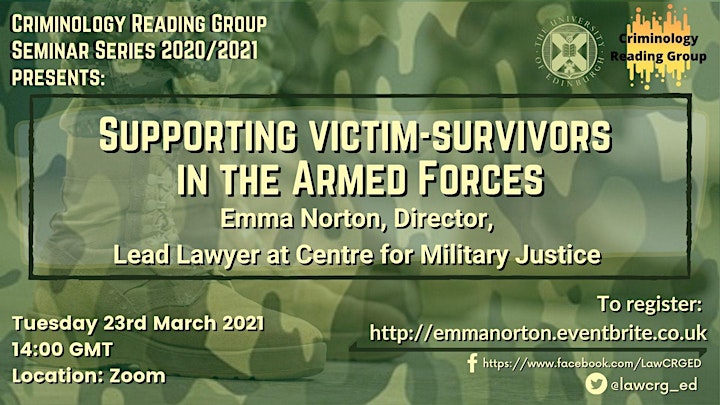 Organiser of Supporting Victim-Survivors in the Armed Forces