Location
Great Marlow School
Bobmore Lane
Marlow
SL7 1JE
United Kingdom
Practical Skills Course For Teachers of Textiles & Fashion GCSE and A Level Art & Design: Do you struggle to find a variety of relevant a
About this event
VENUE: GREAT MARLOW SCHOOL
Bobmore Ln, Marlow SL7 1JE
DATE: SATURDAY 9TH JULY 2022
COURSE FEE: £195 + Eventbrite fees
An exciting practical face-to-face textiles skills course, for Teachers of GCSE & A Level Textiles for both Art & Design and D&T.
This is a totally practical day doing a large variety of Surface Textile Techniques. This course is aimed at Textile and Art teachers who are either new to teaching GCSE/A Level Art & Design or those who want to add to their resources by spending a whole day developing exciting new ideas for surface techniques linked to a large variety of relevant artists and designers.
Learn and practice new and exciting skills that will enhance your teaching
Develop learning from KS3, creating independent, confident and enthusiastic learners at KS4/5.
Practice techniques using: heat press transfer printing, screen printing, mono printing, crashing, shirring, heat shibori, PVA, bondaweb, marbling, free hand embroidery, heat gun and more
Mark making for textile design
Computer Aided design.

What to expect on the day:
Learn, practice and create a range of new and exciting techniques related to relevant artists and designers
How to link a variety of techniques to artists through creative practical workshops
Looking at both historical and contemporary textile artists, fine artists and fashion designers
Understand how to develop knowledge of artists from KS3 onwards, creating independent, confident and enthusiastic learners at KS4/5.
Innovative ways in which students can explore, investigate and express ideas through mark making related to their primary sources and relating the right primary source to their artists.
Techniques and processes across all areas of study incl. constructed, printed, digital and fashion.
Links to refined ideas and final outcomes
Looking at easily achievable themes.
We will also look at artists annotation/evaluation
Innovative use of the heat press.
Links to KS4 Art & design Specifications:
'Students will be able to contextualise their research and ideas, drawing inspiration from artists and designers. Students will also evaluate the art, craft and design they study, and develop an appreciation of the impact it has on their own work and that of others.'

What you take back to school:
Great, achievable ideas to enhance your teaching
Develop best practices in teaching and learning and be able to use these to create a dynamic course that is fast paced and engaging.
An awareness of available resources to support/expand your existing practice.
Make secure decisions and save time with gained knowledge and experience.
Plan the future with confidence.
Continued professional development.

What is special about the Surface Textile Skills Course?
The Surface Textile Skills face-to-face course is an experience that delivers textiles skills, knowledge and understanding. It is a great learning environment which allows you to gain new skills and techniques, showing how these can be incorprated in lesson plans and delivered in fun, inspiring and engaging way. You can ask questions direct to the course developer/leader, practice skills, create a sketchbook resource for the classroom and network with other teachers.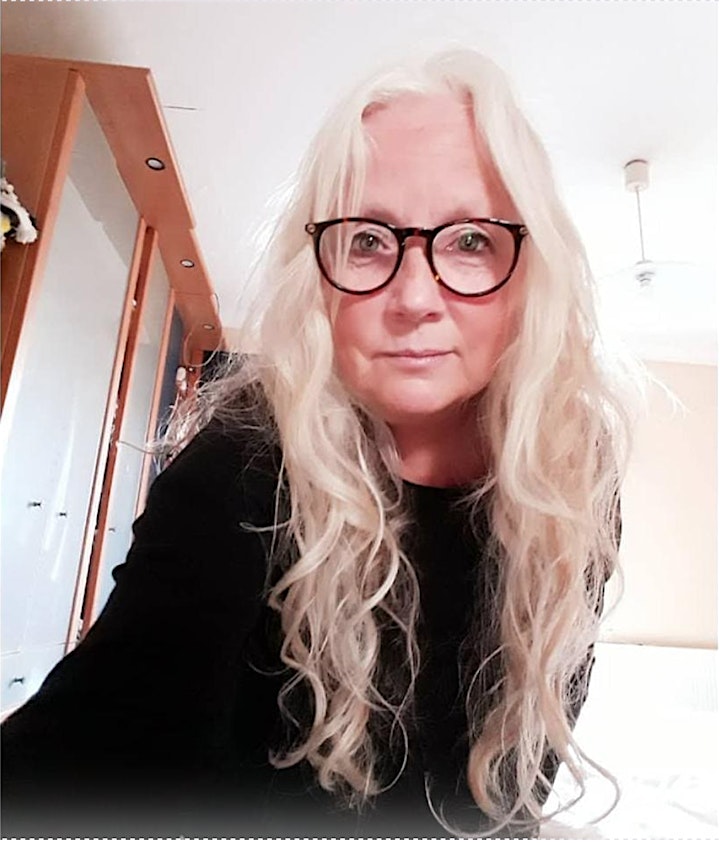 Course Developer and Leader: NICKY SIMPSON
Your course leader is NICKY SIMPSON, a contemporary textiles artist, who has 12 years teaching experience, heading up Fashion & Textiles at Hillview School in Kent. She has taught Art & Design Textiles at GCSE and A Level, AQA Design and Technology/Textiles at A Level and GCSE and BTEC Level 3 Fashion.
Her last set of grades were: A Level 100% A-A*; GCSE 70% A-A* (100% A*-B). She had a previous 22-year career as a print designer in the heart of London. For the past 6 years Nicky has been a workshop developer and leader for Textile and Art teachers on behalf of the Textile Skills Academy.
Moderator's comments:
"Textile candidates' personal portfolios were brimming with ideas, experiments and references to textile and fashion designers as well as fine artists. Overall, the submission was exceptional in the engagement and industry and imaginative use of materials.'
'In Textiles, the standard of the work was outstanding…The course structure was strong. Finished pieces were often exciting and innovative. The individuality of the candidates was clearly seen in the diversity of colours, styles and techniques carefully annotated in work books and then displayed in the final outcomes."
"The course gave candidates a very strong framework on which to build a response to the theme. Ideas were developed showing depth and thought so that the work of the highest achieving candidates was original, creative and in-depth."
What other teachers have said about Nicky's workshops:
'Having been to one of Nicky's workshops, I used one of her lessons and received an 'Outstanding' observation.'
'Superb day - so inspirational! So much covered and a LOT of new skills learnt. Thanks!!'
'Loads of info which was GREAT. All really useful & relevant. Brilliant starting point for newish Art & Design teacher. Thank you so much.'
'Fabulous presenter. Gave loads + loads of information and ideas. I feel really inspired! Loved the practical samples we did. Would highly recommend!
'A great course with lots of hands-on sampling. Great idea to hold it in a school which is much more realistic than an outside venue, gives ideas on taking creative inspiration back to the classroom'.
'Fantastic day, really useful and applicable to both Art and D&T subjects. Thanks!'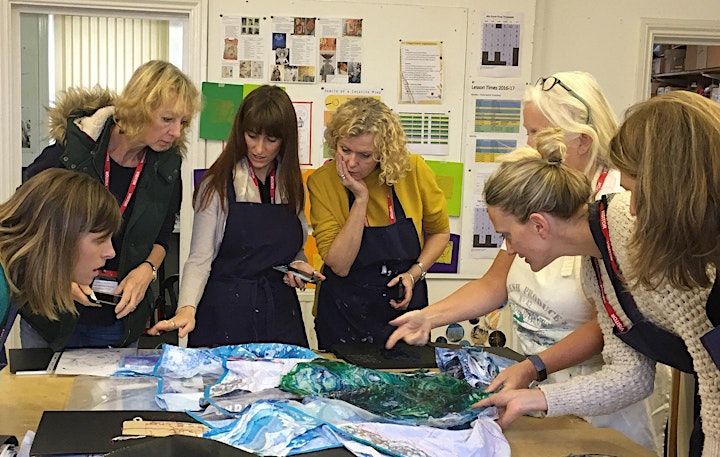 COSTS & BOOKING VIA EVENTBRITE:    £ 195 / DAY  
All of the Textile Skills Centre events are ticket only and payable IN ADVANCE. The Textiles Skills Centre uses Eventbrite to automate the bookings via credit card and cheque/BACS. When you book you will receive by email a booking confirmation and ticket. If you need an invoice sent to school please email us to request one.. 
PLEASE NOTE your booking confirmation and ticket will be emailed to both the delegate and person purchasing. If you do not receive your ticket it is most commonly caused by typing your email address incorrectly, or it is in your SPAM folder. Please check your booking carefully. It is VERY important that your school finance manager supplies your full name and PERSONAL SCHOOL email so that we are able to send you joining instructions and further details. If we only receive the 'school office' email address, we have found in the past that this delays information getting to you or information is not passed on. 
SKETCHBOOK: At booking you are also given the opportunity to purchase a sketchbook to start filling on the day. The sketchbook is 12"x12", black, ring bound and with ribbon ties to keep all those samples in. The price is £6 and can also be bought on the day, or you can bring your own.
If you have any queries, please ask via the Eventbrite site messaging, and leave your phone number or email so that we can contact you easily.