Join us for a webinar on surfer's shoulder: diagnosis and treatment.
About this event
Join Surfing Medicine International for a series of online webinars where we will discuss different topics around surfing and medicine. Think health, safety and environmental issues.
Surfer's shoulder
Surfing is a high impact sport and repetitive movements can cause strain and injury in the shoulders. Learn more about the etiology of surfer's shoulder and what you can do to prevent shoulder injuries from surfing.
Lisette Langenberg
Lisette is a resident in training to become an orthopedic surgeon. Her interests in surfing, illustrations and orthopedics make her the perfect person to demonstrate the surfers shoulder. Together with other SMI crew members, including orthopedic surgeons, MDs and physiotherapists, she wrote a peer reviewed article on surfers shoulder.
Sebastiaan Heitkamp
Sebastiaan is a physiotherapist specialised in surfing injuries. Next to his work he is active in SMI and working on research, such as the review on shoulder injuries. His ample experience in surfing shoulder injuries make him the perfect guy to educate on this topic.
Surfing Medicine International
Surfing Medicine International is at heart a certified medical association powered by a passionate and truly global network from every aspect of life. We envision every surfer as an ambassador for health and environment. We believe in connecting great people. Being part of the scientific communities, we share our knowledge and experiences to inform and educate coastal communities "Keeping the surfer healthy and safe".
The SMI´s network research and the collective experience of the biggest scientific community in surfing and the foundation for our consultancy activities in marine and sports health, product development and placement.
Evolving together
Surfing Medicine International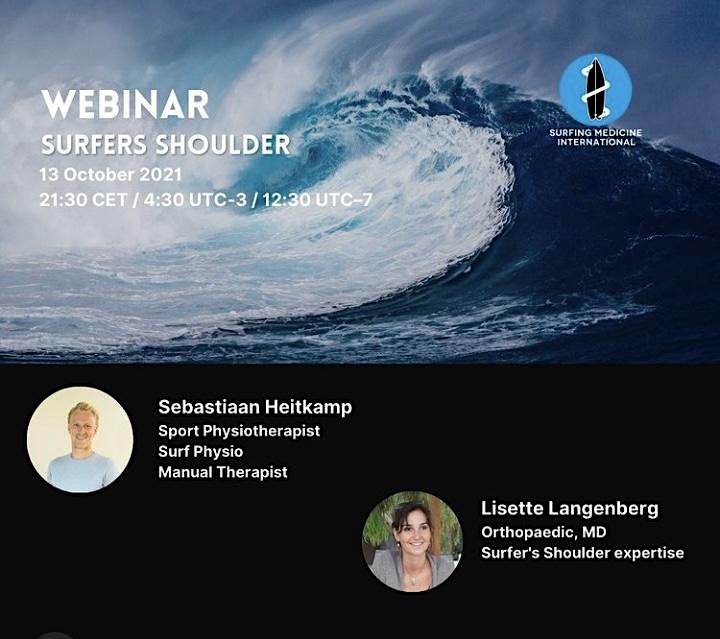 Organiser of Surfing Medicine International Webinar - Surfer's shoulder