Surfing Medicine Webinar: Personality profiles of Big Wave surfers
Join us for a webinar and learn more about the personalities of athletes who choose to charge in big wave surfing!
About this event
Join Surfing Medicine International for a series of online webinars where we will discuss different topics around surfing and medicine. Think health, safety and environmental issues.
Ron Stolberg Ph.D. and Christian Glasgow Ph.D.
Ron Stolberg Ph.D. and Christian Glasgow Ph.D. are both licensed psychologists who have been working with professional athletes for the past 15 years. They specialize in alternative sports such as surfers, skaters, and snow boarders. Their patients include amateurs and professionals, world champions, Olympic medalists, and numerous household names. They have been the go to crisis resource for World Surf League (WSL) athletes for the past decade.
Presentation: Personality Profiles of Big Wave Surfers
In this discussion we will share our research concerning the personality profiles of big wave surfers. Using the NEO-PI-3 and the Five Factor Inventory (FFI) we will examine the personality profiles of the worlds top big wave surfers. The NEO and the FFI result in scores on the big five personality dimensions of Neuroticism, Extroversion, Openness, Agreeableness, and Conscientiousness. The discussion will compare personality differences between big wave surfers and other elite athletes (including regular surfers).
Do big wave surfers live up to the stereotype of being introverted reckless risk takers or do they compare favorably with other elite athletes? We administered personality assessments to over 50 of the best big wave surfers in the world to find out.
Surfing Medicine International
Surfing Medicine International is at heart a certified medical association powered by a passionate and truly global network from every aspect of life. We envision every surfer as an ambassador for health and environment. We believe in connecting great people. Being part of the scientific communities, we share our knowledge and experiences to inform and educate coastal communities "Keeping the surfer healthy and safe".
The SMI´s network research and the collective experience of the biggest scientific community in surfing and the foundation for our consultancy activities in marine and sports health, product development and placement.
Evolving together
Surfing Medicine International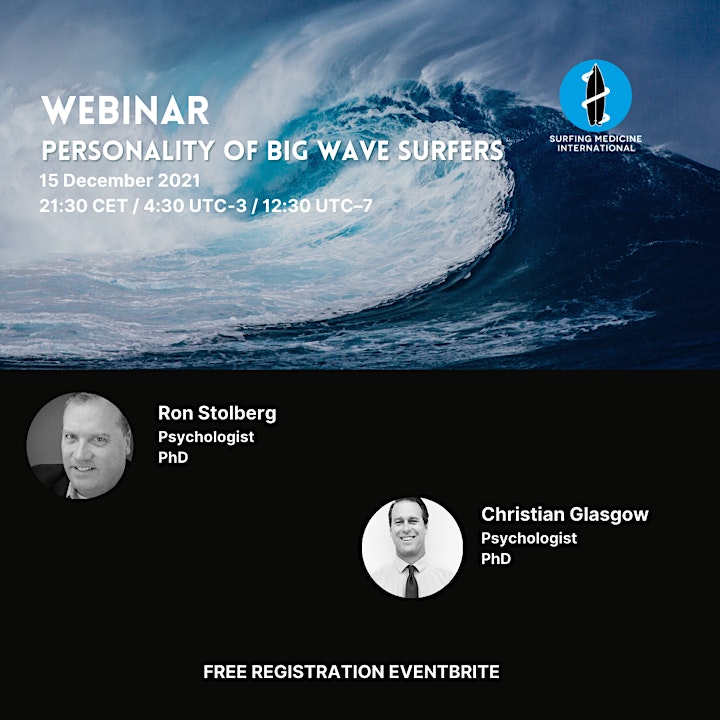 Organiser of Surfing Medicine Webinar: Personality profiles of Big Wave surfers