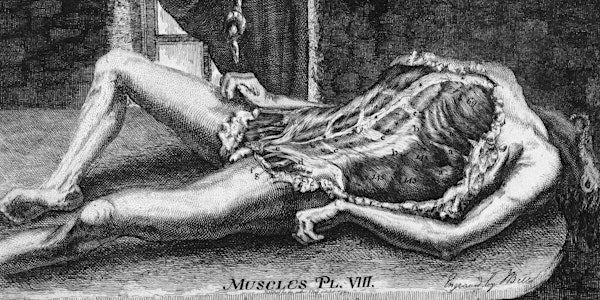 Surgery and Emotion in the Pre-Anaesthetic Era THIS EVENT IS NOW SOLD OUT
Description
THIS EVENT IS NOW SOLD OUT AND THE WAITING LIST FULL
Surgery and emotion in the pre-anaesthetic era: John Bell, James Gregory and the Edinburgh 'medical war'
In 1800, the medical community of Edinburgh was convulsed by a highly public row between James Gregory, Professor of the Practice of Physic at the University, and the surgeon-anatomist John Bell. This dispute originated in a disagreement over the nature of surgical attendance at the Royal Infirmary, but, as this talk will demonstrate, it developed over the course of nearly ten years, into a much more profound discussion of the nature of surgical practice and identity. In his response to Gregory, John Bell articulated a vision of surgery as a compassionate profession rooted in the embodied experience of pain and suffering. In so doing, he sought to reshape the public image of surgery and challenge the stereotype of the surgeon as an uncaring butcher.
Dr Michael Brown is Reader in History at the University of Roehampton and the author of Performing Medicine: Medical Culture and Identity in Provincial England, c. 1760-1850 (2011) as well as numerous articles on the history of medicine and surgery. He is currently a Wellcome Trust Investigator, leading a four-year project entitled Surgery & Emotion which explores the relations between surgery and the emotions from 1800 to the present.
Organiser of Surgery and Emotion in the Pre-Anaesthetic Era THIS EVENT IS NOW SOLD OUT
About the Library at RCSEd
The first recorded evidence of the existence of the Library dates from 1696, when provision was made for the "books and other certain rarities" in the new Hall of the Incorporation of Barbers and Chirurgeons being built in High School Yards. In 1699, the chirurgeon apothecaries announced in the Edinburgh Gazette that they were:
"erecting a library of Physicall, Chirurgicall, Botanicall, Pharmaceuticall and other curious books…if any person have such to bestow let them give notice to …Treasurer to the Society…names will be honourably recorded..."
There were about 120 books in the Library when, in 1709, Thomas Kincaid donated his collection of nearly 200 books. His note about the gift said hethought it reasonable that he should do everything that lay in his way to advance the honour and promote the interests of the Society and being persuaded that a full and compleat Library of such books as relate to the profession will not only be a good ornament to that stately fabrick (the 1697 building) ... but would also contribute towards the emproving and protecting of this most useful and Necessary Art .