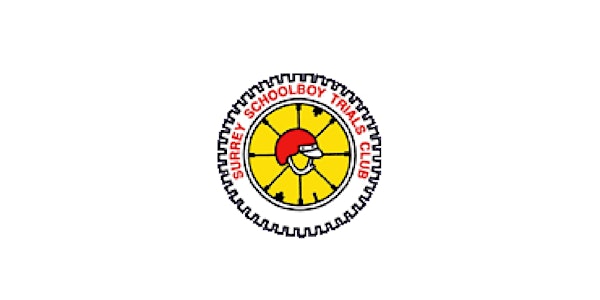 Surrey Schoolboys Trials Club - Round 3 Mack Logistics - Sethern, Dunsfold
Event Information
Location
Sethern
Rams Lane
Dunsfold
GU8 4NR
United Kingdom
Surrey Schoolboys Trials Club - Round 3 - Mack Logistics - Sethern, Dunsfold
About this event
This event is open to MEMEBERS ONLY if you enter this event and you are not a member, your place will be rejected.
Surrey Schoolboys Trials Club
Affiliated to the Off Road Motorsport
Event
SSTC Club will hold a Closed to Club Mack Logistic Championship Trial, held under the National Sporting Code and the Trials Standing Regulations of ORMS, and any final Instructions that may be issued at the start of the trial, at Sethern, Dunsfold on Saturday 19th September, with a start time of 13.00 pm.
Eligibility
Riders must be a current member of SSTC and hold a current ORMS Trials Registration. and living within the permitted travelling distance from the venue. No one-day licenses or Club Membership are available.
Entries will be limited to 40 riders and will close on Thursday 17th September at 8:00pm, or when fully booked. It will not be possible to accept entries on the day. Do not turn up at the venue unless you have received confirmation of entry, as you will be asked to leave.
Classes
This will be an observed trial and there will be: Rookie, Beginner, 50/50 Beginner, Novice, 50/50 Novice, Intermediate and Expert.
Course
The course will comprise of 8 observed sections to be ridden 4 times. Riders will follow a one way system around the sections.
Officials
Clerk of the Course - Doug Johnson
Secretary - Laura Johnson 07368 478330
ENTRY DECLARATION: I/We the undersigned apply to enter the event described above and in consideration thereof:- * I/We hereby declare that I/We have had the opportunity to read, and that I/We understand the National Sporting Code of the O.R.M.S, the O.R.M.S. Standing Regulations, such Supplementary Regulations as have or may be issued for the event, and agree to be bound by them. *I/We further declare that I am/We are physically and mentally fit to take part in the event and I am/We are competent to do so. *I/We confirm that I/We understand the nature and type of event we are entering and its inherent risks and agree to accept the same notwithstanding that such risks may involve negligence on the part of the organisers or officials. * I/We confirm that the machine(s) as described below that I/We compete on shall be suitable and proper for the purpose. *I/We agree that I am/We are required to register our arrival by "signing on" at the designated place not less than 30 minutes prior to commencement of my/our practice or first competition whichever occurs first.
Acknowledgement of the risks of Motorsport:- I/We understand that by taking part in this event I/We are exposed to a risk of death, becoming permanently disabled or suffering some other serious injury and I/We acknowledge that even in the event that negligence on the part of the O.R.M.S., the promoter, the organising club, the venue owner, or any individual carrying out duties on their behalf were to be a contributory cause of any serious injury I/We may suffer, the dominant cause of any serious injury will always be my/our voluntary decision to take part in a high risk activity. I/We have read the above and acknowledge that my/our participation in motorsport is entirely at my/our own risk.
Photography:- I/we agree to allow my/our name and images/photos that are taken at this event to be used to promote this sport on websites, social media and newspapers.
Covid-19 · I acknowledge the Organisers are operating this event in accordance with Government guidelines, advice, and instruction so as to minimise the risk to Competitors, Marshals and Officials and the public from Covid-19. · By participating in this event, I will take all necessary steps to protect myself and others from the risk of infection. I agree to follow and abide by any instructions set down by the Organiser in an effort to minimise the risk of the Covid-19 virus. · I acknowledge and accept the underlying and unavoidable risk of infection from the Covid-19 virus
CHILD PROTECTION: The Secretary of the meeting is the point of contact
Travel to/from the Circuit/Venue.
Travel to and from the circuit/venue would be dependent on current UK Government advice / guidance in place at the time. Only one person should travel in the vehicle, unless individuals are from the same household, then these persons may travel together. Riders / Officials who are showing signs of Covid-19 symptoms are not to travel to the event and if concerned should seek advice by telephoning the National Health Service Helpline: 119
Restriction on the number of Riders.
Social distancing and keeping everyone safe is of paramount importance now the UK Government have lifted some of the restrictions on lockdown. As such, it may be necessary to limit the number of competitors at each event to maintain social distancing measures not only in the paddock but also at Sections. Organising Clubs should take into consideration the venue, and the space available to safely park vehicles. Social Distancing Measures in line with UK Government Advice/Guidelines issued should be considered when parking vehicles to maintain a suitable space (suggest one vehicles width) space in between each vehicle to main safe distancing. Therefore, there is no restriction on the number of Riders to be accepted and it is the responsibility of the Organising Club to put in place control measures that are suitable and sufficient which accord to current and future Government restrictions.
SUPPLEMENTARY REGULATIONS
IMPORTANT INFORMATION
Until further notice all Surrey Schoolboys trials and practice sessions are open to Club members only.
All trials and practice sessions are by way of pre-entry only through Evenbrite.
There is no facility to obtain a day membership or single day ORMs competition licences.
We must comply with all social distancing and safety instructions.
If you are not pre-entered to an event, please do not turn up, you will not be able to enter the venue.
Information for members intending to ride in any SSTC practice or Trial
A - WHO CAN RIDE IN SSTC EVENTS?
1. Only SSTC Club Members with a current ORMS Trials Registration can take part.
2. Riders must travel either individually or with members of their household to the event - transport cannot be shared between riders from different households.
3. RIDERS WHO ARE FEELING UNWELL OR HAVE ANY COVID 19 SYMPTOMS SHOULD NOT RIDE.
B - PUBLICITY/COMMUNICATION
1. All SSTC Club members with a current ACU Trials Registration will be notified by email of events details from a dedicated account.
2. Details of events info will be posted on the website: www.surreysbtrials.org , Facebook and Instagram
3. We suggest that members who have not provided an email address on their "Membership Form" provide a contact email we can use to send event information. If this is not possible, we will send an SMS, or phone to the small number of members this relates to.
C - ENTERING EVENTS
1. Membership is validated using membership records within the club; however, riders should still carry their ORMS card as photographic identification will be required before you ride.
2. Entries will not be accepted unless an ORMS Trials Registration can be validated prior to entry.
3. All events, including practice sessions are booked as pre-entry only. Enter through Eventbrite www.eventbrite.co.uk – see website/ Facebook for direct links or search Surrey Schoolboys Trials Club on the Eventbrite page.
4. There will be no on the day entry or day licences.
5. If for any reason your plans change notify the Club ASAP it may be possible to issue a refund, depending on the circumstances.
6.Riders will be sent a confirmation email after the closing date. if you do not receive this confirmation do not turn up at the event. Names of all riders must be registered in advance of the event.
7. Consider all potential risks before you enter an event and read the declarations.
D - NON-RIDERS AND OBSERVERS
1. We must have in advance of any trial or practice the names of riders, officials and if applicable observers attending.
2. PPE will be provided for Officials, and for Observers when we run championship trials
E - ON THE DAY
1. On the day of the Trial wait at the gate to be directed to a place to park and leave two meters between vehicles.
2. Please make your way to the Signing-On desk to register and you will receive your riding number - the secretary will ensure correct PPE is used when issuing numbers.
3. By completing the information on Eventbrite you will provide all rider details and this will replace the traditional signing-on form.
4. Once you have completed the Eventbrite registration form, you will agree to:
a) Having read, understood and agree to all regulations and supplementary regulations,
b) Accepting parental responsibility of riders under the age of 18 years.
6. Please follow the one-way system at the signing on desk and leave two meters between yourself and the rider in front of you. The signing-on gazebo will be taped off and you will be able to speak to the secretary from a distance. Please show your riding number card and the photo side of your ORMs Trials Registration at signing-on
7. Riders must provide details of an emergency contact, who is available on the day of the trial
8. Please note that until further notice there will be no administration carried out at the Signing-On desk. You will not be able to obtain an entry form, membership form, day licenses, riding numbers, etc.
9. We will provide hand sanitizer at the control desk; however, a condition of entry will be for riders to bring their own PPE.
10. The entry fee for Trials will be £12.00 Youth - £18.00 Adult
G - RIDING THE TRIAL
1. Put your rider number on the front of your bike and the back of your helmet, using the riding number issued for the trial by the Club.
2. There will be a verbal briefing at the start please avoid grouping of riders. Supplementary instructions will be posted on the Notice Board.
3. There will be one-way system to and from the pits area and a clearly marked start gate to begin the trial/start new laps, and also a separate finish gate. Anybody who has had a rest at their vehicle should only re-join the trial through the start gate when authorized to do so.
4. Instructions for starting and directions will be posted at the desk. There will be orange arrows to indicate the direction of travel. We will operate a strict one-way system.
5. Please do not skip sections, back track, or ride in the wrong direction.
6. Start times will be staggered.
7. The sections will be marked on the side of caution and you should only attempt obstacles within your capability; however, accidents can still happen.
8. A maximum of three riders are allowed into a Section to inspect it at any one time. If possible, a one-way system will be established for the riders to walk through. Social distancing measures must be adhered to at all times.
9. Marshals will be on hand to help wherever possible, however you should be mindful that Marshals, other riders, or Observers may not rush to your assistance in the event of an accident as is current practice. If you fall or have an incident give a 'thumbs up' to show you do not need assistance.
10. You should wherever possible ride in pairs with a riding friend, maintaining a safe distance but being prepared to assist if you have problems during the event.
11. When waiting at a section please leave two meters between riders.
12. You must not ride through sections to get to the next section if there are riders in the section.
H - OTHER INFORMATION/ SAFETY INFORMATION
1.There will not be a tea urn for the foreseeable future, so please bring refreshments with you, including water in hot weather.
2. There will be no waste collection points. Please take all litter home with you.
3. There will be no toilet facilities at any events to further notice.
4. Riders should bring their own basic first aid kit to use in case of minor injury.
I - PRACTICE SESSIONS
For Practice Sessions Only:
1. To give as many riders as possible the chance to ride there may be two sessions on the same day. Please arrive and depart at the time advised when we confirm your booking.
2. There will be a clean break between rider groups when the car park should be empty.
3. Do not arrive for any timed session before the indicated time. You will not be able to gain access and may hinder riders leaving from earlier sessions.
4. For Practice Trials all administration is as above, including the use of your rider number.
5. Only Trials Machines will qualify for entry at practice sessions.
Any questions, please contact the club – sstctrialentry@gmail.com
IF WE GET THIS WRONG, WE MAY NOT BE RIDING AGAIN FOR A VERY LONG TIME.
PLEASE COMPLY WITH THESE SUPPLEMENTARY REGULATIONS, ALL NOTICES AND MAINTAIN SOCIAL DISTANCE AT ALL TIMES
KEEP SAFE!!
Date and time
Location
Sethern
Rams Lane
Dunsfold
GU8 4NR
United Kingdom
Refund policy