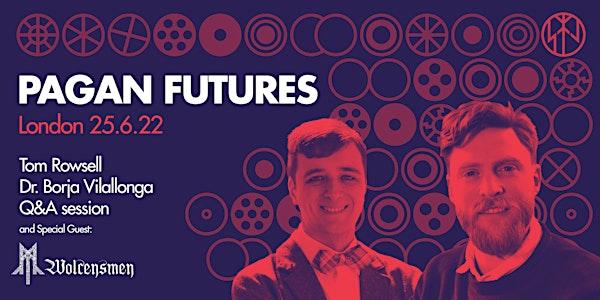 Survive The Jive Live - Pagan Futures
Join Thomas Rowsell for a night of speeches, music & conversation with the man himself & his special guests Dr Borja Vilallonga & Wolcensmen
About this event
Date – 25th June 2022
Place – South London, UK
Theme – European polytheistic traditions in a globalised future
About The Conference:
Pagans represent a small but growing force within the diverse religious groups of the UK and Europe at large. Despite this, the philosophical and political foundations of British, and Western leaders in general, presume common values predicated on thought systems which exclude pagans. How can the integrity of our tradition be upheld going forward?
Key Points:
This conference is being organised in association with the Survive the Jive™ Historical Research Project.
The theme of this conference is- 'Preserving European spiritual traditions in a globalised future'.
The purpose of this conference is to bring together polytheist thought leaders of the Indo-European traditions to consider building a philosophical framework for preserving the integrity of our traditions within an emerging new world order
It is estimated there are over 250,000 pagan polytheists in the UK in addition to a similar number of Hindus
Current political rhetoric regarding alleged 'common values' of 'global humanity' deliberately marginalises, excludes or misrepresents the deeply held beliefs of polytheists
Advancements in technology pose challenges to those who uphold pagan systems of ethics
Historian, YouTuber and renowned polytheist Thomas Rowsell shall be the keynote speaker. There will also be a guest speaker, Dr Borja Vilallonga, as well as a live musical performance from the pagan folk artist Wolcensmen
Dr.Borja Vilallonga, Ph.D. is a scholar of history and religion previously at Columbia University, New York University, and the University of Newcastle. He has devoted his research to the relationship between traditional religion and modernity and runs a YouTube channel called 'The Modern Platonist'
Audience participation is encouraged during a Q and A session with the speakers
After the event itself there will also be a drinks/meet & greet at the same venue, so stick around and converse with everyone, including the speakers/performers
Survive The Jive™️ Historical Research Project is proud to bring you this event in association with Infinity Elements Productions
We look forward to seeing you all and please feel free to share this event online so we may welcome in new friends
Thank you
*Please note that the location of the event is in South London, but the exact venue will be specified in an email to ticket holders directly a day before the event itself. This is for security reasons and to help ensure a safe and hospitable night. Thank you for your understanding*.