Improving the health and wellbeing of women in the work-place and beyhond
About this event
"SURVIVING & THRIVING"
IMPROVE THE HEALTH AND WELLBEING OF WOMEN IN THE WORK-PLACE & BEYOND
About this Event
We are honoured to announce that we are hosting an incredible event for Women in Healthcare - Virtual Networking club. A plethora of engaging and empowering sessions for 'all' in the Healthcare sector.
It's your chance to meet with like-minded people, to join in with networking and empowerment opportunities!
Our 'Virtual Networking CLUB ' will equip us with knowledge and resources. Our goal is to instil confidence into each attendee so that they can lead with success.
Who should attend?
Anyone who works within the Healthcare Sector is welcome to attend! From Nurses to Surgeons, Doctors to Care workers and Managers to Medical Students.
The Women in Healthcare Virtual Club will integrate, support and guide networking and socialising. You will find that there is no better way of feeling supported than being surrounded by like-minded people who are all in the same situation.
Speakers:
A panel discussion on challenges and opportunities for Women in Healthcare delivered by the following speakers:
LIZ BRADBURY - CEO LEEDS JEWISH WELFARE BOARD
Elizabeth is the CEO of the Leeds Jewish Welfare Board. Born in Lancashire, Elizabeth came to study Psychology at Leeds University in the early nineties and never went back across the Pennines.
Gaining additional qualifications in leadership, management and organisational change she has spent the past 30 years working in and with statutory and charitable organisations, transforming social care, housing and health services.
She is passionate about the work charities do and ensuring that they can truly listen and respond to the needs of the communities they serve – adopting the approach that the best way to predict the future is to create it.
KATIE TAYLOR – HOLISTIC THERAPIST, THE BOWEN TOUCH
Katie is a holistic therapist based in Leeds; she has created her own style of healing and offers a variety of different personalised therapies for clients.
Working with The Bowen Technique, Reiki, Crystals and Emotional Freedom Technique to name a few, Katie treats physical pain, emotional and energetic imbalances.
Each of the treatments are made up of a combination of different therapies; using Katie's intuition to create a unique experience that is bespoke to each individual client. Working very much with her head, her heart and her hands, Katie is grateful for the gift she has and the techniques she has learned.
SARAH SOMERSCALES – REGISTERED CHILDMINDER
Sarah has worked with pre-school children for the last 8 years with particular interest in the early acquisition of personal, emotional and social skills and their relationship with wellbeing and mental health.
Sarah also has an MA in Modern History from the University of Leeds; specializing in the Victorian and Edwardian Suffrage Movement, and the broader examination of gender ideology and feminist theory in the long nineteenth century. Sarah is currently working on a project for Leeds City Museum which looks at the relationship between colonialism, class and gender as they are manifest in the museum's collections.
Sarah has been actively involved in campaigning for the Women's Equality Party for the last five years and recently started working with United Voices of the World who campaign for the rights of underrepresented workers such as a childcare workers, care workers and migrant workers.
ZELDA LANCELOT – CEO of MATWAD (More Alike Than We Are Different)
Zelda is a professional Motivational Speaker, Mental Health Practitioner and CEO of MATWAD, an NGO that supports people in understanding that mental health affects us all and does not discriminate on race, culture, age, gender or sexuality.
Zelda has experience working as a Mental Health Social Worker, intensive home treatment, community mental health teams and advocates for one to one solution focused therapy and wellness recovery action plans.
She is passionate about mental wellness and encourages people to challenge stereotypes of mental illness. Zelda believes in empowering people to acknowledge mental health wellness as their personal responsibility without fear of judgement, especially when seeking the support of others.
Please note, spaces are limited and will go quickly due to high demand!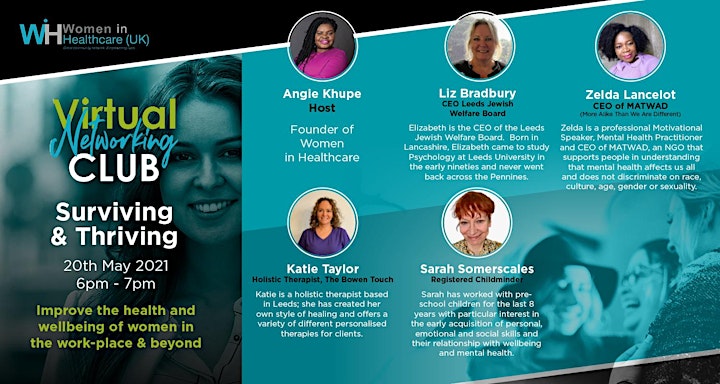 Organiser of Surviving & Thriving - Women in Healthcare Virtual Networking Event
Women in Healthcare is a community and a network for female healthcare professionals from all walks of life. Being a member of Women in Healthcare is more than another title or community group, the benefits include discounts on services, connection with like-minded women, and powerful, pro-active discussions on the day-to-day life as a female healthcare professional.
Women in Healthcare is also a one-stop hub for the various unique needs of women who are healthcare professionals. Our priority is equipping women with the services and resources they need to thrive daily in their individual healthcare roles. We understand that each woman and each healthcare role has individual needs, which is why our offerings are vast. We focus on keeping our members updated with regulations and changes in the healthcare sector and offer discounts on legal services, accountants, financial advice, and personal development programs.
Female healthcare professionals often face different day-to-day challenges than their peers. Women in Healthcare unites like-minded women to discover solutions to routine issues, share ideas, and socialize through our networking platform. The opportunities within the unique Women in Healthcare community extend beyond discussion by offering consultancy, career progression, and business opportunities.
Women In Healthcare: an oasis of resources, connections, and discussions for female healthcare professionals.