Surviving to Thriving - building resilience with unaccompanied children
Description
Surviving to Thriving is a project set up between the Red Cross, Refugee Council and Upstanding. The first two will deliver the two parts of this training.
Morning Session (Red Cross) - understanding the issues that affect young refugees and asylum seekers and developing ways to provide effective support
Afternoon ( Refugee Council) - looks at psychosocial issues and at developing a therapeutic approach, including communication, cultural and gender issues.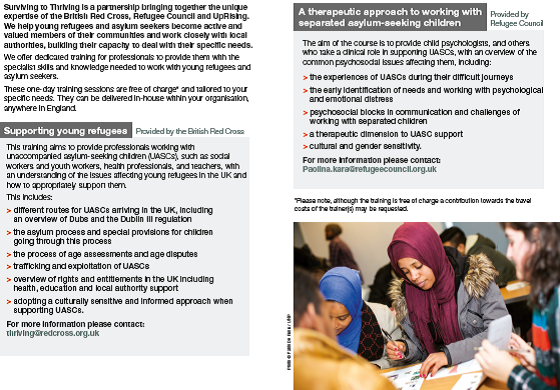 FAQs
Who is this event aimed at?
This event is for Local Authorities, social workers, teachers, PAs and their partner agencies eg health and NGOs delivering support services.
Are there any restrictions on who can apply?
This event is targeted at 12 of the 14 Councils in the WM region. It is understood that Birmingham and Sandwell are running this event sperately, if you work for them or primarily with them, please go to those events. If this is not possible please contact WMSMP - see below - to seek agreement for a place.
How can I contact the organiser with any questions?
WMSMP@birmingham.gov.uk - 0121 303 6154