Description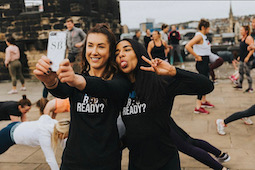 R:U READY for the return of Newcastle duo Steph and Lauren from R:U READY!
A northern fitness duo with the goal to instill fitness in the masses, with the freedom to take ou:r fitness events anywhere AND everywhere.
For the lovers & haters of exercise. For the locals and the outsiders.
WE:R tenacious in our aim to deliver value and excited by the idea:
'FITNESS CAN CHANGE LIVES!'
BUILT READY....
BORN READY....
R:U READY?