Description
** ONLINE TICKET SALES NOW CLOSED - YOU CAN BUY TICKETS ON THE DOOR FOR £13 **
Susie's uplifting heart songs and soulful, original medicine music seems to inspire a sense of joy wherever she goes. She tours internationally with her harmony singing workshops and beautiful songs on guitar, connecting with the global light family, and ancient traditions of the world, and weaving what she learns into a stream of free-flowing music to awaken the heart. During her concerts she loves to get the whole audience singing in harmony together.
After an epic 2½ year journey making her debut solo album, Susie is excited to be celebrating its birth with a launch tour around the South of England with a superb ensemble of inspiring troubadours
Serenading you all with a combined set of songs from the album and brand new heart songs and medicine music, this concert promises to be very special.
There will be a cafe open during the evening.
Plus Special Guest Support Act
Susie will be joined in London by Antarma & Camille Marie. Antarma's music spreads joy and uplifting energy. Heart opening songs on guitar, Ecstatic Afro Brazilian Djembe Rhythms, Soul, Reggae and Hiphop. On this evening he will be weaving musical magic with Camille Marie, whos sweet angelic harp playing and medicine songs bring joy to the soul.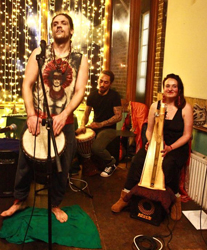 Doors open 7.30pm - music starts 8.00pm
On the Door Tickets
There will be a limited number of tickets available on the door for £13, but to guarantee entry please book online in advance.
Children
Children are welcome if parents are willing to take responsibility for taking them out if they are disruptive. Under 16's free entry.
Questions about this Event
If you have any questions, please contact the event host Camille Marie on 07751 115499