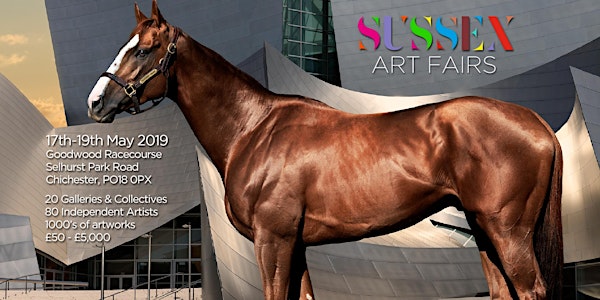 Sussex Art Fairs (West) at Goodwood Racecourse on the: 17th, 18th, 19th May
The inaugural Sussex Art Fairs (West) takes place at the world renowned Goodwood Racecourse. Showcasing 1000's of artworks to invest in!
About this event
In 2019, the Sussex counties are hosting two new contemporary art fairs brought to you by Fraser Renton, Leah Michelle and Oliver Norris of Sussex Art Fairs.
The inaugural Sussex Art Fairs (West) takes place at the world renowned Goodwood Racecourse in the heart of the picturesque Sussex Downs. The dates are:
17th May (6pm - 9pm - Private Viewing)
18th May (10am-6pm)
19th May (10am - 5pm)
Throughout the two main halls of Goodwood Racecourse, visitors will find 1000s of talented artworks from over 100 carefully selected artists and galleries all available for purchase. The first hall will include Gallery and Artist Collective Stands, and the second hall will include up-and-coming and established Independent Artists (local, national, and international) all of whom you will be able to meet to make the art buying experience more special.
The event will be providing art for everyone and catering for all tastes, covering all styles, mediums and genres including; paintings, both contemporary and traditional, photography, digital prints, glass, ceramics and sculptures.
Being the first of its kind within the Sussex Counties, Sussex Art Fairs is the perfect place to begin your art collection, or indeed add to your collection if you are already a seasoned art enthusiast.
Spread over 3 days an starting on the evening of Friday 17th at the Private Viewing, visitors will be able to browse their favourite artwork(s) with a glass of wine from our full bar for those who like a drink and be the first to view exhibitors collections before the event is open to the general public over the weekend.
Galleries, Collectives and Independent Artists will be featured within our full colour brochure, so for those who can't decide on a purchase during the event, all the relevant details to be able to make contact directly at a later date will be available in the brochure.
Facilities include a cloakroom upon arrival, a full café over the weekend and excellent toilet facilities. The venue is wheelchair accessible and small dogs are also welcome, which we ask to be carried whilst inside the venue.
Prices of art start from as little as £50 for prints and smaller works, to over £5,000 for an outstanding masterpiece, so there will be something to suit every budget. Art buyers' purchases will be wrapped by our specialist wrapping team 'artPAKK' located at the exit. 
Important Links
2. Sussex Art Fairs - Exhibitors
4. Apply to Exhibit at Sussex Art Fairs
5. Sussex Art Fairs Facebook Page
6. Sussex Art Fairs - Instagram
Hashtags (#SussexArtFairs, #SussexArtFairsWest)
Organizer of Sussex Art Fairs (West) at Goodwood Racecourse on the: 17th, 18th, 19th May