This seminar is designed to help decision makers in small organisations gain greater insights into sustainability and business growth.
About this event
About the session
The term 'Sustainability' has once again entered public conversations.
Because the global health pandemic is happening at a time when there was growing awareness of the real life impacts of climate change, there has been suggestions that a new normal will emerge as people seek to rebuild and grow their businesses as well as address matters of living and livelihood. However, for some there are feelings of overwhelm, fears of extra business costs and confusion about what to do and how to take meaningful action to achieve sustainability.
This seminar is designed to help decision makers in small organisations gain greater insights into sustainability. To understand what sustainability can mean for their businesses, dispel myths, share easy to follow tips and strategies to improve sustainability in small organisations.
This 1 hour seminar will cover:
Sustainability -definition, key pillars, interpretation
Making the business case for Sustainability
Benefits of sustainability in business
Report progress to customers, clients, other stakeholders
Myths about sustainability
Taking action -integrate sustainability into your business
About your host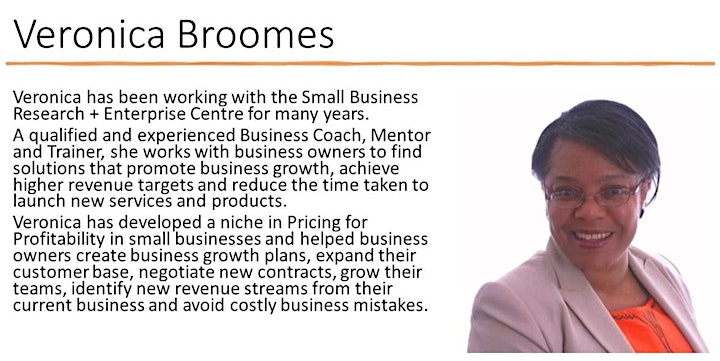 Veronica Broomes, a qualified and experienced Business Coach, Mentor and Sustainability professional works with owners and directors to find solutions that promote business growth, reduce time taken to launch new services and products and save thousands by avoiding costly mistakes. Veronica supports her clients as they define and achieve SMART goals, set prices for products or services and develop effective plans to improve sustainability in their business. In return, clients stay focused, feel supported and develop greater insights into how social and environmental impacts in a business can be a competitive edge for profitability.
Veronica's deep knowledge of Small Business Coaching, Business Mentoring, Sustainability and Environmental Impact Assessment along with an experiential approach to learning have been invaluable to clients. She has presented at seminars and other events hosted by Sheffield Central Library's Business & IP Centre, Sheffield Digital, Santander Bank, Corporation of London's City Business Library. In addition, she manages Excel Property Partners Ltd, a company offering comfortable and safe self-catering accommodation for people working away from home, visiting or relocating to Sheffield.
Through the 'Your Small Business Coach' brand, Veronica developed over several years a niche in Pricing strategies. Now helps other business owners in negotiating contracts and identifying new revenue streams in their business.
Veronica Broomes
Your Small Business Coach
T: 07914056154
E: bizcoachuk@gmail.com
Twitter: @bizcoach4u
Facebook: https://www.facebook.com/YourSmallBusinessCoach
LinkedIn: https://uk.linkedin.com/in/businesscoachingandproperty
Website: https://yoursmallbizcoach.com