Description
We're looking for people who have the energy, vision and enthusiasm to take their business to the next level.
The Green Growth Platform's 'Sustainability in Action' masterclass gives practical guidance to help you make your business more sustainable, exploring leadership skills to meet the challenges of a changing world. We'll show you how to manage important social and environmental issues, demystifying the corporate jargon and giving you some great ideas to build in to the way you work.
The course will help you to lift business performance, save money and build a reputation as a responsible business. We cover the range of sustainability principles, exploring business challenges and resilience in the face of social, environmental and economic risks and opportunities; and bring in current examples of good (and not so good) practice.
We work together through a structured programme, including exercises and discussion, with simple tools designed to help you prioritise, take action and communicate your progress. We offer you the opportunity to review your action plan in person with the tutor after the course.
So if you are looking to build your skills as a business leader then sign up! We will equip you with new capabilities to benefit your bottom line, help you bid for public sector contracts and build your reputation as a responsible business.
Course overview
The half day masterclass will cover:
Why is sustainability important? How to develop a compelling business case and deliverable action plan for sustainability

​Commercial drivers: business benefits, legal and policy framework, current trends and best practice in sustainability, the value of ​formally certified or informal management systems

How to get the best results: systems vs initiatives, focus and prioritisation, action planning, engaging stakeholders and employees in your sustainability journey

Drafting a communications strategy that meets the needs of your internal and external stakeholders, building an authentic narrative to strengthen your reputation as a responsible business.
Tickets are limited, book today to avoid missing out!
---
Please sign up to the Green Growth Platform
on our website
prior to booking your ticket for this event, or prior to the event itself. If you have not signed up before the event, you will have the opportunity to do so on the day, where you will then gain access. This may cause delays on the day however, so please do sign up beforehand.
This event is part of the Green Growth Platform events programme, helping to grow the green economy across Sussex. The
Green Growth Platform
is a green business network that offers its members a unique package of business support, innovation, grants, skills, training and events delivered by a team of industry experts, business advisors and leading academics. The platform is free to join - the aim is to work closely with SMEs to support them in reducing their environmental impact, whilst
creating opportunities for them to supply the emerging green economy and
grow their business to the next level.
Please be advised that photography and filming will be carried out at the event for use on the GGP and Muon Events website, marketing materials, and other publications. By attending this event, you consent to the GGP and Muon Events photographing, filming, and using your image and likeness.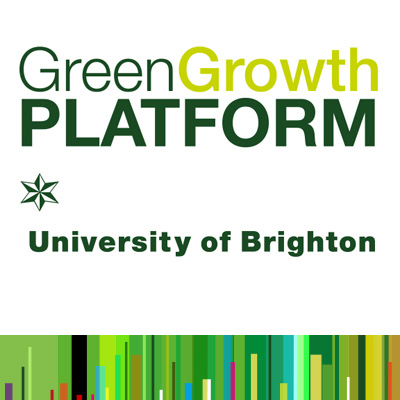 Organiser of Sustainability in Action - Masterclass for SMEs (Jan 2018)
We are Legacy, a sustainable events agency. We provide event management services for businesses, whilst considering their environmental impact and carbon footprint.
By carefully considering the impact of the venues that we choose, the materials that we use, the food that we serve and how we clean up after ourselves, we can create events that will engage and inspire your guests.
Legacy - Make Everlasting Impressions
hello@legacy-events.com |  www.legacy-events.com