Event Information
Refund Policy
Refunds up to 7 days before event
Eventbrite's fee is nonrefundable.
Join us for this online interactive evening event to discuss all things sustainable in the events industry!
About this Event
We are keeping a close eye on all updates in relation to COVID-19. Our March events have been confirmed as interactive online events.
Our event management choices have a huge impact; from supply chains to programming, waste reduction to travel, or venues to marketing. In the UK alone, the events industry emits 1.2 billion kg of CO2 emissions every year.
Events are powerful opportunities to bring about positive change in multiple ways across all industries. With the right systems in place, they can also have a much smaller negative effect on the planet.
Whether you are directly or indirectly linked to the events industry, come along to hear from expert speakers and take part in the discussion.
The Future Economy Network are welcoming Zero Waste Berlin Festival, Green Sense Events and Event Organisers Network to speak at this event.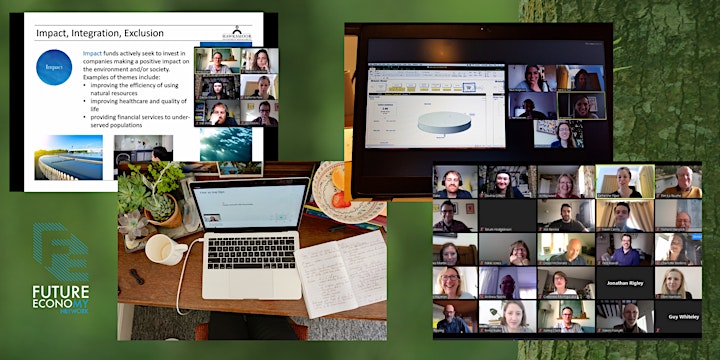 Coral Ruz, Founder & CEO of Zero Waste Berlin Festival
Coral will be talking about the importance of being conscious about zero waste and sustainability principles since we start to plan an event. There are many small details that we don't usually consider as event creators, and we need to consider not only the impact of the event itself but also from all the people involved and their actions. She will share some ideas and tips on how the journey has been in her organization.
Lisa Sweeting, Founder, Green Sense Events
All events need suppliers. As an Event Manager, you may have some great ideas of your own on how you would like to make your event more sustainable, but lack the understanding of how to do it and who can support you with your vision. Lisa will talk about greening your supply chain, and how to find and work with sustainable suppliers: the options that are out there and what to look for.
Katherine Piper, Director of the Future Economy Network (FEN), will be taking a look at how FEN and Future Leap Hub manage business event decisions such as venue choice, catering, carbon offsetting and charity partner support. She will finish off with some key takeaways that any business event manager can easily put in place.
Franco de la Croix-Vaubois, Virtual Event Specialist on Hopin and Founder of Event Organisers Network (EON)
Franco will be speaking about pivoting from in-person events to virtual events using hopin, now the global #1 all-in-one virtual event platform. Franco has a particularly affinity to 'helping clients into their digital comfort zone' and making them more confident in delivering virtual events.
Agenda
18:00 - 18:05 - Registration
18:05 - 18:20 - Facilitated Networking
18:20 - 18:30 - Introduction
18:30 - 18:40 – Coral Ruz, Zero Waste Berlin Festival
18:40 - 18:50 – Lisa Sweeting, Green Sense Events
18:50 - 19:00 – Katherine Piper, Future Economy Network
19:00 - 19:10 – Franco de la Croix-Vaubois, Event Organisers Network
19:10 - 19:30 - Panel Discussion
19:40 - 19:45 - 60 Second Pitches
19:45 - 19:50 - Close & Upcoming Events
19:50 - 20:00 - Optional Facilitated Networking
Meet The Speakers!
Coral Ruz, Founder & CEO of Zero Waste Berlin Festival
Zero Waste Berlin Festival will be celebrated on the 19th and 20th of June. The Zero Waste Berlin Festival is an event for Zero Waste, Circular Economy and Sustainability, where Citizens, Impact Entrepreneurs and Sustainable Enthusiasts will meet to share, learn and create a greener future together.
Lisa Sweeting, Founder, Green Sense Events
Lisa runs Green Sense Events, a company specialising in bespoke and sustainable event solutions supporting people and planet. Lisa has witnessed first-hand the struggle that organisations face when they are keen to be more sustainable but do not know where to start; worried about cost, about getting it wrong, knowing who to work with and what the options are. Her focus is to bring together the same level of creativity in an event but ensure that we are acting responsibly and thinking about ways to reduce our impact on the world…so that the event can be remembered for the right reasons.
Katherine Piper is the Future Economy Network's Director. Established in 2005, The Future Economy Network is one of the largest green business networks in the UK. It gives organisations the space, knowledge, contacts and tools to accelerate their sustainability journey and progress towards carbon neutrality. They do this by showcasing innovative solutions, facilitating future-thinking discussions and collaborating with one another. Katherine also sits on Bristol's One City Environmental Sustainability Board and leads on sustainability within the Future Leap Hub, using her MSc in Sustainable Development.
Franco de la Croix-Vaubois, Virtual Event Specialist on Hopin and Founder of Event Organisers Network (EON)
Franco's passion is with people, making meaningful connections, building and nurturing relationships, sharing knowledge and expertise and referring business to friends and colleagues.
Franco is the Founder of Event Organisers Network (EON), a community of event people across the South West, connecting to meet, learn, share and do business. Franco supports businesses who are planning virtual events: Strategy, objectives, budgets, planning, delivery, debrief and ROI. End to end event expertise, delivered.
In March 2020, Franco, combining this expertise in events and tech knowledge, pivoted to virtual events, adopting a platform called Hopin, with huge success.
If you would like to join the Network please get in touch via: info@TheFutureEconomyGroup.co.uk
Follow us on Facebook, Twitter & Instagram
Sign up to our newsletter HERE
You can get 20% off your next event with us by choosing the add on option during booking.
Event videos will be available on demand here, however these will not include live opportunities or networking.
We will share your Name, Job Title & Company with the other delegates & speakers to this event only. If you don't want this information to be shared please let us know when you have purchased your ticket.
We take photos at our events for marketing purposes, if you don't want your picture taken please let us know in advance.
We record our events for marketing purposes, if you do not want to be in the recording please let us know in advance.
We have included a mandatory £1 carbon offsetting fee to all event tickets in our commitment to being carbon neutral in our operations. You can find out about our chosen charity here.
Please let us know at least one week in advance if you require closed captions or any other accessibility needs.
If you require a complimentary carers/assistant ticket, please email events@thefutureeconomygroup.co.uk at least one week in advance and we will be happy to support you.
#wegrowthhub #business #seminar #sustainable #sme #bristol #businesswithpurpose #climateemergency #betterbusiness #climatechange #businessresilience #sustainablefuture #carbonneutral #sustainableevent #eventsustainability #sustainableprogramming #supplychain #sustainablecatering #sustainablevenue #zerowaste #wastereduction #circulareconomy #reuse
Date and Time
Location
Refund Policy
Refunds up to 7 days before event
Eventbrite's fee is nonrefundable.