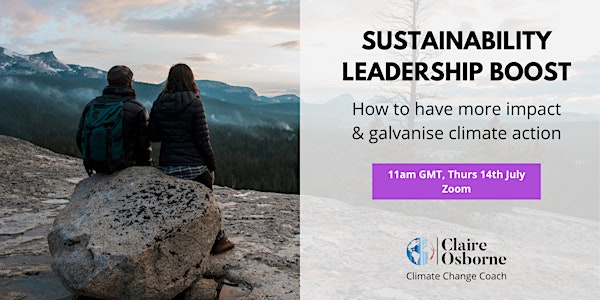 SUSTAINABILITY LEADERSHIP: Have more impact & galvanise climate action
SUSTAINABILITY LEADERSHIP: Have more impact & galvanise climate action
About this event
It's never been more important to have experienced and effective Sustainability Leaders on the pitch, making the biggest impact possible.
But influencing commitment to change is tough.
And as of March, only 1% of businesses have a credible climate transition plan.
So one thing is for sure; we need your expertise to influence the debate and generate action.
This workshop is for you if you're an in-house Sustainability Leader or Consultant who is:
Actively working to reduce human impact on nature/climate in a professional capacity today
Frustrated by the pace of change and exhausted by work that's never-ending
Spends their time imparting knowledge to inspire others to act
A leader of people, with a minimum of 10 years experience
You'll learn the techniques to help you stay energised and influence climate action.
We'll cover how to:
Influence decisions, commitments and action on climate
Stay energised and optimistic in the face of challenging news
Have the clarity of direction and focus needed to create momentum
Testimonials from previous participants of Claire's coaching:
Can't recommend it highly enough! Claire and this programme have supported me through some big changes in turbulent times - unlocking more positivity and resilience.
Kelly, Sustainability & Digital Impact Director, BT
I got clear on my career focus and I'm working more sustainably day to day, I'm healthier and more productive. If this is a priority, definitely do it. It was time extremely well spent.
Arthur, Director, Systemiq
Conversations around climate are some of the hardest and most stressful and thanks to Claire I've just had three great conversations on climate. Not only did I not feel like a party pooper, all three signed up for some form of climate action / our climate action programme. Result!
Sonia Lakshman, Co-Founder, Couch to Carbon Zero