Who is desperate for the return of face-to-face events?! We absolutely are so we bring you our event at The Belfry. Read on for more info..
About this event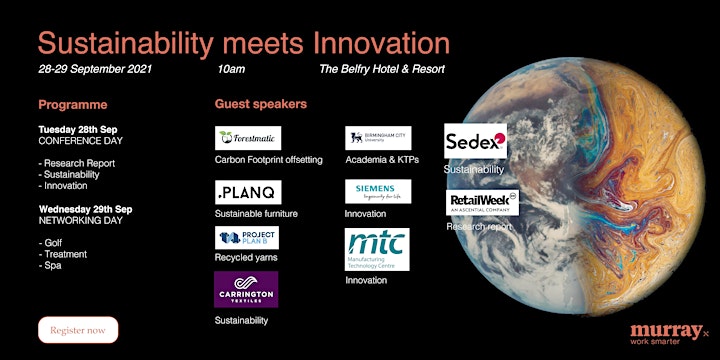 REGISTER YOUR INTEREST NOW!
DETAILS BELOW....
What's it all about?
So, who is desperate for the return of face-to-face events?! Here at Murray, we are most definitely of that opinion so we are bringing you our long awaited return to the live arena – Sustainability meets Innovation, hosted by us at the wonderful Belfry Hotel & Resort.
Following on from our sustainability webinars (7th & 14th July – if you missed them and would like a copy of the recording them please email us marketing@murray-uniforms.co.uk), we fuse two very important topics together in one great event, full of engagement and interactivity.
Why should I attend?
We're giving you the chance to take away valuable expert insight from the worlds of sustainability & innovation. We'll be pointing this out during the webinars as well, but sustainability is a word that's on everyone's lips at the moment, with a lot of businesses out there taking a greater look into what is possible, in order to benefit them but more importantly, their customers.
So we have a variety of guest speakers to highlight to you, this very point, and show you what is possible.
You will also be informed about our Research Report, that centres around 'what you wear matters' and we'll be pleased to give you a complimentary copy of this industry first piece of insight.
What's the innovation piece?
We appreciate that not everyone wants to be sat down for hours on end, listening to presentations. So, to mix it up a little, we'll be taking you to our Innovations Hub room, where a number of guest companies will showcase to you the latest innovations and technology relating to their business.
This will be an exhibition style format, where you are free to mingle and chat, take part in the interactive experiences or just observe.
Why is it 2 days?
We have a 2nd day planned, which as a thank you for attending and supporting the 1st day, will consist of a leisure activity (golf, spa or treatment) – on us!
But before then, we invite people to stay over as we host a dinner and drinks afterwards.
We recognise the fact that it's been a fair while now since we've all had the chance to attend a live event, face to face, so we wanted to welcome you back with an added bonus.
Anything else to offer me?
Well, yes! If your schedule allows it, we'd love to invite you to our offices in Coventry (not too far away from the Belfry), on your way home, for a coffee and a chat, where we'll be glad to discuss anything you heard from the previous day. It could be to run through elements of our Research Report, particular speaker content or just to find out more about Murray. We'd be happy to welcome in you for a chat, at any time.
How do I sign up?
To register your interest, please fill out the form on these pages and we'll get back to you shortly.
Important! The finalised agenda with full list of speakers will be sent in due course
If you have colleagues who wish to attend, may we please ask you to fill out a separate registration each time.
Have a great day
Team Murray
Organiser of Sustainability meets Innovation, brought to you by Murray Uniforms