A discussion on Sustainability in the drinks industry, specifically looking at our friends in the brewing world!
About this event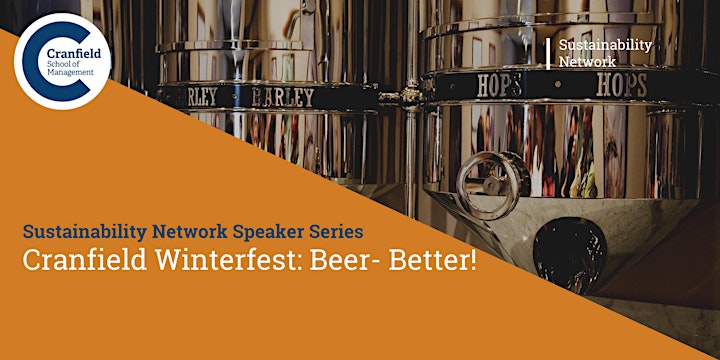 Sustainability Network Speaker Series - Cranfield Winterfest: Beer – Better!
Join us to hear from our panel of beer professionals to understand the future of the brewing industry and learn how we can Beer- better!
The Cranfield Sustainability group hosts a panel discussion to explore where the beer industry is in their race to net-zero. Joined by long-established brewing companies and small-batch craft breweries alike, we will explore the challenges and opportunities they face today and what steps they are taking to make significant and sustainable change.
Sustainability Network Speaker series
The Sustainability Network Speaker Series is the platform for our network of Cranfield students, faculty, staff, and alumni, our partners in industry and sustainability enthusiasts to hear from thought leaders across all sectors.
The series is a chance to delve into a sustainability-related hot topic and explore the challenges and opportunities in embedding sustainability in various areas of industry. We typically host panels and lectures with a mix of thought leaders, sustainability and industry professionals, government, NGO's and academe to seed this discussion. Every session has an opportunity for you to ask questions and get involved in the discussion, as well as a chance to connect with other like-minded people.
Organiser of Sustainability Speaker Series - Winterfest: Beer, Better!