Sustainability, Systems thinking and Leadership: A New Language and Approac...
Description
SEEG Lecture with

Associate Professor Kosheek Sewchuran
Hosted by Professor Sally Randles, Co-convener of SEEG
The Sustainable and Ethical Enterprise Group (SEEG) is pleased to announce that Associate Professor Kosheek Sewchuran will be visiting the UK and has kindly agreed to present at Manchester Metropolitan University.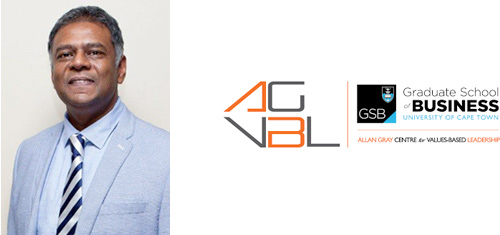 Kosheek Sewchuran is Programme Director of the Executive MBA at the University of Cape Town Graduate School of Business, South Africa. His lecture will cover the topical subject of impact.
Sally Randles has collaborated with Kosheek before and for those who are interested in the subject, and want to find out more, you may want to enrol on a free MOOC course –Managing Responsibly: Practicing Sustainability, Responsibility, Ethics at https://www.coursera.org/learn/responsible-management. The course includes an interview with Kosheek
…
Sustainability, Systems thinking and Leadership: A New Language and Approaches
"The issue of impact has been a topic that has been debated and reflected upon among business school academics, the accreditation bodies that rate business schools, and organisations such as the Academy of business and society for at least 2 decades now. Recently, the issue has emerged to be a key priority for the academy. The recent academy of management conference had many dedicated sessions to explore the issue of impact. The theme of the most recent conference was "making organisations meaningful".
"The discussion of impact emerged out of the debate on rigor and relevance of research findings. As the issues of rigor, relevance and impact were probed over the years it became apparant the biggest issue facing business schools is impact and the collective efforts in teaching and research should produce more of this.
"In the last 5 years there has also been more of an active focus to look at pedagogy and the need to immerse students in doing and reflecting on their doing. This has seen design thinking become popular, innovation hubs and experimental labs and business incubators. All these efforts are being pursued by business schools to produce impact.
"If we look at the emergence of the issue of impact you will notice 2 major transitions. The first was related to what knowledge we produced the proximity of the research process to business contexts to produce this and translating the knowledge we produce for better applied use. The main characteristic of this was producing more useful and useable representational knowledge. And the main assumption was that managers will rationally choose the correct frameworks and theories and apply them based on their analysis of contexts.
"The second move that entailed immersing students in innovation spaces and focussing them on practical needs and meeting these. The key assumption here was the need to be immersed in doing to stimulate thinking. If we look at the moves using 3 Aristotelean classes of intellectual development the first move was about episteme (theory); the second move was about techne, the craft, skill and art. We would like to argue that what we are missing is a dedicated focus on the 3rd intellectual class, phronesis or practical wisdom to produce more positive impact on a sustainable basis.
"While all of these efforts are valuable and we should double down on them we want to suggest that we need to pursue the development of phronesis by getting students at all levels to engage with the phenomenon of being-in-management or being-in-research. This would allow them to bring an authentic presence to their contextual reality and not experience a weakness of will to act.
"The phenomenon of being-in-management has not received coherent and rigorous attention and is an important aspect that constrains impact since a thorough understanding of being enables more phronesis."
A light lunch and coffee/tea will commence at 12 noon and registration is compulsory.
---
The Sustainable and Ethical Enterprise Group (SEEG) was founded by a small group of individuals in 2012 who were brought together through a belief that sustainability and ethical conduct are critical issues for all organisations in the 21st century.
Since then the group has grown rapidly and in 2013 was given knowledge cluster status by the university to act as a hub for sustainable and ethical activities.
For more information please visit our website at http://www.business.mmu.ac.uk/seeg.