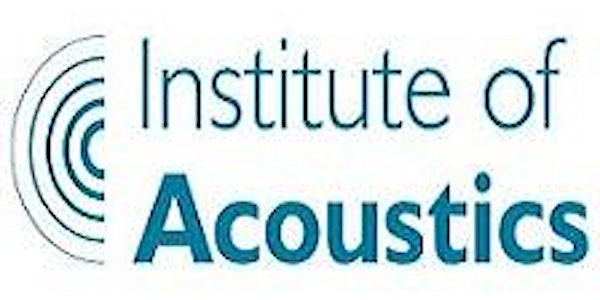 Sustainable Acoustic Design in Practice
Location
EC4M 7RB
Mott MacDonald
10 Fleet Place
London
EC4M 7RB
United Kingdom
Description
The Sustainable Task Force has been operating for over a year, and this
workshop aims to be a first, creating an exciting way to bring together at
one time as many members as possible to take part in a live linked workshop
on the key areas where it has been identified that acoustics in practice can
contribute to a sustainable future. SO fit attendance at one of the venues around
your voting (as it's election day in the UK).

This will be about knowledge sharing around the progress made, providing a
TOOLBOX, exploring examples of action and discussing how best to take things
forward. Speakers include those from outside the field as well as acousticians
who have something specific to say. Questions will be taken from around the
UK and the event captured as a future resource.
UPDATED Programme
09.00 Coffee and establishing live link between venues
09.10 Local Welcome by Host at Venue
09.15 Welcome – Peter Rogers, Chair SDTF
09.20 The Acoustic Triple Bottom Line (The Lexicon) & Case Studies – Peter Rogers
09.40 Positive Sound and Health – Ben Fenech, (Public Health for England) & Dan Pope (Atkins)
10.20 Sustainable Acoustic Materials – Richard Cowell, ARUP & SDTF
10.50 LCA, BREEAM and LEED & what's missing – Julie Godefroy, Hoare Lea Sustainability Influencer
11.20 Discussion (between all venues)
11.30 Coffee and 10 min video interview of Ashley Bateson – by Barry Jobblin, Hoare Lea
11.45 Holistic Design & Acoustics – Richard Cowell, ARUP & SDTF
12.15 The value beyond Acoustics (Acoustic Value) – Peter Rogers, Chair SDTF
12.45 Discussion – Q&A from each venue
13.00 Close of live link, Lunch in each venue, Informal discussion and close


UPDATED FAQs :
Qu: How can I use Lync if we don't have it ?
Ans : Just copy in the link that is sent to you into Internet Explorer and you should get through. It does not like Chrome or Firefox for some reason, so don't waste your time there.
Where can I contact the organiser with any questions
General : Linda.Canty@ioa.org.uk; Venue : Simon.Kahn@mottmac.com , Registering : progers@sustainableacoustics.co.uk