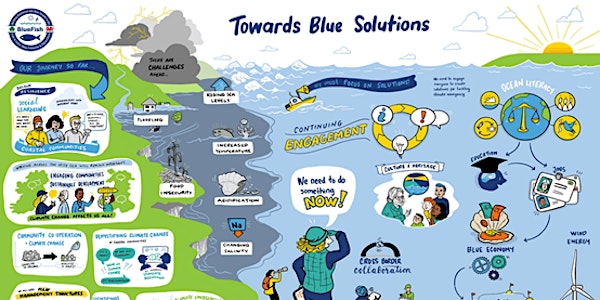 Sustainable and Resilient Irish Sea Resources: Towards Blue Solutions
An online workshop to foster Ireland Wales collaboration on issues relating to climate change, resilience and the blue economy.
About this event
Understanding perceptions of climate change and impacts on the Irish Sea linked to human health and wellbeing can create a starting point for connecting across borders. This online workshop will take an Irish Sea sea-basin approach to fostering cooperation in line with the principles of the Ireland Wales Joint Statement and Action Plan with potential to broaden collaboration to include partnerships with organisations in the other nations and regions bordering the Irish Sea, including Scotland, Northern Ireland and northern England. The workshop will work towards embedding sustainability and resilience within the context of climate change and the UN Sustainable Development Goals and Wales Well-being for Future Generations Act. It will focus on themes including sustainable aquaculture/mariculture and fisheries; ecosystem services; marine renewable energy and tourism. Results from existing Ireland Wales INTERREG projects will be highlighted with the intention to foster new connections for collaborative work, particularly around sustainability, and associated with policy priorities such as energy, environment and food.
The online workshop will bring together representatives from academia, industry, communities, and government to assess sustained future cooperation across sectors with a focus on blue economy whilst ensuring sustainability and resilience in the face of climate change and pollution. The workshop will explore areas such as:
i) Future areas of collaboration.
ii) Knowledge gaps.
iii) Industry perspective and needs.
iv) Policy perspective and needs.
v) Research needs.
This event is linked to the (now closed) Bluefish conference where there was a real desire to continue Irish Sea wide cooperation and to establish a platform to maintain the strategic linkages between Ireland and Wales despite uncertainties around future funding, Brexit, the Covid 19 pandemic and climate change. This was highlighted by Lee Waters, Deputy Minister for Climate Change in Wales, addressing the Bluefish conference who stated, 'working collaboratively across political boundaries, particularly the Irish Sea, and engaging communities in sustainable development and nature-based solutions, will be critical for addressing the climate crisis'.
Adnoddau Cynaliadwy a Gwydn ym Môr Iwerddon Tuag at Ddatrysiadau Glas Gweithdy ar-lein
Gall deall canfyddiadau pobl o newid yn yr hinsawdd a'r effeithiau ar Fôr Iwerddon sy'n gysylltiedig ag iechyd a lles fod yn fan cychwyn i gysylltu ar draws ffiniau. Bydd y gweithdy ar-lein hwn yn trafod cydweithredu'n unol ag egwyddorion datganiad a chynllun gweithredu Iwerddon Cymru ar y cyd yng nghyd-destun basn Môr Iwerddon ac mae gan y gweithdy y potensial i ehangu cydweithredu i gynnwys partneriaethau â sefydliadau yn y gwledydd a'r rhanbarthau eraill sy'n ffinio ar Fôr Iwerddon, gan gynnwys yr Alban, Gogledd Iwerddon a gogledd Lloegr. Nod y gweithdy yw gwreiddio cynaliadwyedd a gwydnwch yng nghyd-destun newid yn yr hinsawdd a Nodau Datblygu Cynaliadwy'r Cenhedloedd Unedig a Deddf Llesiant Cenedlaethau'r Dyfodol Cymru. Bydd yn canolbwyntio ar themâu gan gynnwys dyframaeth/môr-feithrin a physgodfeydd cynaliadwy; gwasanaethau ecosystem; ynni adnewyddadwy o'r môr a thwristiaeth. Byddwn yn tynnu sylw at ganlyniadau projectau INTERREG Iwerddon Cymru cyfredol gyda'r bwriad o feithrin cysylltiadau newydd ar gyfer gwaith cydweithredol, yn enwedig o ran cynaliadwyedd, sy'n gysylltiedig â blaenoriaethau polisi megis ynni, yr amgylchedd a bwyd.
Bydd y gweithdy ar-lein yn dod â chynrychiolwyr ynghyd o'r byd academaidd, diwydiant, cymunedau, a'r llywodraeth i asesu cydweithredu parhaus yn y dyfodol ar draws sectorau gan ganolbwyntio ar yr economi las tra'n sicrhau cynaliadwyedd a gwytnwch yn wyneb newid yn yr hinsawdd a llygredd. Bydd y gweithdy yn archwilio meysydd fel y canlynol:
i) Meysydd cydweithio yn y dyfodol.
ii) Bylchau gwybodaeth.
iii) Safbwynt ac anghenion y diwydiant.
iv) Safbwynt ac anghenion polisïau.
v) Anghenion ymchwil.
Mae'r digwyddiad hwn yn gysylltiedig â chynhadledd Bluefish (sydd bellach wedi dod i ben) lle'r oedd gwir awydd i barhau i gydweithredu ar draws Môr Iwerddon ac i sefydlu llwyfan i gynnal y cysylltiadau strategol rhwng Iwerddon a Chymru er gwaethaf yr ansicrwydd ynglŷn â chyllid yn y dyfodol, Brexit, pandemig Covid-19 a newid hinsawdd. Tynnwyd sylw at hyn gan Lee Waters, y Dirprwy Weinidog dros Newid yn yr Hinsawdd yng Nghymru, wrth annerch cynhadledd Bluefish a ddywedodd, 'bydd cydweithio ar draws ffiniau gwleidyddol, yn enwedig Môr Iwerddon, ac ymgysylltu â chymunedau ar ddatblygu cynaliadwy ac atebion sy'n seiliedig ar natur, yn hanfodol i fynd i'r afael â'r argyfwng hinsawdd'.