Event Information
Refund policy
Refunds up to 7 days before event
Eventbrite's fee is nonrefundable.
What sustainability lessons can we learn from other cities? Join us for this online morning event!
About this event
The world is becoming increasingly urbanized. Since 2007, more than half the world's population has been living in cities. Cities contribute to 60% of global GDP; however, they also account for 70% of global carbon emissions and over 60% of resource use.
To tackle the climate and ecological emergency, we must learn from each other and work together for a better planet for everyone.
Our January event on this topic was so popular we felt it was only right to run it again, looking at new cities with new speakers!
Future Leap are excited to welcome JLL, Connected Places Catapult and Network members Mott Macdonald and Future Leap/Innovative Energy Consultants to speak at this event.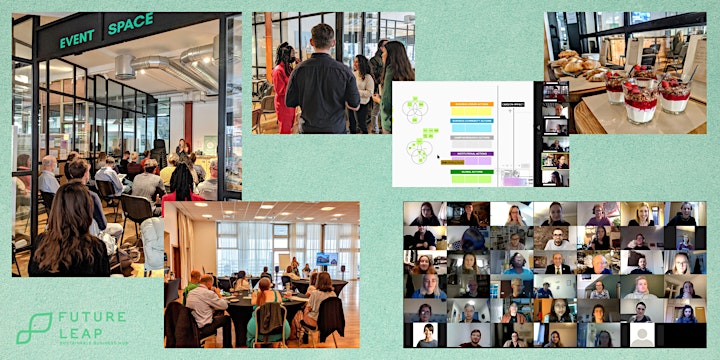 Eleanor Akers, Consultant, Future Leap
Eleanor will give an overview of how legislation has affected air quality and building standards in New York, Chicago, Madrid and London. She will discuss the role policy and legislation play in making cities more sustainable.
Clare Wildfire, Global Practice Lead - Cities, Mott Macdonald
The design of our cities has a big influence on the health of its citizens. Clare will discuss how health and wellbeing are influenced by environmental and lifestyle/behaviour factors and where opportunities lie to improve them through place-shaping.
Jeremy Kelly, JLL
Jeremy Kelly from JLL will be covering "Decarbonizing Cities and Real Estate" - a whistle stop tour of what different cities globally are doing to decarbonise their built environment.
Dr Amy Hochadel, Connected Places Catapult
Dr Amy Hochadel, Director of Global Business Growth at Connected Places Catapult, will be speaking on 'Sustainability for All: Global Cities Leading the Charge'.
Agenda
08:00 – 08:15 – Welcome and Virtual Networking
08:15 - 08:25 - Introduction
08:25 - 08:35 – Clare Wildfire, Mott Macdonald
08:35 - 08:45 - Q&A
08:45 – 08:55 – Eleanor Akers, Future Leap
08:55 - 09:05 - Q&A
09:05 - 09:15 - Jeremy Kelly, JLL
09:15 - 09:25 – Q&A
09:25 – 09:35 – Dr Amy Hochadel, Connected Places Catapult
09:35 – 09:45 – Q&A
09:45 - 09:50 - 60 Second Pitches
09:50 – 10:00 - Close
10:00 - 10:10 - Virtual Networking – What Can We Learn?
Meet The Speakers!
Eleanor Akers, Consultant, Future Leap
Eleanor works with businesses of all sizes to identify and implement sustainable best practices. She has worked in the energy industry in both the UK and the US and has deep expertise in energy market structures and the energy value chain.
Clare Wildfire, Global Practice Lead - Cities, Mott Macdonald
In her global leadership role at Mott MacDonald, Clare uses systemic engineering at building and city scales to push boundaries and, most importantly, improve people's lives. She combines her practical understanding of construction and development drivers and processes with policy engagement, bringing insight into the technical, political, financial and behavioural aspects of sustainable development and low carbon living.
Jeremy Kelly, JLL
Jeremy Kelly is director in Global Research at JLL, responsible for several of the company's flagship global research programs including its Global City Futures program that looks at the role of real estate in shaping more sustainable, resilient and inclusive cities. Jeremy currently serves on the World Economic Forum's Cities and Urbanisation Global Future Council.
Dr Amy Hochadel, Connected Places Catapult
Dr Amy Hochadel is an expert in global cities, and currently the Director of Global Business at Connected Places Catapult in London, England. She works with local leaders, entrepreneurs, city and national governments around the world, including the Gulf states, India, Malaysia, Africa, the European Union, the United Kingdom and the Unites States. She is the author of Local Leadership in a Global Era: Policy and Behaviour Change in Cities (2017, Palgrave Macmillan), exploring the changing role local leaders are playing in addressing local challenges through global engagement. Dr Hochadel has over two decades of experience in politics & public policy and community, government and international relations. She has served as special adviser to Congressional and Presidential candidates across the United States, as well as for British Members of Parliament; has been a guest lecturer at Harvard's Kennedy School of Government; and proudly serves as a member of the United Nations Global Happiness policy sub-committee.
----------------------------
Want to Know More?
If you would like to join our sustainable business community please get in touch via info@futureleap.co.uk or sign up easily here.
Follow the Future Leap Network on Facebook, Twitter, Instagram & Linkedin
Never miss what's next in sustainability by signing up to our monthly newsletter HERE
Opportunities, Suggestions and Conditions
You can get 20% off your next online event with us by choosing the add on option during booking.
Most of our events are available on demand here, however this does not include opportunities to network, take part in the discussions or do a 60 second pitch!
We will share your name, job title & company with the other event attendees for this event only. If you don't want this information to be shared please let us know when you have purchased your ticket.
We take photos at our events for marketing purposes, if you don't want your picture taken please let us know in advance.
We record some of our events for marketing purposes, if you don't want to be in the recording please let us know in advance.
We have included a £1 carbon offsetting fee to all event tickets in our commitment to being carbon neutral in our operations. You can find out about our chosen charity here.
Please let us know at least one week in advance if you require closed captions or have any other accessibility needs.
If you require a complimentary carers/assistant ticket, please email events@futureleap.co.uk at least one week in advance and we will be happy to support you!
#wegrowthhub #business #seminar #sustainable #sme #bristol #businesswithpurpose #sustainablecities #cities #citydevelopment #legislation #healthycities #healthypeople
Date and time
Location
Refund policy
Refunds up to 7 days before event
Eventbrite's fee is nonrefundable.
Organiser of Sustainable Cities Around The World