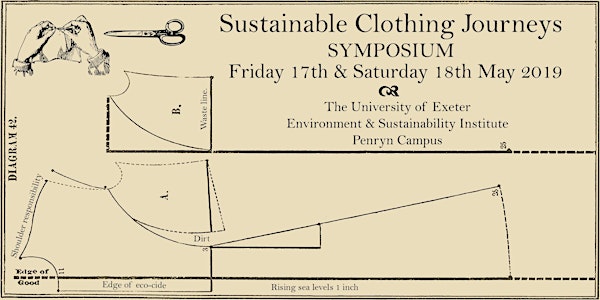 Sustainable Clothing Journeys - 18th May 2019 - University of Exeter (Cornw...
Location
Environment and Sustainability Institute
University of Exeter (Cornwall)
Penryn
TR10 9FE
United Kingdom
Description
Sustainable Clothing Journeys - 18th May 2019
The deleterious environmental consequences of fashion are increasingly in the spot-light. Many societal actors, from Stacey Dooley to the House of Commons Environmental Audit Committee are now attempting to tackle the problems head-on, particularly in relation to clothing production.
The Sustainable Clothing Journeys symposium is the second finale event for the Designing a Sensibility for Sustainable Clothing (S4S) project, with the first having taken place on Saturday 30th March at the University of Wolverhampton, which co-hosts the project.
It continues on Saturday 18th May with an action-packed day consisting of a keynote talk by Professor Rebecca Earley (Centre for Circular Design at UAL), presentation of the project's key findings, a local business mini market showcase and a sustainable clothing runway show.
The S4S project has been unique in its focus on the consumer's role in the fashion/environment conundrum. It is driven by an ambitious, timely and innovative enquiry into the combined use of creative arts practice and social science to ascertain whether learning skills in making, mending and up-cycling fabric and garments could help encourage participants to think, feel and act in more sustainably in relation to their clothing.
Professor Clare Saunders, project lead says: 'We have a rich evidence base that suggests that workshops like these can have quite profound effects on the way people think, feel and act in relation to their clothes. Key factors in shaping their shift towards more conscious clothing practices include recognition of the flexibility and mutability of clothing and fabric, and working together with like-minded others.'
There is no cost to attend this S4S 'Designing a Sensibility for Sustainable Clothing' Symposium as the event is supported by Future Focus and is fully funded by the European Regional Development Fund. A complimentary lunch will be included and car parking on campus will also be free of charge.
Future Focus Events, run by Unlocking Potential and funded by the European Regional Development Fund bring inspiring and influential speakers together and put them in front of Cornish Businesses to help share global ideas and future-proof business. To find out more about the next Event or Lab, visit the website www.unlocking-potential.co.uk, email hello@unlocking-potential.co.uk or call 0845 600 3660.