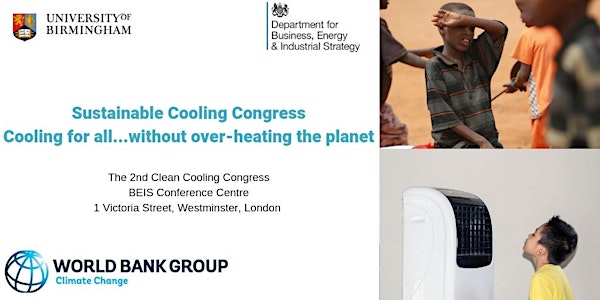 Sustainable Cooling Congress - Cooling for all...without over-heating the p...
Location
BEIS Conference Centre
1 Victoria Street
London
SW1E 5ND
United Kingdom
Sales Have Ended
Registrations are closed
Thank you for registering to attend our Sustainable Cooling Congress - Cooling for all...without over-heating the planet. Please note, as this event is hosted by BEIS and has limited availability, you will receive further emails to confirm your attendance to the congress. Failure to respond to these emails will result in your ticket being cancelled.
Description
The need for sustainable cooling
Between now and 2050, it is estimated that 19 pieces of cooling equipment will be deployed every second. Despite this massive increase in cooling provision, cooling for all will still not be a reality and the poor in many hot countries will feel the impact.
Access to cooling is not a luxury. It's about fresh food, safe medicines and protection from heat for populations in a warming world. It is vital for economic productivity, by allowing workers, farmers and students to work in comfortable optimised environments.
Cooling is an issue of equity that requires climate change mitigation and adaptation - and fast action - to protect the most vulnerable. How we meet this challenge and provide sustainable cooling for all will have important ramifications for our climate; without intervention we could see the energy demand for cooling increase more than five times by 2050.
---
How do we meet urgent global need for cooling without over-heating the planet?
The UK Department of Business Energy and Industrial Strategy (BEIS), the World Bank and University of Birmingham are delighted to invite you to join an in-depth international congress that will support the World Bank and partners in developing a first-of-its-kind, multi-sectoral Roadmap and co-ordinated time bound actions to provide sustainable cooling for all those that need it – urban and rural, air conditioning and comfort cooling to cold chains for food and medicine, whilst meeting our climate change targets.
Building on what is already being achieved, the goal is to work together to set the world on an accelerated course towards access to affordable and sustainable cooling solutions for all who need them.
Such an initiative can deliver a "win-win-win" solution, in which industry would win through faster market entry and growth, governments would win by healthier populations, lowered energy consumption and greenhouse gas emissions, and consumers would win by benefiting from access to improved cooling services at accessible lifecycle costs.
---
International Event - Setting the context
Join us on 24 April and take part in informed discussions on how we can deliver climate change mitigation – and adaptation, enhanced societal development and resilience through provision of timely and quality sustainable cooling for all – urban, rural and in transport. We shall be joined by a number of overseas delegates to hear their thoughts, ideas and first hand experiences.
Along with understanding the size and urgency of the challenges from heat stress to food loss, we want to look at:
Intervention options for rural and urban communities

System level thinking and change – what does it mean and how can we adopt it?

Delivering sustainable cooling – policy and funding dimensions.

Overview of innovation and research – what is happening and what gaps need filling?
During the day delegates will also hear about UK government's activities and initiatives on cooling internationally as well as the new Cooling for All Secretariat, launched by Sustainable Energy for All last month in Rwanda, and the Global Cooling Prize Team led by the Rocky Mountain Institute, the Government of India and Mission Innovation
---
Reception
This international event will be followed by a private drinks reception hosted at the Institution for Mechanical Engineers (IMechE), 1 Birdcage Walk, Westminster.
This reception will include the launch of a new report on 'Promoting Clean and Energy Efficient Cold Chain in India' by Shakti Foundation and University of Birmingham.