Join us to talk about food habits and how it can play a role in tackling climate change as well as keeping us healthy
About this event
COP26 is around the corner, all eyes will be turned to Glasgow to follow the UN Climate Change Conference in hope to secure a better future for our planet.
For Green Guardians, fighting climate change and bringing awareness to our community has never been so important, this is why we are delighted to invite you to our latest workshop "Sustainable Eating" with special guest Fareeha Jay.
Fareeha is a Dietitian and Diabetes Specialist, expert on healthy eating and lifestyle. Popular on social medias, she spreads awareness and empowers her community with advice based on scientific evidence. Her newly released book "It's Not a Diet, It's a Lifestyle" provides practical tips to create habits that will transform the way you perceive food.
During this talk, Fareeha will help us making good food choices not only for us but for the environment too.
The food we eat has a big impact on our environment. It is in our power to reverse this just by making little changes to our diet and you will discover that what is good for the environment is also good for you.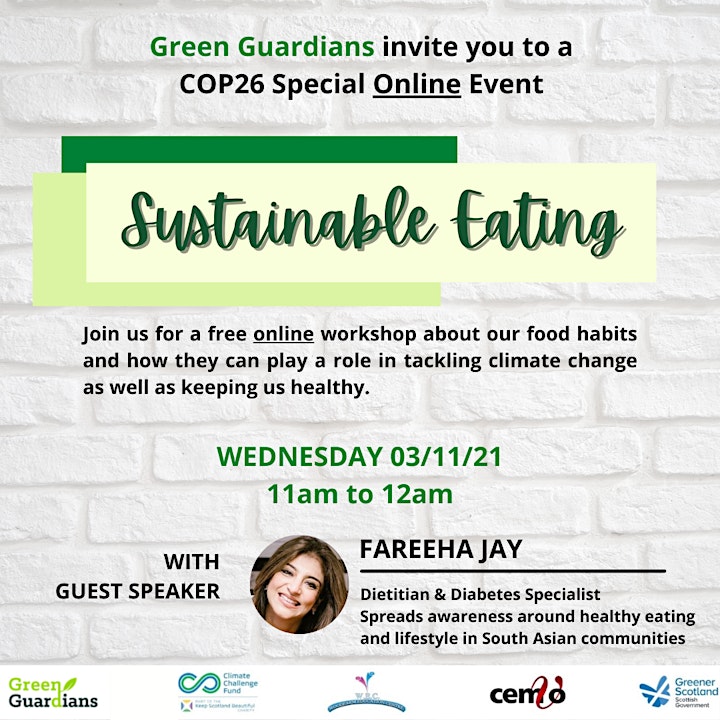 Organiser of Sustainable eating COP 26