A webinar focused on providing support to companies with their innovative solutions to sustainability challenges.
About this event
Summary
We live in a time of unprecedented change. Businesses around the world are answering the call to incorporate sustainability into every element of their company. If you feel the need to be inspired to identify your sustainability plan, then this event is for you.
This event will bring together researchers and innovators to discuss the need for innovative solutions, with the opportunity to ask questions and connect with an expert after the session to discuss. The event will be hosted on Microsoft Teams.
You will hear from representatives from the University of Nottingham, Qinesis, Alliance Procurement Solutions Ltd and finally, Wylde Connections.
This event is brought to you by Aerospace Unlocking Potential (UP) which aims to support the aerospace supply chain in the Midlands by helping to unlock its innovation potential. The project is being delivered by the University of Nottingham and the Midlands Aerospace Alliance and is supported by the European Regional Development Fund (ERDF).
Agenda
10:00: Welcome and introduction to Aerospace Unlocking Potential - Jo Grant, Business Development Manager, University of Nottingham
10:10: Life cycle assessment, recycling and reuse in auto/aerospace sectors, low carbon fuels, circular economy - Dr Jon McKechnie, Associate Professor, University of Nottingham
10:30: What sustainability means to Qinesis as a company - Dr Cham Kang, Qinesis
10:50: Sustainable Procurement/supply chains - Mark Wood, Alliance Procurement Solutions Ltd
11:10: Five Reasons why your business needs to develop and implement your Sustainability Strategy now - Denise Taylor, Wylde Connections
11:30: Q&A
12:00: Close
Aerospace UP
As a pan-Local Enterprise Partnership (LEP) project, Aerospace UP is available to SMEs in 8 Midlands LEP areas:
Black Country
Coventry and Warwickshire
Derby, Derbyshire, Nottingham and Nottinghamshire
Greater Birmingham and Solihull
Greater Lincolnshire
Leicester and Leicestershire
South East Midlands
Stoke-on-Trent and Staffordshire
Please see below for a numbered map of the LEP areas.
State Aid
This event is part-funded by the European Regional Development Fund 2014-2020. This event is classed as State Aid under De Minimis to participating businesses, but is delivered completely free of charge. For more information about the programme, please visit the Aerospace Unlocking Potential website.
Contact
If you have any questions about the event or the programme, please contact AerospaceUP@nottingham.ac.uk.
Privacy Information
Your consent to sharing data with the University of Nottingham and the guest speakers is required to be able to attend this event.
Your data will also be used to comply with the reporting and monitoring requirements of our funders, the European Regional Development Fund (ERDF).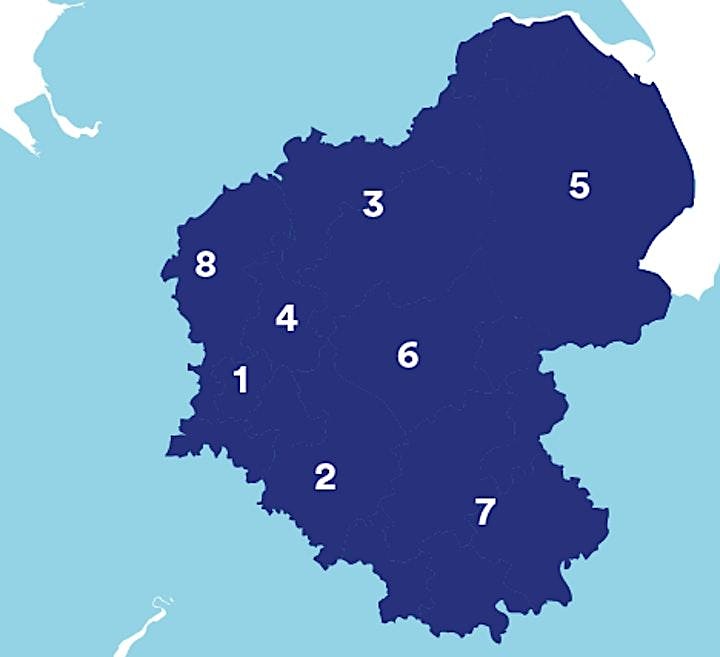 Organiser of Sustainable Innovation
The Institute for Aerospace Technology (IAT) is a major centre for aerospace research
Specialists from global aerospace companies and aviation leaders have joined forces with our researchers and academics and together we are creating an extraordinary future for aerospace technology.
Aerospace at the University of Nottingham has over 70 externally funded projects valued at over £75 million with an inspirational team of 400 scientists and engineers.
Our Marie Sklodowska Curie PhD programme attracts the world's leading doctoral students, who are working with industry to direct the future of aerospace.
Our ambition and drive makes the IAT a partner of choice in our five key areas of research
Aerospace Manufacturing
Aerospace Materials and Structures
Aerospace Operations
Future Propulsion
Aerospace Electrification