Description
There are also 4 evening debates happening in September on
T
ourism
(3rd September),
Retail
(10th September)
,
Energy
(16th September)
and
Investment
(23rd September)
.
The sustainability full-day event will be a TEDx-style conference, which will bring together over 20 visionaries and thought leaders to discuss sustainability, solutions to unsustainability and how we create a blue and green tomorrow.
This event is proudly supported by: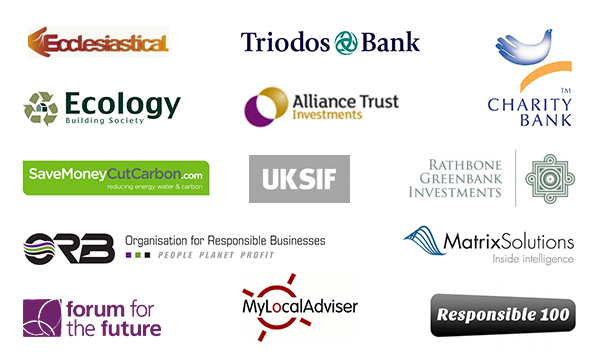 Confirmed speakers:

Jeremy Leggett
Founder and Chairman of Solarcentury and SolarAid
Social entrepreneur Jeremy, author of The Carbon War and Half Gone, is founder and non-executive chairman of Solarcentury and founder and chairman of SolarAid, an African solar lighting charity set up with Solarcentury profits. Described by the Observer as "Britain's most respected green energy boss," he writes and blogs for the Guardian, the Financial Times, and Sublime Magazine. He was the first Hillary Laureate for International Leadership on Climate Change, a CNN Principal Voice, and Entrepreneur of the Year at the New Energy Awards. He is on the associate faculties, lecturing in business and environment, at the universities of Oxford, Cambridge and St Gallen.

Charles Clover
Sunday Times Columnist and author of End of the Line
Charles Clover is a journalist and author who's dedicated to the environment. His book, The End of the Line, has been described as the definitive book on over-fishing and won him several awards - the Guild of Food Writers' Derek Cooper
Award for investigative food writing; an Andre Simon award for food writing; and the Zoological Society of London's BIOSIS award for communicating zoology. The book has been translated into Japanese, Dutch, German, Italian and French. The US edition was published in November 2006.
Mr. Clover was Environment Editor of The Daily Telegraph, based in London, from 1988-2008 and conceived the Telegraph Earth website. He was also elected national journalist of the year by the British Environment and Media Awards in 1989, 1994 and 1996. Additionally, he co-authored the Prince of Wales of Highgrove: Portrait of an Estate, a best-selling study of Prince Charles's conversion to organic farming and gardening and a clarion call for sustainable farming.

Kevin Anderson
Professor of Energy and Climate Change at the University of Manchester
Kevin Anderson is Professor of Energy and Climate Change in the School of Mechanical, Aerospace and Civil Engineering at the University of Manchester. He is Deputy Director of the Tyndall Centre for Climate Change Research and is research active with recent publications in Royal Society journals and Nature. He engages widely across all tiers of government; from reporting on aviation-related emissions to the EU Parliament, advising the Prime Minister's office on Carbon Trading and having contributed to the development of the UK's Climate Change Act.
With his colleague Alice Bows-Larkin, Kevin's work on carbon budgets has been pivotal in revealing the widening gulf between political rhetoric on climate change and the reality of rapidly escalating emissions. His work makes clear that there is now little chance of maintaining the rise in global temperature at below 2°C, despite repeated high-level statements to the contrary. Moreover, Kevin's research demonstrates how avoiding even a 4°C rise demands a radical reframing of both the climate change agenda and the economic characterisation of contemporary society. Kevin has a decade's industrial experience, principally in the petrochemical industry. He is a commissioner on the Welsh Government's climate change commission and is a director of Greenstone Carbon Management.

Manda Brookman
Managing Director of Cornwall Sustainable Tourism Project (CoaST)
Manda Brookman has been working in Cornwall for the last 10 years in the field of sustainable development. Prior to moving to Cornwall, she worked on a range of third sector organisations over 12 years on local, national and international programmes around waste, homelessness and sustainable development specific networking and communications.
Board member, founder, chair and director of a range of community based enterprises and partnerships, she also co-founded CoaST, the Cornwall Sustainable Tourism Project, of which she has been Managing Director for 9 years. A social enterprise and not for private profit organisation promoting sustainable tourism across Cornwall, the UK and internationally, CoaST works with host communities, local authorities and tourism agencies, and the tourism industry itself to enable tourism become an agent of change and deliver cultural shift and behavioural change through leadership, communications, and a new understanding of the metrics of change. With its on-line cross-sector, all-welcome One Planet Tourism Network membership growing daily, and now at over 2,000 members across 50 counties and 75 countries worldwide, CoaST can see that change is clearly afoot…

Leo Hickman
Chief Adviser on Climate Change at WWF and former Guardian journalist
Leo Hickman is the chief adviser, climate change, at WWF-UK. Before joining WWF-UK in 2013, Leo worked at the Guardian for 16 years as a journalist, editor and author. His books included A Life Stripped Bare, The Final Call, and Will Jellyfish Rule the World? He was awarded an honorary doctorate by the University of Exeter in 2013 in recognition of his environmental journalism. He probably spends too much time on Twitter.

Stephen Tindale
Associate fellow at the Centre for European Reform and former Executive Director of Greenpeace
Stephen Tindale has worked on climate and energy policy for 25 years, for NGOs, government, think tanks and the energy industry. Along with his current roles, Mr Tindale now freelances, with clients including the Re-Energise Group and Tidal Lagoon Power.

Ben Goldsmith
Founder partner of WHEB, chair of the Conservative Environment Network and founder of the Environmental Funders Network
As well as chairing the Goldsmith family organisation, Ben is a co-founder of WHEB, now one of Europe's leading sustainability-focused investment firms. WHEB invests across technology private equity, renewable energy infrastructure and publicly quoted equities.
Ben is active in environmental philanthropy, as chairman of the Goldsmith family's environment-focused philanthropic foundation, and co-founder of the UK Environmental Funders' Network.
Ben also chairs the new UK Conservative Environment Network, and is an Advisory Council member for the Oxford Martin School.

Troy Wiseman
EcoPlanet Bamboo Group Chairman
Troy started his entrepreneurial career at 20 when he co-founded a clothing manufacturing and retail company, best known for its B.U.M. Equipment label. Over the next 6½ years he grew the Company's revenue from $0 to $120 million before selling his interest in 1992.
He then founded The InvestLinc Group, creating a proprietary model and system to manage and oversee a unique alternative investment "family of funds" for high net worth individuals, foundations and select institutions and growing a single $5m fund into a company which raised & managed over $500m.
He later served as Foundation Vice Chairman of Legatum, a multi-billion dollar emerging market investment company, based in Dubai as well as an early investor and board member in Waldo's Dollar Mart, a $300 million Mexican retailer. He resigned to co-found TriLinc Global, a social impact investment firm focused on bringing scaleable private capital to SME entrepreneurs in developing countries with the goal of making money as well as creating social impact, primarily through job creation.
In 2006, Troy joined the ranks of Walt Disney, Orson Welles and four U.S. Presidents when he was selected as one of the Ten Outstanding Young Americans. The Ten Outstanding Young Americans program (TOYA) is one of the oldest and most prestigious recognition programs in America. Annually since 1938, The United States program has sought out the ten young men and women who best exemplify the finest attributes of America's youthful achievers.
In 1994 Troy co-found World Orphans which has helped fund the construction of over 500 orphanages in 45 countries. He remains an active philanthropist through the Wiseman Family Foundation with his wife and four sons.

Anthony Hobley
Chief executive officer at Carbon Tracker
Anthony Hobley is a leading banking lawyer (Norton Rose) who specialises in climate change and emissions trading law based in London. He is a key figure in British carbon trading business, with high powered connections to Department of Climate Change and the UK Business Council for Sustainable Energy. He is also chairman of the London Climate Change Services which promotes business opportunities through carbon markets, a board member of Carbon Markets and Investors Association.
He was General Counsel to the Climate Change Capital Carbon Fund and Director of Legal Policy for Climate Change Capital which he joined in September 1995.
Under invitation of the European Commission he was asked to speak in New Delhi on the 'investment in CDM in India and in Budapest at the British Embassy where he chaired the session jointly with Prince Andrew; in Tokyo by the Japanese power industry on both the UK and EU ETSs; in Ottawa at the annual meeting of the International Emissions Trading Association (IETA) and many other events. He has also appeared on UK television and radio speaking on climate change and has been quoted in the Economist, The Financial Times and the Wall Street Journal.
Anthony has been described as a leader in his field in four recent editions of the Chambers Guide to the Legal Profession in the UK.

Mark Sait
Managing director of SaveMoneyCutCarbon.com
Mark is a founder and the managing director of SaveMoneyCutCarbon.com, a subsidiary of Intelligent Resource Management Ltd. He has more than 20 years' experience building and establishing companies in fast-growth sectors, including broadband, Web 2.0 and mobile, as well as a keen interest and knowledge in environmental, social and corporate responsibility. Mark is passionate that energy and water conservation is critical to individuals and businesses alike.
Formerly an Engineering Officer in the Royal Navy, Mark obtained a postgraduate degree in marketing at the Chartered Institute of Marketing. He joined Thorn EMI in the early days of the web where he held a range of senior marketing and business development.
In 1999, Mark identified an opportunity for providing broadband services for business travellers in major hotel brands around the world and set up iBAHN Europe, which rapidly grew to $100 million, operating in over 50 countries. Since iBAHN, Mark has held CEO and COO roles for various internet and mobile businesses, with the responsibility for operations in UK, Europe, USA, Japan and China.
Mark launched SaveMoneyCutCarbon.com in 2010 following extensive research into the next big challenges for the hospitality industry. Sustainability is now high on everyone's agenda and the business is growing rapidly across multiple industries, including property management, healthcare, retail and education.

Mike Barry
Head of Sustainable Business at Marks & Spencer
Mike is Head of Sustainable Business at retailer Marks & Spencer. He was part of the small team that developed the company's groundbreaking Plan A, the 180 point programme to address a wide range of environmental and social issues. Plan A aims to make M&S the world's most sustainable major retailer by 2015. He helps provide the vision and the energy to affect change and ensure a leading but efficient approach to sustainability across the company.

Jim Woods
CEO of The Crowd
Jim spends his time tracking innovations in the way that business connects to society, and is responsible for developing the different Crowd formats. He has a fundamental belief in human ingenuity, and our ability solve our major challenges as a way of doing business. Climate change, youth unemployment, rising resource prices and more. Jim is also a Director at Acre, and has previously been CEO of the YO! Group, an investment banker and founded a business that designed delivery motorbikes

Will Day
Sustainability Adviser at PwC
Will is a Sustainability Advisor to PwC. He brings a wide range of experience from 25 years working with NGO relief and development organisations. As an independent consultant, and as Special Advisor to UNDP, he has helped facilitate cross sector engagement between government, companies and civil society organisations in various parts of the world, with a strong focus on the role of the private sector in development.
As a faculty member of the University of Cambridge Programme for Sustainability Leadership, he has focused on the identification, analysis and the communication, to senior business and government clients, of global mega trends, and their potential social and economic impacts.
Will was Chair of the UK Sustainable Development Commission until March 2011 and was a board member of the Overseas Development Institute (ODI) until October 2012.

Harold Goodwin
Professor of Responsible Tourism at Manchester Metropolitan and Founder Director of the International Centre for Responsible Tourism
Dr Harold Goodwin has worked on 4 continents with local communities, their governments and the inbound and outbound tourism industry. Harold researches on tourism, local economic development and poverty reduction, conservation and responsible tourism and teaches Masters and PhD students. as well as the industry, local communities, governments, and conservationists. Harold also undertakes consultancy and evaluations for companies, NGOs, governments, and international organisations.

Andrew Simms
Chief Analyst on the environment at Global Witness
Andrew Simms is the author of several books, including the bestselling Tescopoly. He is a Fellow of the New Economics Foundation (nef) and was nef's policy director for over a decade, also founding its work programme on climate change, energy and interdependence. He trained at the London School of Economics and was described by New Scientist magazine as, "a master at joined-up progressive thinking". Andrew is a long-standing campaigner who coined the term 'Clone Towns' in nef's work on local economic regeneration, co-authored the ground-breaking Green New Deal, was one of the original organizers of the Jubilee 2000 campaign to cancel poor country debt, co-founded climate campaign onehundredmonth.org and devised 'ecological debt day.' After witnessing at first hand over two decades of failed international efforts to solve critical problems ranging from extreme poverty to climate change, his latest book Cancel the Apocalypse: the new path to prosperity (2013) is the result of a search for something better.
More speakers to be confirmed very shortly
Watch the video of a previous event we ran here: Sustainable Investment Bootcamp
FAQs
Are there ID requirements or an age limit to enter the event?
Over 18
What are my transport/parking options getting to the event?
Public Transport
Where can I contact the organizer with any questions?
sustainableseptember@blueandgreencommunications.com
Is my registration/ticket transferrable?
No
Can I update my registration information?
No
Do I have to bring my printed ticket to the event?
Yes
What is the refund policy?
Tickets are non-refundable
The name on the registration/ticket doesn't match the attendee. Is that okay?
No
Organizer of Sustainable September: The Event
Blue & Green Tomorrow is the fastest growing, most widely read sustainability magazine in the UK.