Sustainocracy for executive beginners

Wednesday, July 18, 2012 at 10:00 AM

-

Saturday, July 21, 2012 at 5:00 PM (PDT)
Event Details
Sustainocracy is a new way of positioning all existing institutional interests around true sustainable progress. It has been announced and introduced in Holland in 2011 and slowly finds its way into formal practical applications in different, complex fields of human interests in society. Different precedents have shown the powerful strength of this way or working, capable of changing the perspective of local and global crises and chaos into hope and progressive prosperity and abundance.
Example: AiREAS - purpose driven sustainocratic structure to address local Air Quality, Human Health and Regional Dynamics.
The training is for institutional executives (from government, local and international business enterprises, education and scientific reserach centers, etc) who want to get acquianted with Sustainocracy and see what they can do with it?
And for pioneers (new central leadership) to set up multidisciplinary sustainocratic ventures in their home town or region.
The profile of the ideal participant is: a highy conscious person about the challenges that we face as institution, society and global community, man or woman, well educated, academically or by life itself, good communicator, cultural creative, experienced in leading positions in government or business, speaks good English and is emotionally and intellectually ready to challenge the current system with new views and methods.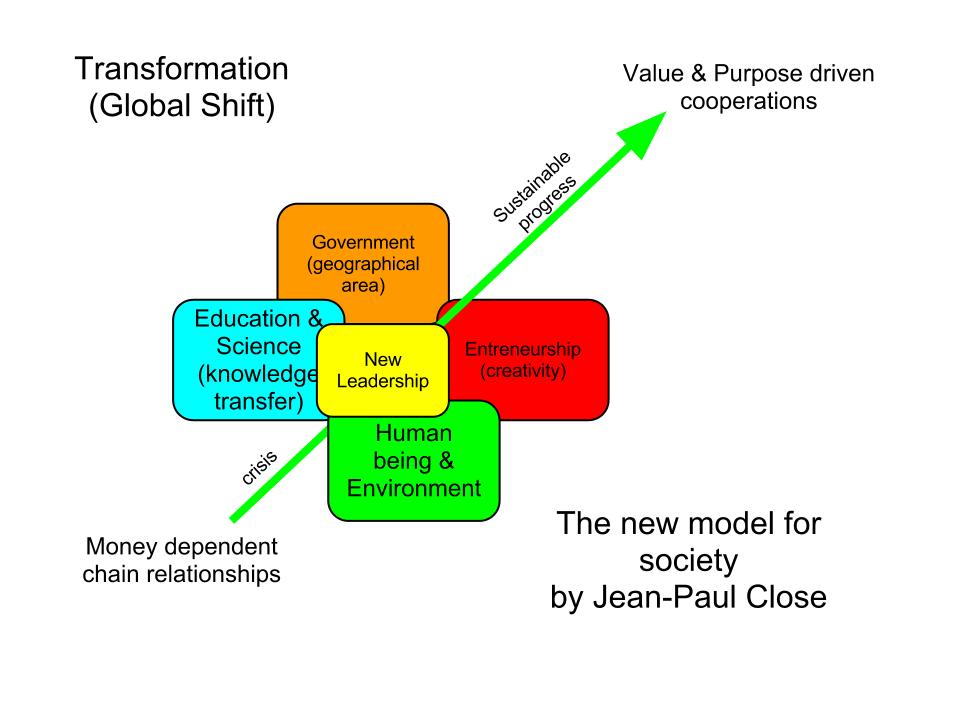 Sustainocracy
(Value driven multidisciplinary cooperation)
Training: The training will be done by the creator of Sustainocracy himself, Jean-Paul Close, in Eindhoven (The Netherlands). You have an international Airport in Eindhoven and another 4 with 1 hour of distance.
It will give you all information that you need to go back and try to establish the first sustainocratic venture in your home country. The first is most difficult. You will receive all the help of the STIR Foundation to do so and can use the practical inspiration from Dutch examples.
Costs and Payments: The fee has been established in such a way that it forms a basic cushion of funds to support upcoming pioneers around the world with a very basic support. By participating you will already contribute to a sustainably progressive world. The price is the same for everyone institutional executive or pioneer. The payment however is not:
Credit card payment: this is optional for institutional executives from abroad who are used to work with credit cards,
Invoice based payment: Dutch and other European executives are used to prepay by invoice. You can register for that modility if you wish
Pioneers (sponsored): Pioneers are people who will have to find support for sustainocratic processen in everything they do and will only get revenu when they are successful. The depend highy on their network of local contacts and the trust those have in the pioneer. We therefor challenge the pioneer to find his/her own sponsor to pay for the participation and not pay the fee themselves. When you register as a pioneer you know what you have to do.
Language: English
When & Where

New leadership




Wednesday, July 18, 2012 at 10:00 AM

-

Saturday, July 21, 2012 at 5:00 PM (PDT)
Add to my calendar
Organizer
This pragmatic visionary personality defined and initiated the implementation of a new format for our complex society and called it "sustainocracy". It refers to the common mission of humankind of sustainable progress and the democratic way to work together on getting there. 
Sustainocracy creates new age leadership to conduct complex ventures in which institutional interests are invited to support and enlarge the mission.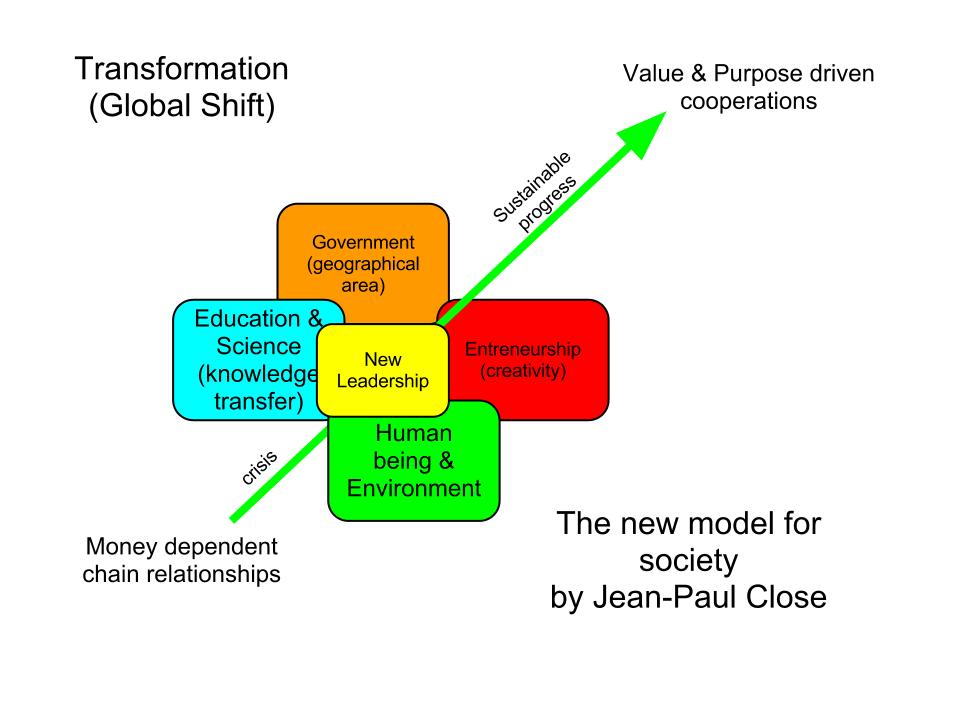 This new way of taking complex, multidimensional initiatives is often perceived as "the world upside down" by all participants. The all have to get used to the new role in this field of result related and purpose drive responsibilities. That is  the basis of the School for Sustainocracy of Jean-Paul Close in which:
* New leadership is educated in its complex role
* Institutional executives are educated how to perform in a multidisciplinary field of co-creation and responsibility
Jean-Paul Close has created all kinds of instruments to help all people and organizations to excell in their commitment to these processes and defend them in their own institutional structures. Examples of such instruments are:
- Definition of sustainable progress
- The 5Ks - 5 Keys for entrepreneurial success
- UNITED - leadership and teamwork
- The column of values
- The 5Qs for higher awareness
- The universal model for human complexities
- MultiDimensional Entrepreneurship 
- Buddinomics
- Steering and freedom
- Burger-BAGE
- etc etc
All these represent a new vocabularity for a new society, value driven, based on human sustainable progress.
Jean-Paul Close is trainer, consultant, public speaker, author and new leader of various local and global successful initiatives based on Sustainocracy.