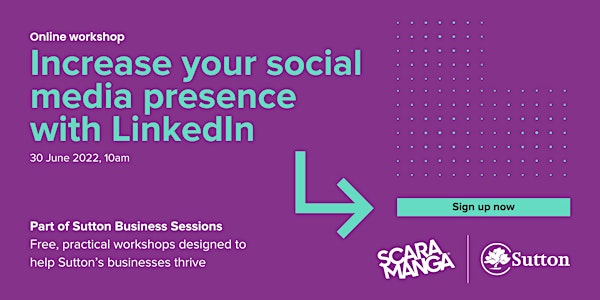 Sutton Business Sessions: Increase your Social Media Presence with LinkedIn
Are you looking to grow your business presence online? Attend this session to learn more.
About this event
About this event
This presentation will be useful for those who use or don't use LinkedIn but are looking to learn more about how the social platform can be incorporated into their social strategy.
It will include topics on:
How can your personal LinkedIn profile benefit your brand
Understanding the value of connections on LinkedIn
LinkedIn Groups
LinkedIn Events
How to use #Hashtags to their full extent
Part of Sutton Business Sessions
Sutton Business Sessions is a series of free, practical workshops designed to help local businesses thrive. The workshops are being delivered in partnership between Sutton Council and business experts including in Scaramanga Agency June and July 2022.
Topics include:
Marketing
Accounting
Social media
Increasing customer spend
The power of mindset
Find all the events and register by searching #SuttonBusinessSessions on Eventbrite.
Find out more about how the Council is supporting local businesses, and how it can help you grow yours, at sutton.gov.uk/business-support.
About Scaramanga Agency
Kieran McNeill, is Scaramanga's social media expert who manages social pages and digital marketing for our clients, keeping an eye out for what's popular and how we can reach more people online.
In his spare time, he grows online communities more focused on the gaming industry, with multiple pages tallying up to over 90,000 followers and groups with over 40,000 members.