Description
It is with tremendous pleasure that we announce that the Swale Business Awards will be returning for our 12th successive year of celebrating the best of business in Swale. After last year's incredibly successful event, our goal is to continue to showcase the brightest of businesses throughout Swale - from sole traders to internationally recognised brands.
We will be launching the 2018 awards on 28th March from 4pm until 7pm at Shepherd Neame's Old Brewery Store.
This FREE event will feature an insightful talk from Phil Eckersley from The Bank of England and will give you the chance to meet with and hear from the judges behind the Swale Business Awards, along with some of last year's winners. This is the perfect opportunity to find out what the judges are looking for in your application, as well as getting top tips from our 2017 winners on what they did to make their applications stand out from the crowd.
Bank of England Agent Phil Eckersley will then speak at length about the UK economy based on the latest data and information in the Bank's Inflation Report. This will include the Bank's latest forecasts for UK GDP and Inflation, commentary on the international outlook and an analysis of the domestic economy. Phil has spoken at several previous Swale Business Awards events and he is always interesting and insightful. It is a real must for any business owners in the borough.
Taking part in the Swale Business Awards can bring many benefits to your organisation and is a great way to recognise your team's contribution and the support of your customers. Whether you are a Swale Business Awards veteran, or you are considering entering for the first time, come along and get some hints and tips for your application and network with dozens of other Swale businesses.

Still not convinced? Here's what last year's Swale Business of the Year winner had to say:

"We were absolutely delighted that Gallery Direct was named the 2017 Swale Business of the Year. It was wonderful recognition for all of our team's hard work during the year and a tremendous endorsement to the strength of our business. If you are a company based in Swale then I can't think of a reason not to enter the awards. The entry form isn't difficult or daunting at all, the process is very straightforward and it's a great way to meet other Swale businesses. As the saying goes, you've got to be in it to win it!"
- Peter Delaney, Managing Director, Gallery Direct
This year's Swale Business Awards categories include:
Swale Small Business of the Year
Swale Employer of the Year
Sheppey Business of the Year
Faversham Business of the Year
Sittingbourne Business of the Year
Customer Service and Commitment
Entrepreneur of the Year
Please note there is no parking available at the actual venue, however a map featuring the local car parks can be found below. Please ensure you use the entrance to the Old Brewery Store on Conduit Street.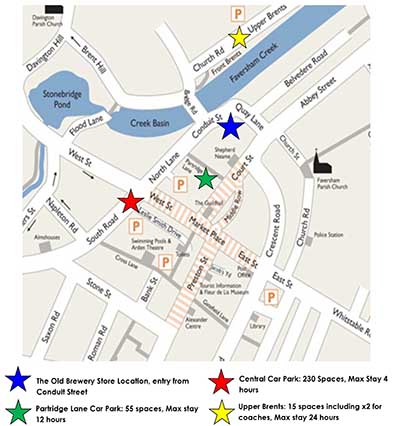 Handelsbanken and Swale Means Business are the principal sponsors of the Swale Business Awards. The Swale Business Awards are sponsored by ArrivaClick, C & D Logistics South East, Checkmate, COOK Trading, CS One Design, Enterprise Centres, Gallery Direct, George Webb Finn, Invicta Financial Group, Kent Event Centre, Kent Science Park, Medichem, Shepherd Neame, Swale Borough Council, Thomson Snell & Passmore, UHY Hacker Young, University of Greenwich and William Whitmey Independent Funeral Directors.