Swale Business Awards 2019 Launch - Featuring Keynote From The Bank Of Engl...
Description
We are delighted to announce that the Swale Business Awards are returning for our 13th successive year of celebrating the best of Swale. We will continue to showcase the brightest of businesses throughout the Borough, helping to give them (and their staff) the recognition they so richly deserve.

The 2019 awards will open for entries on 26th March, when we officially launch with an event in collaboration with the Bank of England, being held at Shepherd Neame's Old Brewery Store. With lots of uncertainty in the UK business community at the moment, the launch will be headlined by a keynote speech from Phil Eckersley. If you've never seen Phil before he is an incredibly knowledgeable and engaging presenter, who can break complex information down into simple bite size chunks. Hear about the latest developments and gain a greater understanding of what the future holds for Kent businesses to enable your business to keep up-to-date.

This FREE event starting at 16:30, will include a delicious range of hot food and drink pairings from Shepherd Neame, and the opportunity to tour the historic brewery. If you are thinking about entering the awards, either for the first or the thirteenth time, this event is the ideal opportunity to network with judges and find out what they are looking for.
This event is a must for all Swale business owners.
This year's Swale Business Awards categories include:
Swale Business of the Year
Swale Small Business of the Year
Swale Employer of the Year
Sheppey Business of the Year
Faversham Business of the Year
Sittingbourne Business of the Year
Customer Service and Commitment
Community Impact Award
Entrepreneur of the Year
Please note there is no parking available at the actual venue, however a map featuring the local car parks can be found below. Please ensure you use the entrance to the Old Brewery Store on Conduit Street.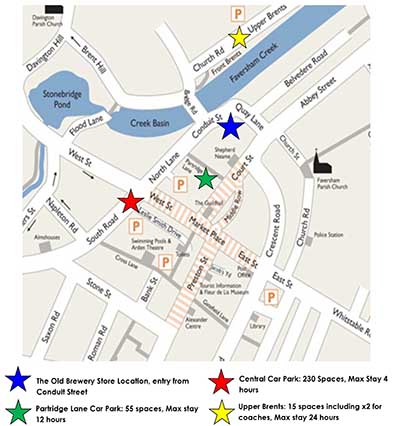 Handelsbanken and Swale Means Business are the principal sponsors of the Swale Business Awards. The Swale Business Awards are sponsored by C & D Logistics South East, CS One Design, Enterprise Centres, George Webb Finn, Invicta Financial Group, Kent Event Centre, Kent Science Park, Shepherd Neame, Swale Borough Council, Thomson Snell & Passmore, UHY Hacker Young, Unipet International, University of Greenwich and William Whitmey Independent Funeral Directors.