Description
Informal networking at Glasgow Women's Library
A fantastic and unique resource Glasgow Womens Library is truly a national treasure.
Join us for this SWAN event where we will meet Adele Patrick, Creative Development & Lifelong Learning Manager at GWL who will give us a short welcome talk and tour. There will be plenty of time to meet the staff ask questions and mingle with friends old and new.
Glasgow Womens Library has been providing information, resources and services since 1991 and developed from a broad-based arts organisation called Women in Profile, which was set up in 1987 with the aim of ensuring the representation of women's creative endeavours, history and culture during Glasgow's year as the European City of Culture in 1990.
Find out more about GWL on their website
£5 which includes light refreshments and nibbles.
The Library is just around the corner from Bridgeton Cross – you can reach the Library on Landressy Street from London Road, or on foot from James Street. Bridgeton train station is very closeby.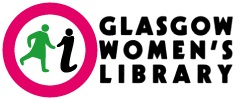 More about Glasgow Womens Library
As well as a lending library, GWL hold a wonderful treasure trove of historical and contemporary museum artifacts and archive materials that celebrate the lives, histories and achievements of women.
From Suffragette memorabilia, 1930s dress making patterns to rare 1970s Scottish Women's Liberation newsletters and one of GWL's largest collections is the Lesbian Archive and Information Centre collection which came to the library in 1995. More about Glasgow Womens Library.
GWL run a varied events and learning programme encompassing hundreds of events each year both at the library and across Scotland. For more information about what's coming up please visit their website: http://womenslibrary.org.uk/events/ With many learning programmes, and projects focusing on Adult Literacy and Volunteer Development, GWL help women to stretch themselves, try new things and achieve far more than they ever imagined.
Knowing that you can change someone's life for the better is a powerful thing. As a Friend, and from as little as £2 per month, you can ensure that GWL's work continues now and for future generations, and develops in new directions: http://womenslibrary.org.uk/how-to-get-involved/become-a-friend/