Description
This summer has seen the fight against racism and fascism take on new dimensions.

A fascist mobilisation in Charlottesville, which led to the death of anti-fascist campaigner Heather Hayer, was met by a shocking response by US President Trump who claimed the press treated the far-right protesters "absolutely unfairly" and blamed the violence on "both sides". Vigils for Heather Hayer have been taking place across the country.
In Britain a viciously Islamophobic campaign led by the Sun newspaper to attempt to racialise the crucial fight against sexual abuse has been met be a wave of opposition including a letter signed by over 100 MPs criticising the newspaper's use of Nazi-like language in portraying "The Muslim Problem".

Alongside a new spike in deaths in police custody, threats from the far-right in Europe and a prolonged wave of hate crimes as well as the ongoing humanitarian crisis facing refugees, Confronting The Rise in Racism 2017 is a crucial opportunity to come together taking on the challenges that confront us.

Speakers include: Diane Abbott MP • Lowkey • Kate Osamor MP • Catherine West MP • Claude Moraes MEP • Kevin Courtney, NUT Gen Sec • Dave Ward, CWU Gen Sec • Talha Ahmad, MCB Treasurer • Clare Moseley, Care 4 Calais founder • Maurice Wren, Refugee Council Chief Exec • Shahrar Ali, Green Party Home Affairs Spokesperson • Moazzem Begg, Former Guantanamo Bay Detainee • Sabby Dhalu & Weyman Bennett, Stand Up To Racism
Download the Conference leaflet here: http://bit.ly/2iqhh82
http://www.standuptoracism.org.uk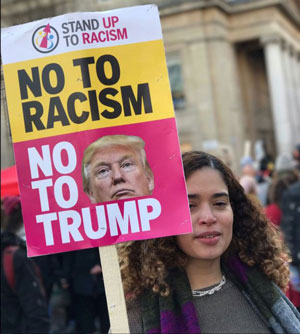 (COACHES DEPART SWANSEA 6am / PICK-UP in BRITON FERRY 6.10am / CARDIFF 6.50am - venues will be confirmed to attendees)
If you wish to go but are unable to pay via Eventbright please contact the organisers. A limited number of free places for refugees and asylum seekers are also available - again, please contact the organisers.
The tickets advertised are payment for both the coach and the conference, but separate conference tickets (which have been block-booked) will be provided on the transport on the 21st.